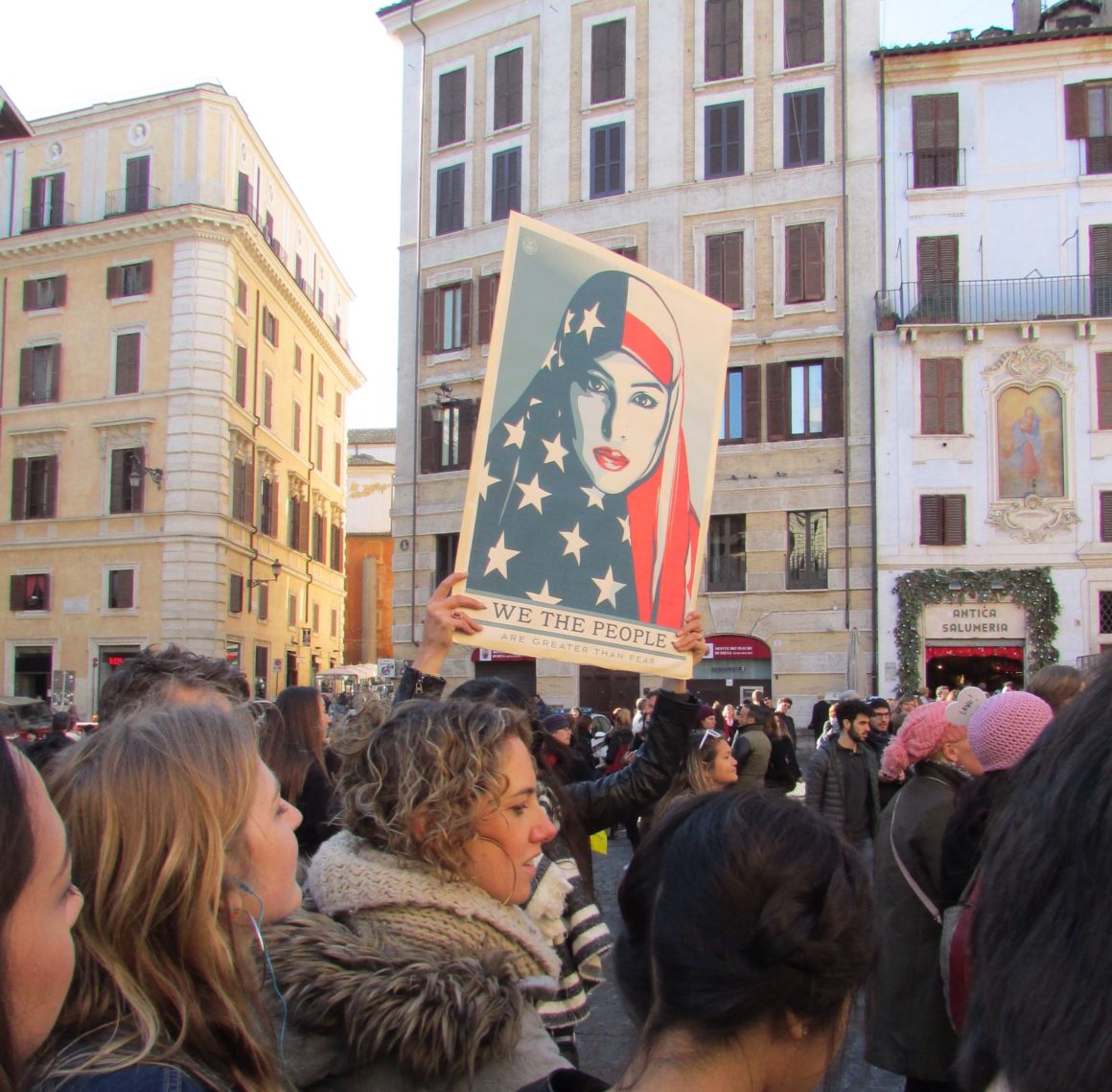 Protesters take part in the Women's March on Jan. 21 in Rome. Photo by Emily Hermosillo / Clarion
---
American students encountered peaceful protests relating to the refugee crisis and Donald Trump inauguration while studying abroad in January in Italy
The Women's March on Washington, D.C. had sister marches in over 75 countries. On Jan. 21, Citrus College students were coincidentally on an excursion to Rome during one of the sister marches.
Crowds of people gathered at the Piazza Della Rotonda in Rome to support the American Women's March.
Men and women, young and old, held signs and chanted in English and Italian against the patriarchy and exclusion of immigrants.
Professor Senya Lubisich is accustomed to seeing protests while teaching abroad, but said she was surprised when she walked into the Women's March in Rome.
Some of the protesters in Rome are or were American citizens. Despite living in another country, they felt the need to let their voices be heard about perceived injustices in the united states.
"It certainly speaks to Americans abroad and the values that you have at home carry with you, and you are still affected by what's happening at home even if you are abroad." Lubisich said.
Lubisich said that if she were back home, she would have participated in the Women's March in downtown Los Angeles with her children and husband.
"I just wasn't expecting to see something that is so prominent in America right now, overseas," 19-year-old Citrus student Alexys Spilotro said.
Some protesters were clearly against the newly appointed Trump and his actions. People brandished signs saying, "Trump dishonors us all" and "Bridges not walls, l'amore battle l'odio [love beats hate]."
"The Women's March in Rome had a powerful impact," criminal justice and journalism double-major Nicole Spata said. "It was inspiring to see people so passionate and fight for what they believe in. I am a strong believer in 'everyone is entitled to their own opinion' and I absolutely love when I see people fighting for that."
A protest about immigration policy in Venice occurred in early January.
On Jan. 13, protesters went out into the cold, carrying signs and spoke into a megaphone against strict immigration laws.
Citrus students were visiting the Peggy Guggenhiem art museum at the time. Distracted by the noise and flare, some students gathered around windows and outside to watch the protest from across the water.
"We were at the Guggenheim in Venice and we heard a lot of racket and commotion," art history professor Michael Hillman said. "It's was surreal now because it was across the grand canal . . . that was mainly in Italian so we didn't understand what they were protesting."
As of 2009, aiding or housing an illegal immigrant in Italy is a crime punishable by up to three years in prison. An Italian man is currently facing prosecution for aiding a pregnant refugee and her family travel to France.
While students were savoring their last few days in Italy, news of Trump's travel ban hit.
The ban did not only affect refugees, but also people with many different types of visas. Lubisich said she thinks there is already evidence of the ban deterring and inconveniencing international and study abroad students.
"I feel like all across, sort of, the west. . . there's such a return to nationalism and nativism," Lubisich said. "There's this real desire to close yourself off and to try to be whatever that nation is, the idea of what your nation is."
Citrus students returning on the group flight home experienced protesters against the travel ban, pro-Trump protesters and volunteering lawyers holding signs.
Isaac Godoy, 26-year-old business major, was inconvenienced while studying abroad by the crowds of protesters that made it difficult to stay with his group.
"It's a small price to pay if there will be a change to policy the Trump administration has set in place," Godoy said.
Godoy said he believes the travel ban will not reduce domestic terror attacks and that it is a waste of resources.
Lubisich was not in favor for the travel ban.
"The travel ban, I think, really does send a message that the United States is not an option. Which in my historian hat makes me very sad," Lubisich said. "I wish we really were about human rights."
---
---