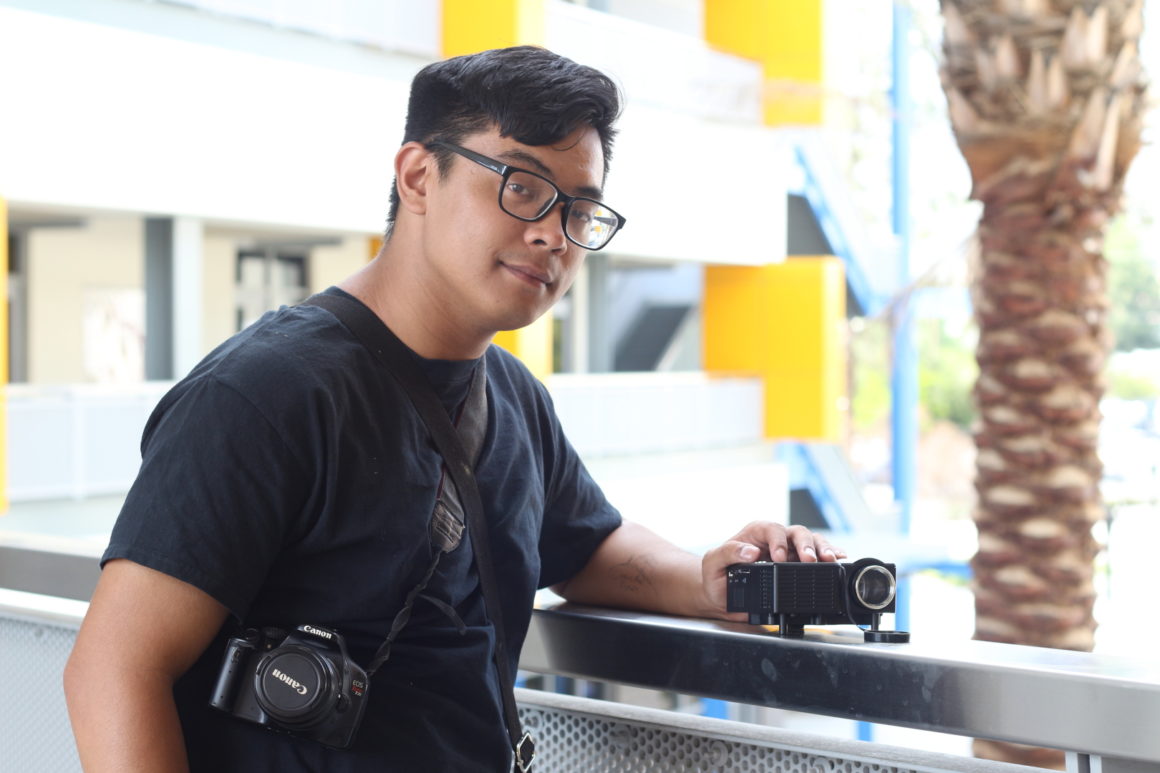 Film Club president Matthew Ronquillo poses for a photo on March 14 at the Visual Arts building at Citrus College. The film club has grown from two to nearly 20 contributing members since Ronquillo became president of the club. Photo by Robert Delgado / Clarion
---
In the span of about two and a half years, Citrus student Matthew Ronquillo has brought new life into the Citrus College Film Club.
As president of the club, Ronquillo has been advocating change and raising awareness for his club as well others on campus.
Ronquillo was disappointed with the lack of organization and motivation that he witnessed in the former film club and sought ways to improve and transform it into what it is today.
"In the couple years I was in the club, we never really did anything and that's what I'm trying to change," Ronquillo said. "Since we've never had the funding to do anything, our club never really did anything."
The club now hosts free movie screenings, teaches basic scriptwriting and brainstorms different ideas for scripts and skits. Once they're able to find actors, they film and edit them.
The film club has grown from two people to nearly 20 contributing members and seven core members due to Ronquillo's dedication and commitment to establishing the change he wished to see.
Students also signed up for the film club at the Club Rush event on March 13 and 14.
"We have a lot of members, and even though not all of of them can come to the official meetings, they're free to come to any of our events," Ronquillo said. "They're free to drop by, and they're free to bring their friends."
With the increase in membership, there have been more consistent efforts on behalf of the club.
On Friday evenings members of the group congregate and travel by bus to Claremont to "hang out, eat food, drink tea and go to the theater," Ronquillo said.
The film club has organized events and outings in collaboration with other clubs on campus as well.
"My vision of the club is to be a social club," Ronquillo said. "Movies and film are a social experience."
Ronquillo said creating and maintaining a club at Citrus is not always easy and once a club is formed and active, they don't necessarily garner much attention.
"There's just so much paperwork and hoops to go through," Ronquillo said. "I've been talking to different students from Azusa Pacific University to figure out what their club situation is. Way easier to pass things through."
Students involved in other clubs on campus expressed similar experiences and concerns.
"I would say it's been a good experience." Rebecca Blanco, vice president of Latina Unidos Student Association, said. "The only difficulties have been just getting the participation and the word out about the club. I feel like a lot of students don't really know that this support group is available to them."
Ronquillo believes that Citrus College should direct more of a focus on helping clubs on campus.
"I don't hear anything about the clubs from people that aren't part of the club circle," Ronquillo said. "And I've realized that from talking to different students, this is always the expression I hear. 'They have that club? That club exists?'"
Promoting clubs on the school homepage and discussing the available clubs could make joining a club more accessible, Ronquillo said.
Certain clubs, however, have had different experiences.
"I've had a pretty good experience so far, just because it's anthropology," Cynthia Frausto, president of the anthropology club, said. "It was a little hard to get it started. I had to go around and get signatures."
Frausto said participating in a club can be an issue, because "not a lot of people have that extra time. We're all going to school, we're going to work."
Despite obstacles in maintaining a club, Ronquillo has high hopes for the near future of his film club.
"The goal for this semester is just to get more members," Ronquillo said. "Get our name out there and advertisements, stuff like that. Just show that we can do something, rather than just say we can do something. Because that's what attracts people to a club, the fact that you can do activities."
For more information, the Citrus College Film Club can be found on Facebook at https://www.facebook.com/groups/CCFA2013/.
---
---