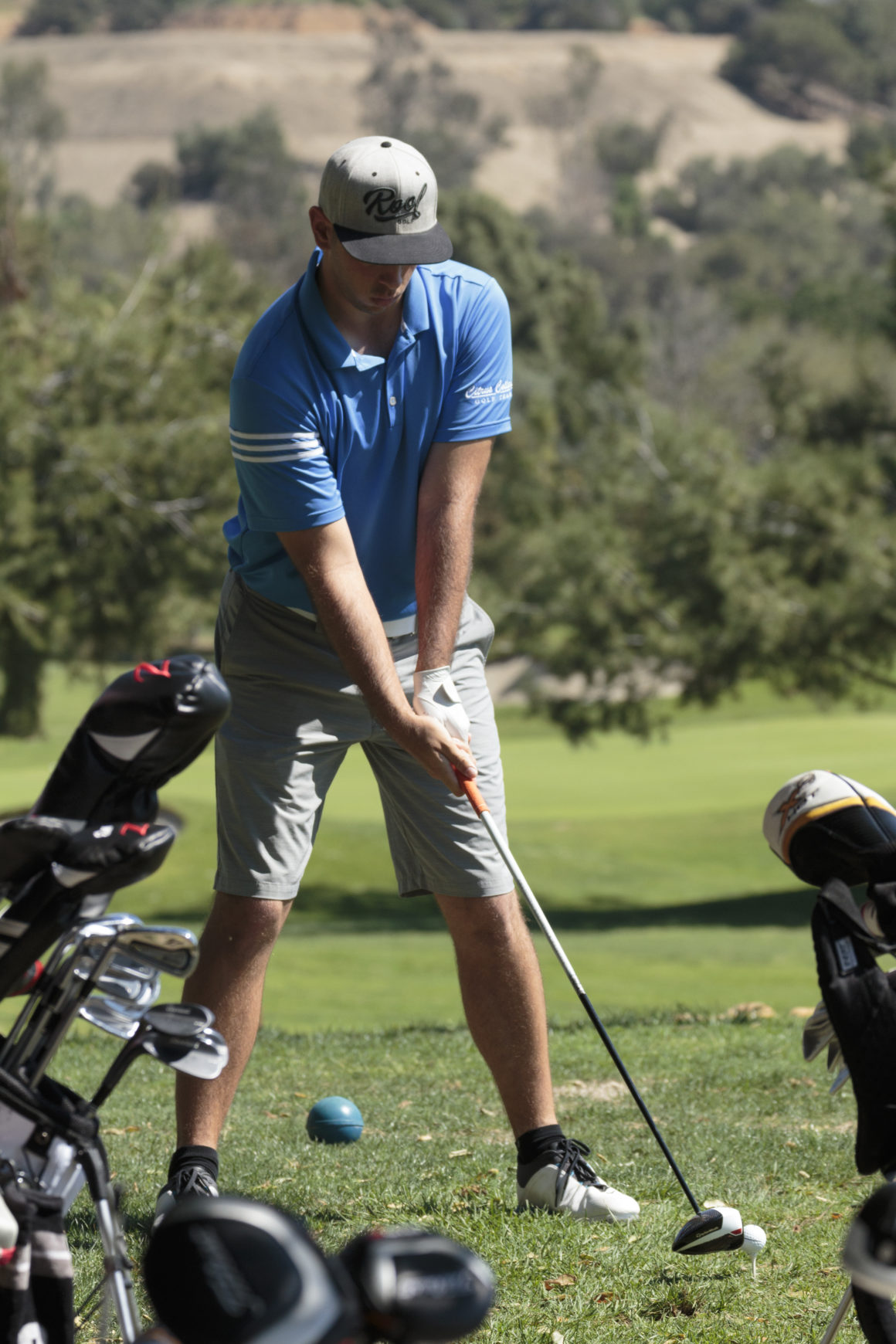 Sophomore James Bragger tees off on March 13 at the San Dimas Canyon Golf Course for Citrus' home event. Photo by Christopher Amurao / Clarion
---
Since hosting the Western States Conference Citrus event on March 17, the Citrus men's golf team has competed in two events, placing third in the WSC SoCal Regional Preview and fourth in WSC Santa Barbara event.
Sophomore James Bragger has finished the last three events as the Owls' lowest scorer, including a two-over 74 at WSC SoCal Preview and an eight-over 80 at WSC Santa Barbara.
El Camino Country Club in Oceanside, California hosted the SoCal Regional Preview event where the Owls finished with a score of 394, 11 strokes behind first place Ventura College and three strokes behind runner-up Santa Barbara CIty College.
Bragger's 74, Joshua Strong's 76 and Aaron Coiner's 78 were among the 10 best individual scores behind medalist Brandon Resnick of Ventura College with a one-over 73.
Alisal Ranch Golf Course in Santa Barbara hosted the WSC Santa Barbara on March 27 where Citrus finished fourth behind College of the Canyons, who finished first for their third conference victory this season.
Despite the high winds that played a role in some of the higher scores, the 17-stroke margin of victory for College of the Canyons left the remaining teams battling for second which went to Santa Barbara City College with a team score of 399.
With a score of 417, the Owls placed fourth–Citrus' best round, which once again belonged to Bragger, who shot an eight-over 80 which placed him 10th individually behind medalist Ben Campbell from College of the Canyons with an even-par 72.
With four events remaining before the WSC finals, teams will be fighting for a top-four finish in conference qualifying for a return trip to El Camino Country Club for the SoCal Regionals event on May 8.
The Citrus men's golf team will travel on April 10 to Oakmont Country Club, Valencia for the WSC Glendale event.
---
---