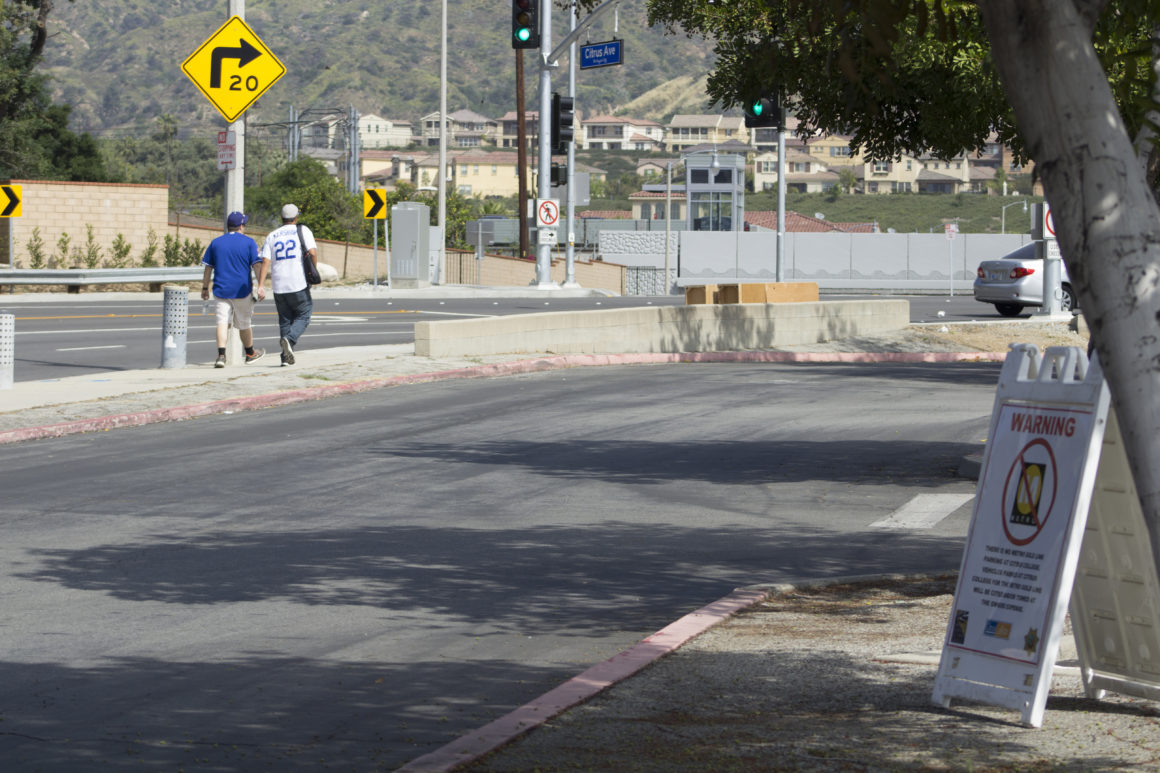 Sports fans heading to the metro gold line from the citrus college parking lot. Photo by Xavier Larios.
---
Metro Gold Line patrons looking to park and ride will face consequences if they park in the Citrus College parking lots, moving forward.
The APU/Citrus Metro station's parking structure, which often fills by 7 a.m., does not match the need a terminus requires.
The former terminus at Sierra Madre Villa station in Pasadena has 841 free on-site parking spaces, while the APU/Citrus station's 200 free on-site parking spots.
Since the completion of the extension March 5, 2016, riders have purchased daily permits and utilized the student parking spaces on campus to travel elsewhere.
Jordan Nielsen, psychology major, said she typically arrives a half hour early for class to find parking and was not happy Gold Line riders have taken up spots.
"That's frustrating, 'cause college parking sucks as it is," Nielsen said.
Campus Safety has began cracking down on Metro riders using the Citrus parking lots.
Approximately 30 feet from the crosswalk that leads to the the APU/Citrus Metro station on the corner of Citrus' campus is a sign on a wooden frame with a warning in red bold letters stating there is no Metro Gold parking at Citrus College.
In addition to the multiple signs in the S1 parking lot, which is the closest lot to the Metro station, Campus Safety has also issued verbal warnings to drivers before they park their car.
Campus Safety supervisor Ben Macias said if they can establish cars are not affiliated with the campus, drivers will be cited and could have their vehicle towed.
Nielsen said the consequences are fair.
"I would be cited and towed if I didn't park somewhere I was really supposed to be," Nielsen said.
Since the completion of the Gold Line extension, the added convenience for students to get to campus has become convenient for people attempting to get to locations as far west as Santa Monica and everywhere in between, including downtown Los Angeles or sports venues like Dodger Stadium and the Los Angeles Memorial Coliseum.
While Los Angeles Rams football games typically fall on Sundays in the summer and fall when students are not impacted, Campus Safety may see an upswing in Dodger fans donning hats and jerseys, migrating from Citrus' parking lots to the Metro station in the middle of the school's busiest hours.
Performing arts major Marcos Ochoa said drivers are taking advantage of Citrus' parking lots.
"It's kind of messed up that you would be taking college parking away from people who are actually here going to get your education and you're going to like a baseball game," Ochoa said.
While the struggle for parking is not a new issue for Citrus students, the task for campus safety to minimize outsiders, including park and ride individuals, will be ongoing.
"Even if it's only five, 10 or 20 spaces, we are ensuring these are for students," Macias said.
---
---