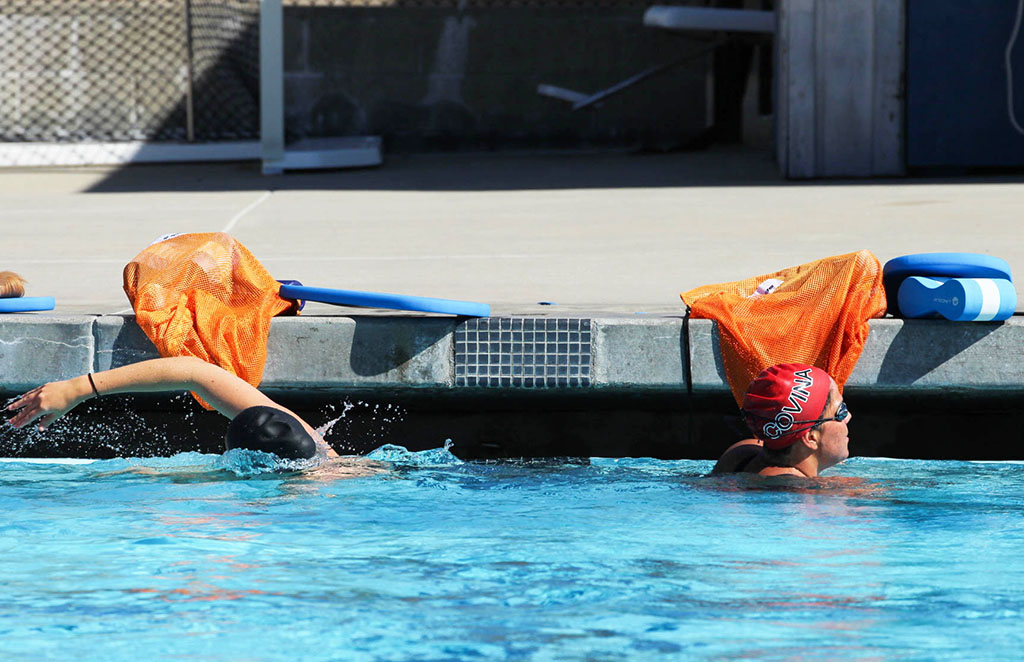 The Citrus swim team practices on March 2 at the Citrus College Aquatic Center. Megan Card (left) pushes off the wall as teammate Clariss Romero waits her turn. Photo by Hannah Walleck / Clarion
---
The swim team is wrapping up their season with two weeks left before championships and head coach Jennifer Spalding started their taper during practices.
"We have already cut down the yardage in practice," Spalding said. "The girls will wear leggings in the pool for drag and I told the girls we will have a competition for who has the ugliest leggings gets a prize."
Spalding uses the resistance training technique many other swim programs have used before major meets.
As conference championships gets closer, Spalding has a few fun activities in store for team bonding.
"The day before we leave to head to conference, we will have a little party and I'll make the girls some pasta," Spalding said. "I want to make this experience fun for the girls."
Any swimmer can enter a preliminary event, however, only the top 16 of those swimmers will move on to the final round. Preliminaries are held in the mornings, followed by finals in the afternoon. Most of the Citrus swim team roster are freshmen and haven't experienced conference meets at the community college level.
"I'm excited for the girls," Spalding said. "A lot of our girls have a really good chance of making it to finals."
Freshman breaststroker Saara Zigic joined the team during the season in January.
"I've only been on the team for about two months and I already feel welcome," Zigic said.
Zigic also said the swim team has motivated her to reach her goals.
"This team challenges me to push myself everyday," Zigic said. "My goal for the WSC championship meet is to swim all out and get a personal record."
Zigic's teammate Megan Card is looking forward to the conference championship meet as well. Card is a freshman backstroker who plays water polo and is familiar with Spalding's coaching style.
"Before every practice, Jen has us talk about our goals as a team and ways to improve heading into conference," Card said. "Our coach has high hopes for us."
Mental preparation has helped the team with a positive outlook towards a highly competitive meet.
"I'm pretty confident we will dominate," Card said. "I'm definitely confident in myself to drop time off my 100 back and 200 back."
The Owls have a two-week break from competition to get mentally and physically prepared for the biggest meet of the season, hosted by Alan Hancock College. The WSC Championship starts at 8 a.m. on April 20 to 22 in Santa Maria.
---
---