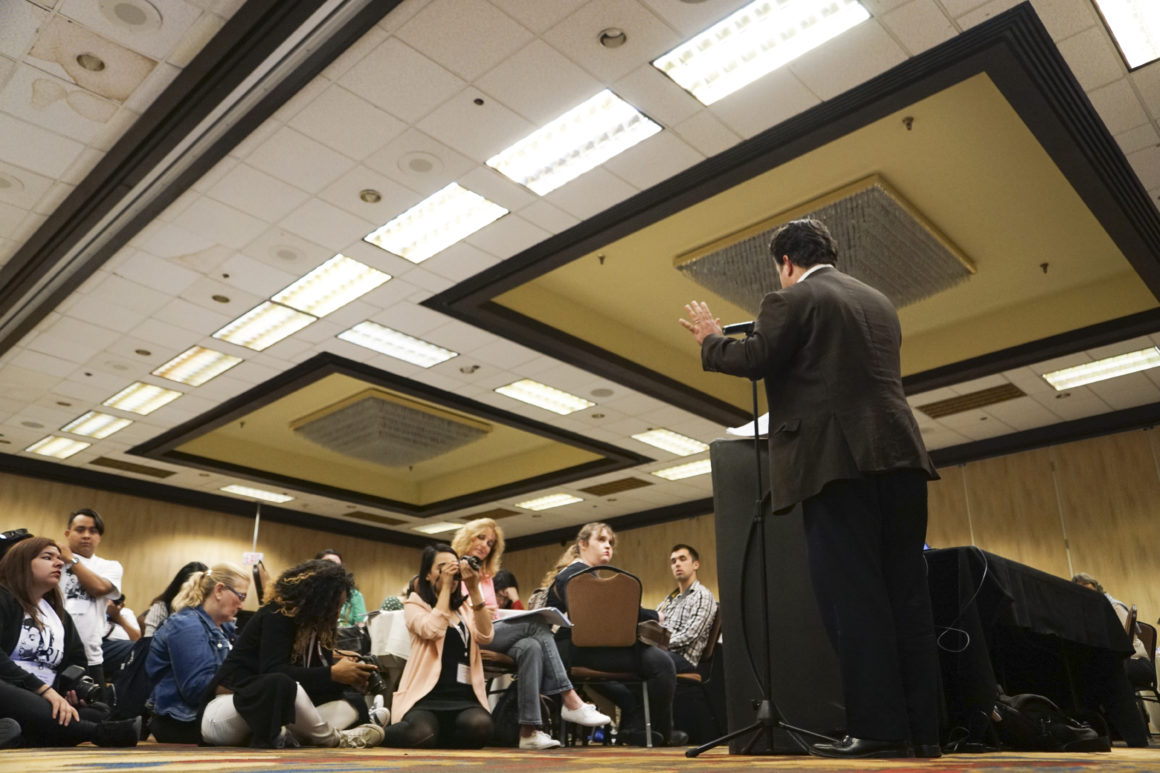 Executive Director of the First Amendment coalition David Snyder describes the different kinds of protected speech to attendees of the Journalism Association of Community Colleges conference March 31 at the DoubleTree Hotel in Sacramento, Calif. This photo received an Honorable Mention award for the News Photo competition. Photo by Kevin Alvarez / Clarion
---
Students from the Clarion newspaper and Logos magazine competed in the Journalism Association of Community Colleges state convention from March 30 to April 1 at the DoubleTree Hotel in Sacramento.
The Clarion and Logos Magazine both were awarded General Excellence and the team of 22 journalists won 20 individual awards.
Citrus College achieved the Pacesetter award, given to four schools in California for quality of work in mail-in submissions and on-the-spot contests.
Nearly 40 schools statewide attended the convention, participated in workshops and competed in on-the-spot contests.
Clarion managing editor Megan Bender and staff reporter Jessica Sosa won $500 scholarships. JACC awards two scholarships for students looking to transfer and both were awarded to Bender and Sosa. Both students were required to submit a personal statement in the application process.
Bender said she has attended JACC state and regional competitions numerous times and hopes to continue her participation.
"When I heard my name called, I was freaking out a little bit," Bender said. "The whole premise of my statement was that I'd never considered myself a student who was worth applying for a scholarship."
Staff reporter Arleigh Davis won first place in critical review. It was Davis' first JACC competition and her first semester with the Clarion.
"Well, I was shocked, to be honest," Davis said. "But, I was extremely excited. I was really proud of the work that I turned in and I was happy that I could represent my school."
Davis thanked her fellow members from the Clarion and said she was overwhelmed by their support.
Logos editor-in-chief Darius Johari received second place for his work in the news judgement and layout category, alongside former Logos editor-in-chief Evan Solano, who took first place for the same category and won numerous other awards, including second place in magazine cover design.
Logos staff reporter James Duffy received fourth place in copy editing and Clarion designer Brandon Urbina placed fourth for creative portrait. Clarion web editor Christopher Amurao won second place for sports game story. Additionally, honorable mentions were awarded to Bender, Clarion photo editor Kevin Alvarez, Batool Jaffer and Maddison October.
Clarion reporters Malcolm Castelli, Emily Hermosillo, Edward Ramirez and Hannah Walleck were among many others to represent Citrus in the competition.
Castelli said his highlight was seeing Davis win first place.
"She was so excited, and she was so nervous beforehand," Castelli said.
Hermosillo also said the highlight of her experience was seeing Davis win and that she was proud of her own work in editorial cartoon and news writing.
"If you have pride in your work and you have reason to be proud in your work, then it shouldn't matter that it was awarded or not," Hermosillo said.
Clarion editor-in-chief John Michaelides said JACC was a great learning experience for him and mostly enjoyed the workshops, taught by professionals in the field of journalism.
The Clarion and Logos Magazine will participate at the fall JACC on Oct. 14 at Cal State University, Fullerton.
---
---