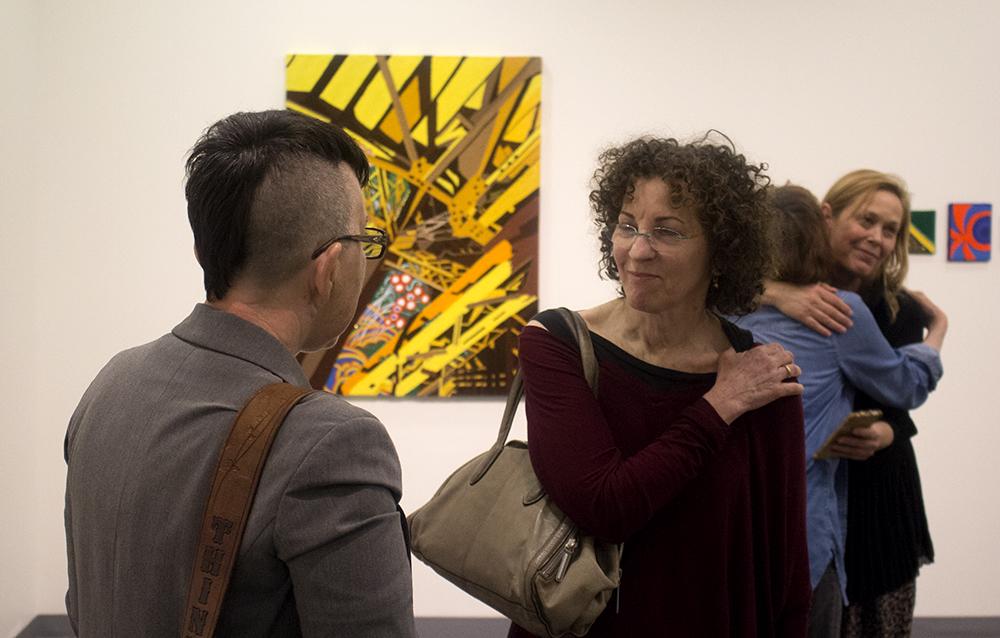 Eve Wood, left, speaks to Julia Schwartz at "The Only Way Out Is In." Julia Couzens, back right, embraces Marion Lane in the background. Magalhaes' "Obscured Umbrella" in the background. Photo by Emily Hermosillo / Clarion
---
International artists spoke at an art panel on March 8 in the Visual Arts lecture hall about their careers and process of creating art.
These artists have their work on display in the art gallery "The Only Way Out is in" in the Visual Arts building until May 12.
Much of the panel was focused on the artists' process creating a piece. Process art is all about the experience, not the end result. There is typically little or no conceptualizing or expectations.
Mela M, an award winning artist who lives in LA, is inspired by everyday life, especially architecture. M said the wooden pieces on display are affected by her emotions and she created the piece "Pink Sun Over the City" to represent her love of the city and respect to the feminist artist icon Judy Chicago.
For Nzuji De Magalhaes, the process of creating art is all about the challenge. Oil paintings became comfortable for her, so she began integrating yarn. Creating these pieces are challenging for her because yarn does not blend like paint and it requires her to contort her body and stay in a position for hours.
From a few feet away, some may not realize Magalhaes's "Obscured Umbrella" painting is made of strands of yarn, plastic beads, and glitter.
Magalhaes is not the only one who prefers to work with unconventional materials.
Coleen Sterritt, a 64-year-old Los Angeles-based artist, does not know what their pieces will become once they start.
Sterritt said it is about creating something, not the end product.
Sterritt creates art from random found objects and has created sculptures from abandoned cabinets and doors from when she remodeled her home.
When she saw the discarded wood from her bedroom, Sterritt said she saw the pile of wood "with new eyes" as materials. The door had been painted a color called "honey", which was inspiration for the title of the piece "Honey pile" that is currently on display in the art gallery at Citrus.
"Honey pile is kind of like an endearing term, in a way, and you know, it was the doors that came off the bedroom and it just seemed sweet and appropriate," Sterritt said.
For artist Julia Schwartz, her paintings are deeply emotional and nothing is planned in advance.
The panel's moderator Eve Wood described Schwartz's art as "sinister whimsy," which is reflective of the years she spent conducting psychoanalytical study.
Wood asked the panelists how much time an artist should spend on a piece in the studio, to which Julia Couzens replied, "Working isn't just hammer to the chisel or hand to the brush."
Couzens said time has nothing to do with the quality of the art, but time spent conceptualizing or experimenting outside of the studio counts as an artist's work.
"Time has nothing to do with art." Couzens said.
M encouraged student artists to sketch or experiment when they don't feel like working on their main project.
Many of them stressed the importance of attending galleries and shows to make connections and friendships with other artists.
Networking can be difficult for introverted artists, but Magalhaes said it's "90 percent networking, 10 percent art."
Marion Lane began making art around 15 years ago, while M has been drawing ever since she was a child.
"If you are 25 and haven't made it yet, you're fine," Magalhaes said. "You have to forgive yourself because in your mind you can fly, but if you fly for real you will fall. Hard."
The art panel was held on International Women's Day and with all the featured artists being women, the topic of feminism and what it means to be a "feminist artist" was brought up.
For Magalhaes, being a "feminist artist" was something intimidating and confusing when she first heard of it.
She arrived in America from Angola, Africa, not understanding what feminism meant and did not want to be stigmatized.
Rieley Slater, an undeclared student who is interested in studio art, said she is glad the artists brought up feminism because she thinks it is an important topic to talk about in all spaces.
Slater said the panel was interesting to her because she recently discovered her own interest in abstract art and that she can get preoccupied with the end goal of her art instead of the process.
Professor Michael Hillman identified with many of the things the panelists talked about as an artist that works with ceramics. While he said he does have an envisioned product, he often gets lost in the process of creating due to the constantly changing, malleable material.
Hillman praised Rochelle Botello, an art professor and curator, for organizing the art gallery and art panel and for her ability to encourage interaction with the pieces.
---
---