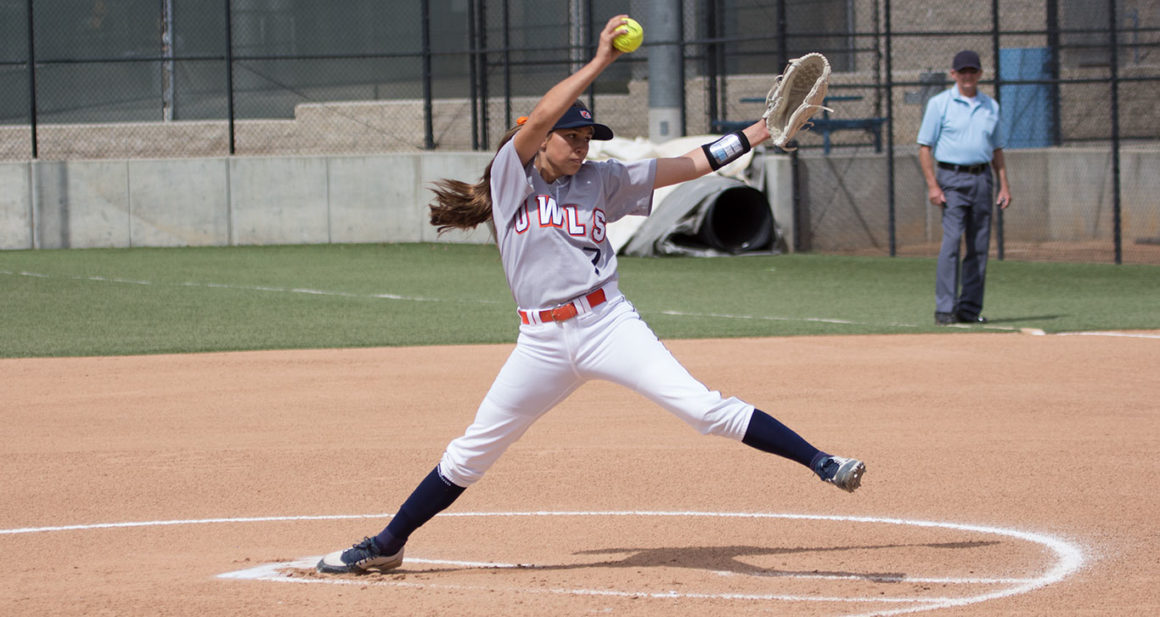 Citrus freshman pitcher Danielle Dominguez winds up for a pitch on April 6 at Citrus College. San Bernardino defeated Citrus 5-2. Photo by Edward Ramirez / Clarion
---
The Citrus College Owls softball team lost to the San Bernardino Valley College Wolverines 5-2 in a non-conference game on April 6 at the Owl's Nest.
Citrus came in with an 18-11 record while the Wolverines came in with a 15-12 record. The meeting was only the third between the two schools since the 2007 season.
Sophomore outfielder Jade Nua, the Owls' leader in batting average with .569 was not in the starting lineup.
San Bernardino head coach Jerry Tivery said to get the win, his team had to play good defense and have a good pitching strategy.
"Well we knew that we had to play really good defense," Tivery said. "Citrus has really excellent hitting, and we tried to keep them off balance with pitching through a lot of changeups and a lot of low pitching."
The Wolverines got on the board first after sophomore Marci Valenzuela hit into a fielder's choice, allowing freshman Kazzandra Reyes to score in the top of the first inning.
The Owls tied the game in the second inning after infielder Alyssa Roman hit a single, bringing in Jocelyn Alvarado.
San Bernardino took a 2-1 lead in the top of the third after pitcher Terilyn Baude hit a single to bring in outfielder Yoselin Navarro.
The Owls responded in the bottom of the inning after catcher Celine Spathias scored on a throwing error to tie the game, 2-2.
The Owls did not register a hit after the third inning. After a single by outfielder Arterean Williams in the top of the fourth, the Wolverines did not get another hit until the top of the seventh.
Wolverines' Erin Alvizo broke the hit drought with a bunt single before advancing to third. Reyes hit a single to right field and brought Alvizo home to break the tie and give San Bernardino a 3-2 lead.
Navarro hit a double to left field to bring in Reyes and Fortunato to make the score 5-2.
The Owls would have one more chance to tie the game or get ahead, but the Wolverines were able to catch three outs quickly, winning over Citrus.
The winning pitcher, Terilyn Baude, gave up five hits and two runs. The Wolverines committed two errors and the Owls committed one.
Owls coach Jackie Boxley gave credit to the opposing pitcher, saying that Baude handled the Owls very well.
"She handled us," Boxley said."She shut us down and she did what she needed to do and we didn't really come out and we didn't bang the ball around, we made some mistakes and their pitcher took care of us."
The Owls will play a doubleheader against conference opponent Victor Valley (3-24-1, 1-8) at 1 p.m. on Tuesday, April 11 at home.
---
---