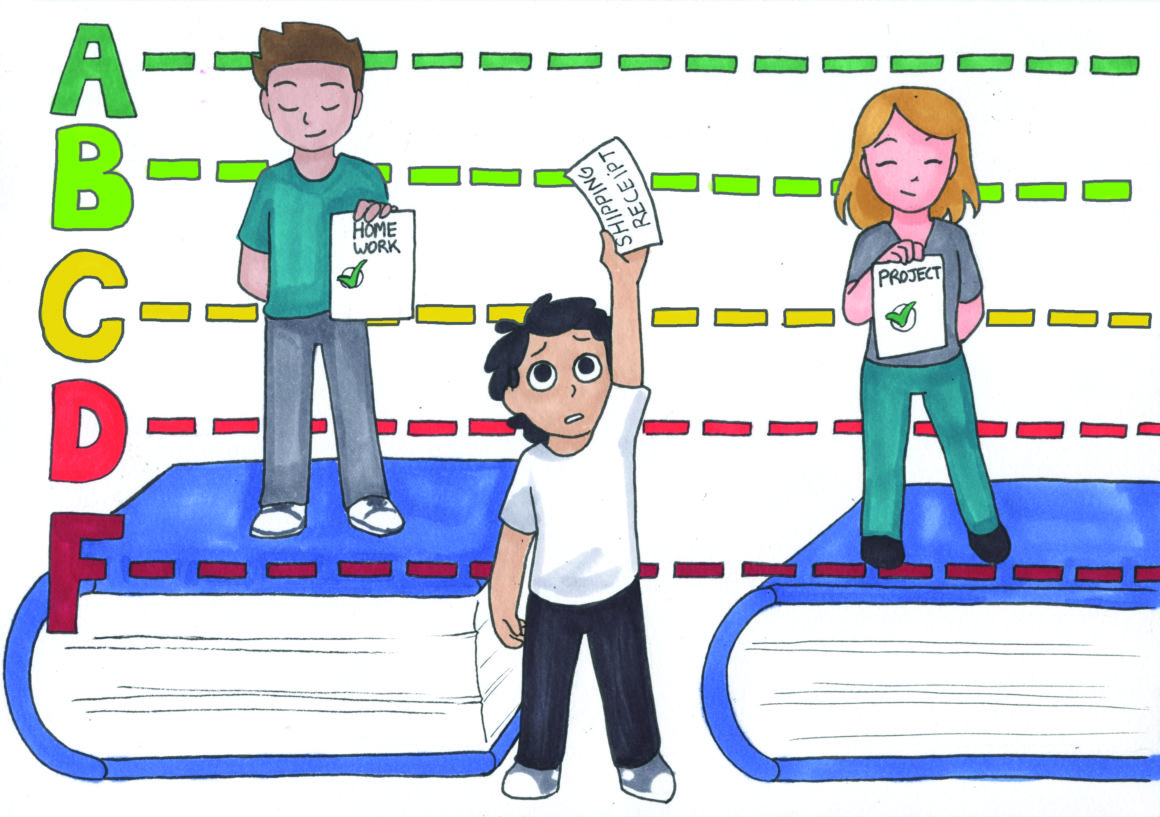 Illustration by Emily Hermosillo / Clarion
---
Around the start of the semester, there are many things students worry about: school, grades, their future. The one issue that ties all of these worries together is money.
At the beginning of the semester, a common setback for students receiving financial aid is the late disbursement date, which affects purchasing all the necessary class resources, such as textbooks. Because of this, Citrus College should allow a direct deposit option. Using this system would give students access to their money in just a few business days.
According to the Financial Aid Office and Office of Institutional Research, roughly 5,000 students at Citrus benefit from federal Pell grants, which are delivered to their mailboxes. However, many of these students have to wait nearly a month into the semester for their checks to come in.
Students who make extra corrections to their FAFSA or Cal Grant are the ones who suffer the most from waiting for their checks. They need to wait around ten days to two weeks extra for the changes to arrive at the Financial Aid Office.
This means some students must pay out of pocket for books and unit fees that can run up to a few hundred dollars. If a student pays out of pocket, at $46 a unit, a typical 12-unit schedule would cost $552–and that is only for classes. Other expenses such as the health service, student representation, student service and parking in total would cost about $89, or $84 with the Board of Governors fee waiver.
In addition, textbooks, being one of the largest expenses for a student at Citrus, have a price range varying from $20 to $200, so having to buy multiple books for different classes out of pocket would prove to be extremely costly.
With a direct deposit system, similar to one used already by student employees, students would be able to acquire their funds faster, helping them be prepared on time.
The financial aid money is available right away at the beginning of the semester, but only for the first week of class before the checks are sent.
Purchases at the Owl Bookshop are deducted from the financial aid amount. Buying books straight from there would only take a day or two depending on availability.
Unfortunately, most of the books at the Owl Bookshop closely mirror the retail price, so the cost of getting textbooks immediately is very high.
If a student wishes to buy their books from an external source to cut costs, it would probably take more than a month from the start of the semester to get them.
Being able to get their aid faster would mean that students can plan ahead to purchase textbooks cheaper without having to sacrifice a few assignments, and in turn, their grades.
Even though professors sometimes set aside extra copies of their required textbooks in the library, if the book is checked out at the time that the student goes to the library, the student won't have a chance to read the book at all. There are more students waiting on their checks than there are copies of textbooks at the library.
The direct deposit system is also physically more safe and secure than checks being mailed. Mailing checks creates a possibility of being lost, which leads to a greater delay and burden on the student.
A downside of the direct deposit system would be that some students may not have a bank account, meaning they cannot have money electronically sent to them, but this is not a common issue.
Community colleges around Citrus are utilizing third parties for students to get their money, such as Mt. San Antonio College, Chaffey College and Rio Hondo College, which use a site called BankMobile.
The system allows students to opt for making an official BankMobile account for faster funds.
As shown with the other community colleges near Citrus, the direct deposit feature is capable of helping the students acquire their financial aid faster.
Like all colleges, Citrus wants to help their students succeed. Yet even with this reassurance, some students must wait for their financial aid for weeks causing them to fall behind in their classes.
If Citrus College took an extra step to help students pay for their course materials faster, there would be no high price for playing the waiting game.
---
---