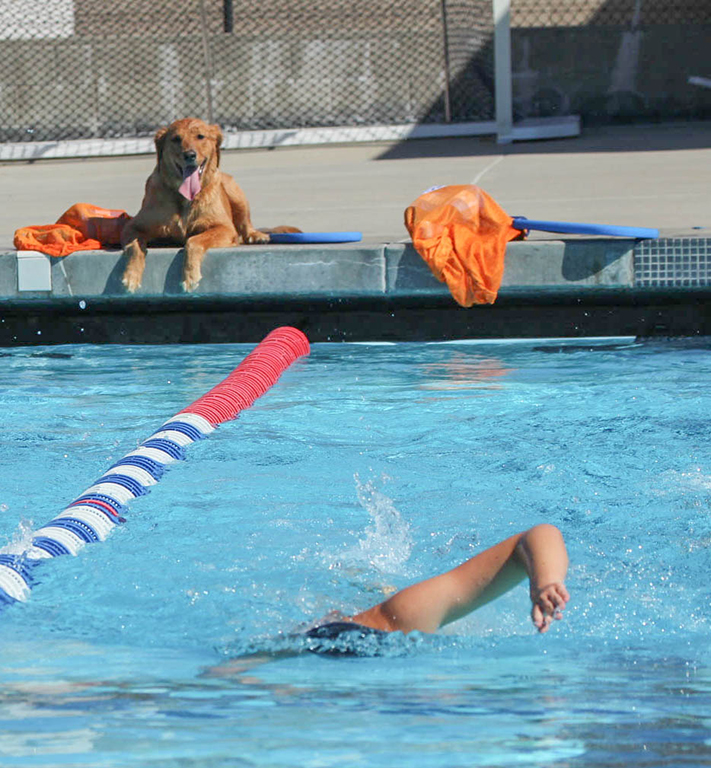 Service dog Bayern watches over freshman Megan Card as she finishes her swim set March 22 at the Citrus College aquatic center. Bayern and his owner Gregory Ellender have been attending practices since the start of water polo season in fall 2016. Photo by Hannah Walleck / Clarion
---
The swim team has an unlikely new mascot on the pool deck, a service dog named Bayern who has an energetic personality and an uplifting journey.
Bayern is a golden retriever who has positively influenced a team and changed his owner's life in more ways than one.
Gregory Ellender, Bayern's owner, is a veteran who was deployed in Iraq and Afghanistan, serving nine years in the Army. Now Ellender is a Citrus student, only a few classes away from an associate degree.
Ellender was introduced to Bayern through Paws 4 Patriots, an organization that trains dogs for disabled veterans. Some of the services Bayern provides for Ellender include emotional, behavioral, mobility and physical disabilities.
"He helps me when I am having night terrors," Ellender said in a phone interview. "Bayern either lays across my legs and wakes me up by bumping me or barking. He is sensitive to my behavior."
Ellender has been a Citrus student since spring 2014, taking sociology and psychology classes. A few semesters later, he started to take kinesiology courses. In fall 2016, Ellender met water polo and swim head coach Jennifer Spalding through softball head coach Jackie Boxley.
Boxley referred Ellender to Spalding, who teaches classes in the kinesiology department in addition to coaching. Ellender needed additional units to fulfill his general education classes.
"Greg actually needed some classes and so he took some of the classes I taught and brought the dog around," Spalding said. "Then all of a sudden, Greg started hanging out with the water polo team."
Ellender asked Spalding to attend a practice for an assignment on coaching athletes and to get any additional advice about kinesiology.
"I went to a few practices with Bayern and he enjoyed interacting with the girls, so I brought him a few more times," Ellender said.
Bayern and Ellender grew closer to the team and continued going to their practices during the peak of water polo season. Ellender thinks Bayern made an instant connection with the swimmers.
"Bayern is very passionate about the girls," Ellender said. "I would go as far as to say that he is somewhat attached to some of the girls."
Ellender also connected with the swim team on a personable level.
"The water polo and swim team has impacted my life in an unbelievably positive manner," said Ellender. "They have helped me by talking to me and just being themselves. I have a tremendous amount of respect for them as both athletes and as ladies."
Ellender returned the team's hospitality by opening his home to any swimmers who needed a place to live. Megan Card, Hunter Olivier and Angela Smith took Ellender's offer and currently live with him and Bayern.
"I needed a new place to live as well as my roommate, Angela," Card said. "Greg was kind enough to open his home to us."
Card is on the swim team and also plays water polo, where she met Ellender and Bayern.
"I love Bayern and how protective and loving he is," Card said. "He definitely relieves my own stress everyday I come home."
Spalding noticed Bayern's personality and how he has influenced the girls on the swim team.
"You can be in the worst mood and when you see this dog, you're just instantly happy," Spalding said. "He's definitely our team mascot, that's for sure."
Bayern helped make a positive transition for Ellender after serving in the Army and creates a comfortable environment for Ellender and those who come in contact with him.
"Bayern provides unconditional care and love and has been with me through thick and thin," Ellender said. "He is my lifeline."
In under half a year, Bayern has 15 additional family members and is the new mascot and official aquatic dog of the swim team.
---
---