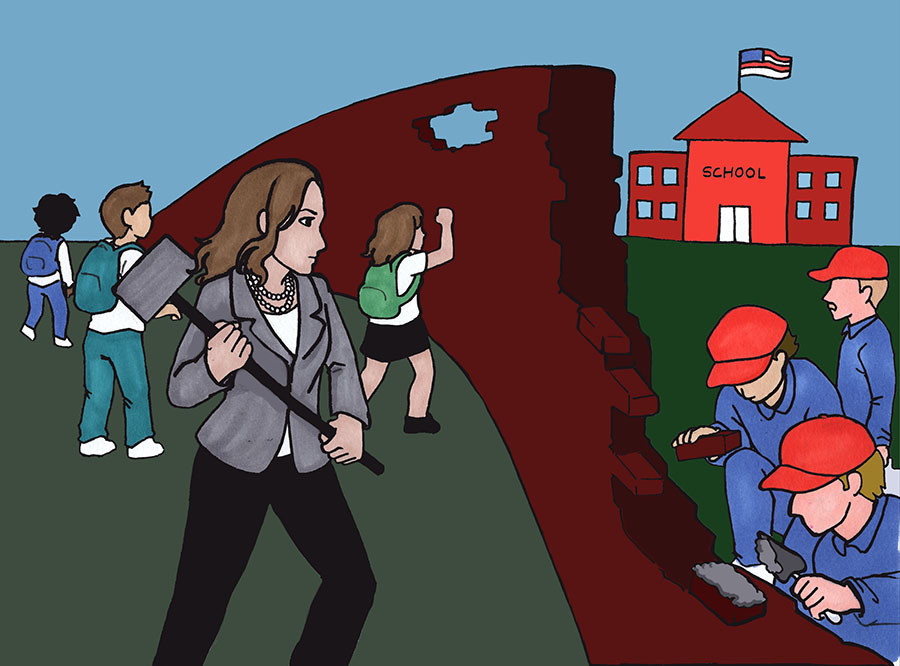 Illustration by Emily Hermosillo / Clarion
---
Education advocates in Congress, as well as California's higher education institutions can help the state lead a loyal opposition to some of President Donald Trump's proposed executive actions and policies.
This support can come to life through the promotion of equal education opportunities for students protected by Deferred Action for Childhood Arrivals.
The Public Policy Institute of California states that universities and colleges in the state enroll more than two million students from a variety of backgrounds. Ensuring that California's college campuses remain ethnically diverse is something that needs to continue, to ensure that students of all backgrounds can make an impact on society through their access to a college education.
California has given wings to students protected by DACA through the California Dream Act, which gives financial aid for undocumented students who are enrolled in eligible colleges and universities. The benefits the Dream Act provides for students varies by state.
The educational opportunities that flourish in California put the state in a position of influence for other state leaders who are still indecisive about how they will deal with the new policies introduced by the GOP. Senators who are in favor of equal opportunities for undocumented students include Dick Durbin (D-Ill.), Lindsey Graham (R-S.C.), and Kamala Harris (D-Calif.). Durbin and Graham are the driving force behind The Bar Removal of Individuals who Dream and Grow our Economy.
The BRIDGE Act would provide "provisional protected presence" for three years for those protected by DACA, in case the government chose to put an end to the executive order signed by President Barack Obama back in 2012. These political leaders have been adamant about their support for students protected by DACA and have tried to apparate some peace of mind to these students through their words and political leverage.
Furthermore, on Feb. 28, Harris tweeted "CA is home to ⅓ of young people across the country who applied for DACA. I will do everything in my power to protect them."
Trump remains indecisive about his position on DACA, whereas California's community colleges and universities have spoken out in support of their students protected by the executive order.
Providing protection for these "dreamers" through sanctuary college campuses can uphold the state's quest at promoting equality for the diverse population it has. Other states still indecisive about their stance on DACA and the Dream Act can take note of the Sunshine State's attempts at maintaining a diverse student body on college campuses.
Citrus College has done its part to offer peace of mind to its students regardless of their immigration status as proclaimed by the Board of Trustees Resolution on Jan. 17. This resolution reiterates the College's support for DACA students by offering its commitment to all of its students.
In addition, the EOPS program encourages DACA students to make an appointment with one of the program's advisers if these students need resources, counseling, or legal advice.
"There are many people that want to help and provide students with resources and we are happy to do so, education transforms lives," EOPS Director Sara Gonzalez-Tapia said.
A sparkling catharsis for DACA students can be assimilated with the help of California's equal education opportunities and political leaders, and thus bring forth a glimpse of hope for "dreamers" that have an uncertain horizon ahead.
---
---