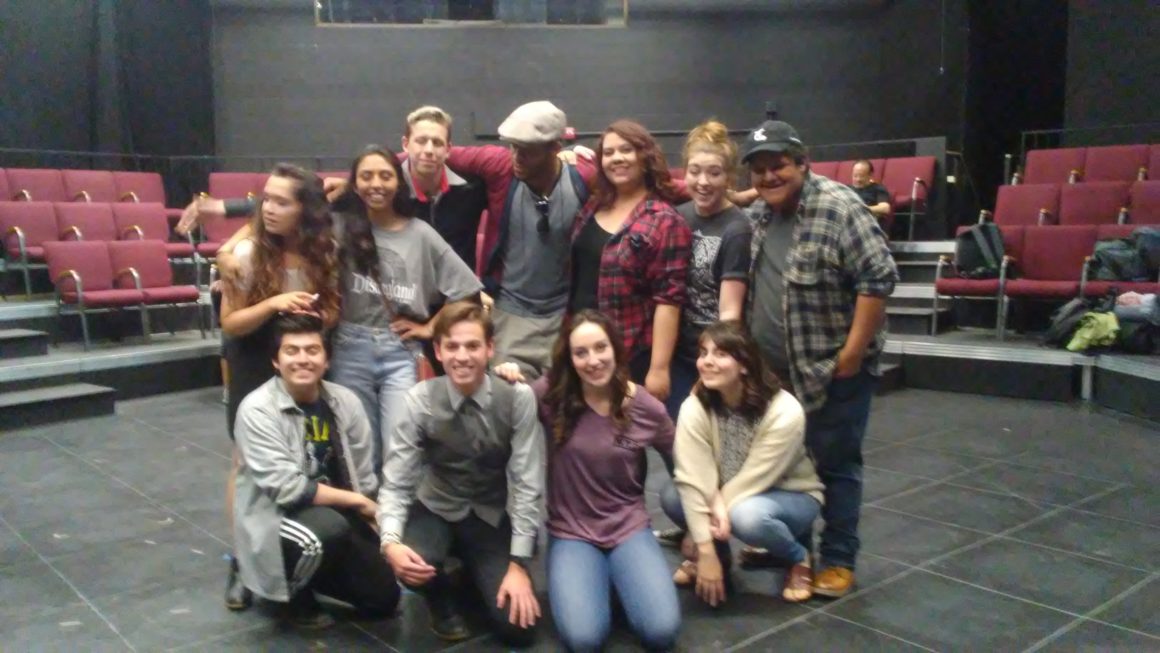 Theatre students pose for a photo at the Citrus Theatre Works event on April 1 inside the Little Theatre. The event showcased six student-produced and directed short original plays. Photo by Adriana Aguilar / Clarion
---
The Citrus Theatre Works event showcased six student-produced and directed 10-minute plays on April 1 at the Little Theatre.
Citrus theatre student Johanna Romo said the first five plays of the showcase was about the sense of hopelessness, anxieties and failures people go through.
"We see so many people who go through so many things that each of us feel but all we need is that hope, our own hope that inner push," Romo said. "It's all summarized in the last play. It was where we realized that in the last scene, 'The Drummer.' It was that happy ending that summarized the hope in all five scenes."
Theatre student Garrett Laporte said the main message of the first five plays was "things don't always look how they seem."
"It's more than a concept and it's definitely an application of life," Laporte said. "It's super impressive that we're all just students."
In the student-produced play "Attack of the Moral Fuzzies," a contestant participates in a game where the questions test the moral decisions of the contestant.
The play "One Hundred Women" detailed the struggles of seeking companionship. Citrus theatre student Vivien Roman played Nina, a character who served a particular role to different people, from companionship, to guidance, to friendship and support. Nina discovers that she is lonely and in need of companionship, because her friend is not around for her.
Roman, who performed in two of the plays, said a new generation of actors is the future of stage and film.
"That's what where we're working towards, so I feel like it's very important to support student-based projects, because you never know where we they'll go," Roman said. "I feel like this could be the start of something that could go on to Broadway or be the next Oscar-winning movie."
Romo said the event was a "passion product" and was the spirit and dedication the actors, directors and producers wanted to bring to the show
"This is what we do when we really want to and when we put our effort and minds into us," Romo said.
Laporte said the theatre department has a welcoming and positive environment and encouraged interested students to join.
"It is the perfect starting point for those students who want to do well in this industry," Laporte said. "Being able to be friends and see them work, I think that networking is the most important thing."
---
---