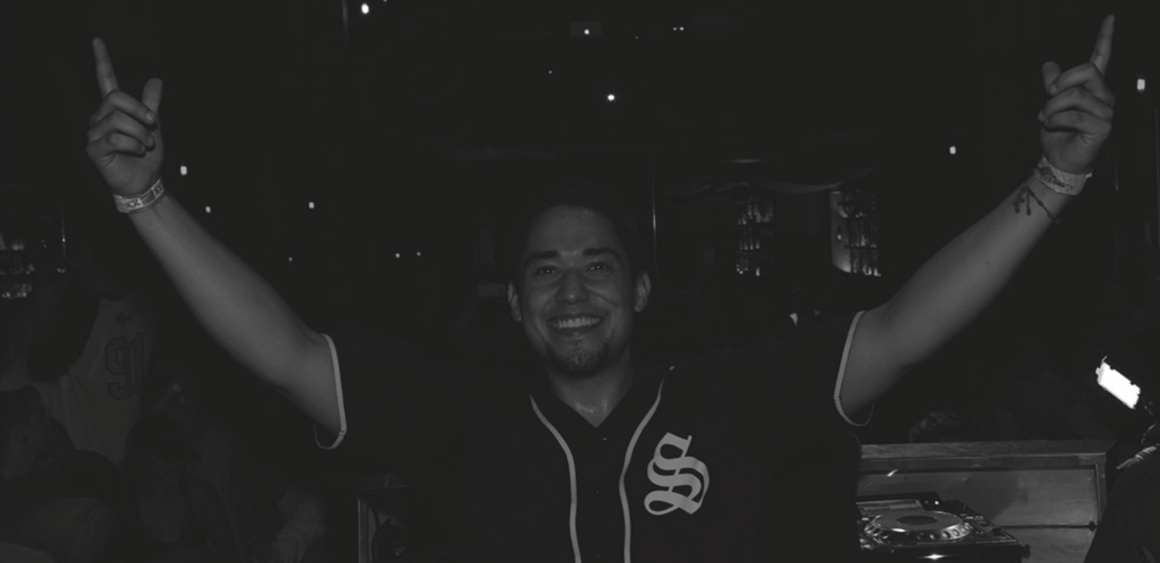 Benjamin Huziar poses for a photo at The Flyaway in Pomona. Photo by Andrew Ortega.
---
Citrus College has propelled a vision of success for Benjamin Huziar, a DJ/Producer currently attending Citrus.
Huziar said lots of factors led him into the electronic music scene.
"It all started with my friends telling me, 'Hey, bro, why don't you just try it? You're good enough to be up there (on stage),'" Huziar said.
Huziar started DJing in his garage in 2012 as a hobby, but as of recently, he has decided to further his capabilities and unfold his career through certification and academics.
Now Huziar is establishing himself as an artist by performing and coordinating events here in Southern California, bringing in crowds wherever he goes, such as venues like Union, Playhouse and Avalon.
"I felt like it wasn't really going to take me anywhere unless I really put a degree behind it," Huziar said. "I wanted to be certified in certain things."
After the last three semesters attending Citrus, Huziar has found some insight to carve out his path towards success.
"This whole last year I've just figured out that for me to get somewhere, for me to get taken seriously as a promoter, as a coordinator, as an artist, I feel like I do need to take the college route," Huziar said. "I want to be able do something with this aside from it just being a hobby. I want to do bigger things."
Huziar has taken the initiative and has a clear understanding of what needs to be done for his next step.
"I'll probably be here for another year and a half," Huziar said. "I do want to finish my general ed, and at the same time be able to join the program."
Huziar referred to the Citrus College Recording Arts program.
"If you're going to come here, be prepared to work," Gordon McMillan, a professor in the recording arts department, said, "I want to see hunger. I want to see guys that really, really want this."
Along with the program's academic acclaim, McMillan said that students get to work on a "commercial basis" and can "see the professional side of things" as well, with hands-on studio work.
"The vast majority of people do come to college for this…the industry is looking for these guys," McMillan said.
"(It's) not just your typical classroom lesson, but a life experience to bond with brilliant minds and be trained by industry professionals," Ian Arriola, a Citrus College student and DJ who has completed the program, said. "Classes are the whole week, so know that you will be in the studio environment or classroom everyday."
Huziar said math was a key factor in his understanding of the fundamentals of music.
"I'm just trying to take off with math," Huziar said. "Frequencies and structures and what not. Music is math and if you're good at math, you're going to be good at music. It's a numbers game," Huziar said.
McMillan agreed with Huziar.
"Once you understand math and physics, it then starts to make sense and if you don't have a good grasp on that, it's going to be more difficult," McMillan said.
Huziar shows his passion through performance and his desire to grow as an artist. He says he feels comfortable here.
"I've been to Mt. SAC, I've been to Rio Hondo, but it never felt like home," Huziar said. "I never really took it seriously, but now that I'm here it feels like I'm at home."
Huziar yearns to meet his goals and acknowledge the business side of his art, but still remains focused on the energy he gets from the music itself.
"For me to want to keep going and playing, it's like, that's the bread and butter," Huziar said. "That's what I really, really want to do. I do these events so I can build the stage for myself to perform for people. That's what I do it for, that moment when I'm spinning and everyone's jumping in the air."
Huziar said he finds the drive behind the work he does to be motivated by the business surrounding it, but ultimately by the love he has for his craft.
"Some people, they start it for the music and end it for the business," Huziar said. "For me, I want to always be with music and always be with business."
Besides the amount of work that needs to be put into the recording arts program at Citrus, "at the end of the day, it's passion," McMillan said.
Citrus College has generated visions of opportunity and success for Huziar.
"It never stops," Huziar said.
Huziar's next event, "Get Wet," will be a foam party that starts at 8 p.m. at Tia Juana's Nightclub in downtown Pomona on May 4.
"This year, I want to make 'Get Wet' really wet and get everyone in beach attire and just, foam everywhere," Huziar said.
---
---