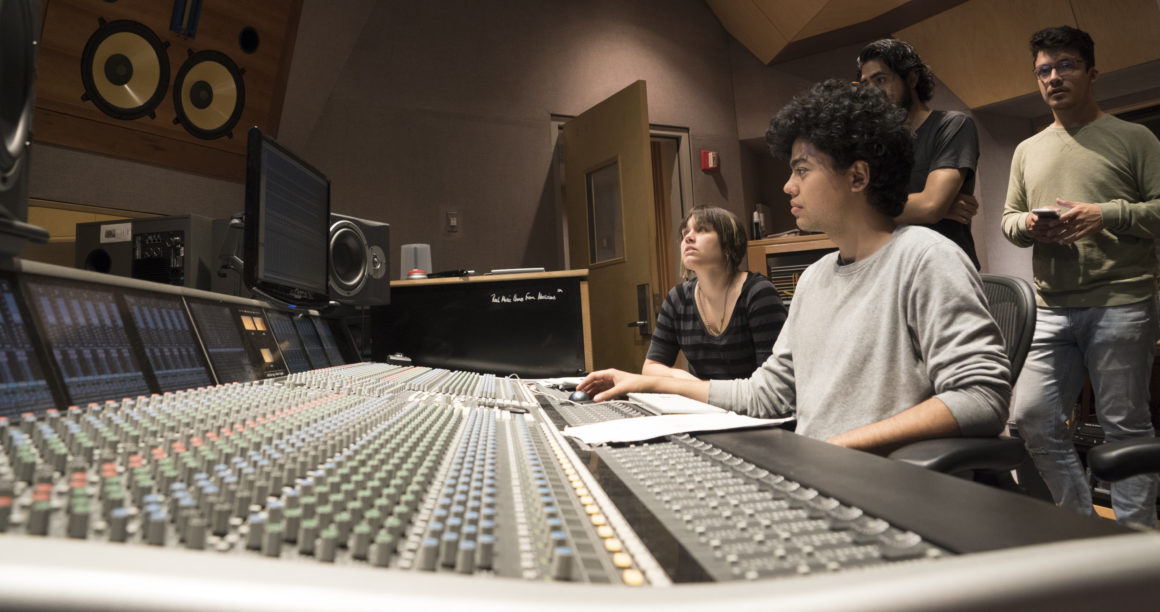 Pictured left to right, Michelle Tamabash, Eric Aragon, Angel Guerra and Jorge Del Rio work on the SSL Duality analog console April 13 at the recording arts studio. Photo by Kevin Alvarez/ Clarion.
---
The students of the Citrus College Recording Arts program may spend most their time behind a mixing board, but there are still moments when they must act fast outside the control room.
Former student, Andrew Cook knew that feeling all too well when he saw a $4,000 microphone falling as he was setting up for a demonstration.
"As I was adjusting the mic underneath, I saw this happening," he said. "After catching my breath and feeling relieved, I determined I had executed the most expensive catch in my life."
Cook who graduated in fall of 2016 and now works as a freelance producer and audio engineer was one of 24 students that were admitted into the very exclusive recording program.
After successfully completing three pre-requisite courses, REC 100, 103 and 140, a mandatory interview is necessary in order to being able to get into the program.
The interview process is a step in making sure the program is taking in students who are dedicated to the curriculum and are ready to take on the responsibility that the professors and the classes demand.
"The program moves very fast and the information is very dense and technical," audio recording supervisor Timothy Jaquette said. "The main purpose is to make sure that the students that we give the 24 seats to have skill levels that set them up for success, not failure."
Cook feels that since most of the learning process requires a fair amount of one-on-one attention, it would be harder to get the interaction necessary with the equipment in a large class.
"You are in some million-dollar facility that functions as a proper recording studio that's a big deal and a big responsibility so having a smaller group of people, making it bit more exclusive is a really good choice," Cook said. "It makes sure that the people that got into that program get the best education they can."
The students who are admitted into the year-long course feel the enormous responsibility that goes with being a part of the class. The program consists of 18 units per semester, consisting of lecture, lab and project hours.
The workload the students undertake is comparable to a full-time career.
"You can't go into it with the intention of splitting your time," Cook said. "This program is the equivalent of a 9-5 job, five days a week."
Students are provided with most of the equipment needed to learn. The only two things students need to have is a good quality pair of headphones and a personal computer with access to pro-tools.
Artists such as Stevie Wonder, The Black Eyed Peas, Gwen Stefani and Pentatonix have all recorded in the Citrus recording facilities.
Students in the program can get access to recording sessions of famous artists and even assist in them, gaining some serious real-world experience professor Gordon McMillan said.
Faculty in the program have relationships with owners and managers of a variety of studios, who are frequently in contact to provide a conduit post-program for job paths for students, Jaquette said.
"They ask us occasionally for our best students," McMillan said.
Alejandro Hurtado, a current student, said that what he likes most about the program is that the professors are engineers who have had a career in the industry and that they are not only teaching by theory but also through their own experiences.
"Our program is well-known simply because we have amazing teachers, faculty and facilities here at Citrus but also the quality of the students that we put into the industry," McMillan said. "Our students have gained a great reputation as our program really equips them for being able to work and understand what is required."
Some students who have graduated from the program are now working with well-known celebrities, studios or events.
Ebiut Cervantes graduated from the program in 2000 and since then has had the opportunity to work as an audio engineer in the Academy Awards, the Grammys, the iHeart Music Awards and the Billboard Music Awards.
"I truly believe that you reap what you sow," Cervantes said. "If you work hard, and devote your life to this craft, the results are beyond our imagination."
---
---