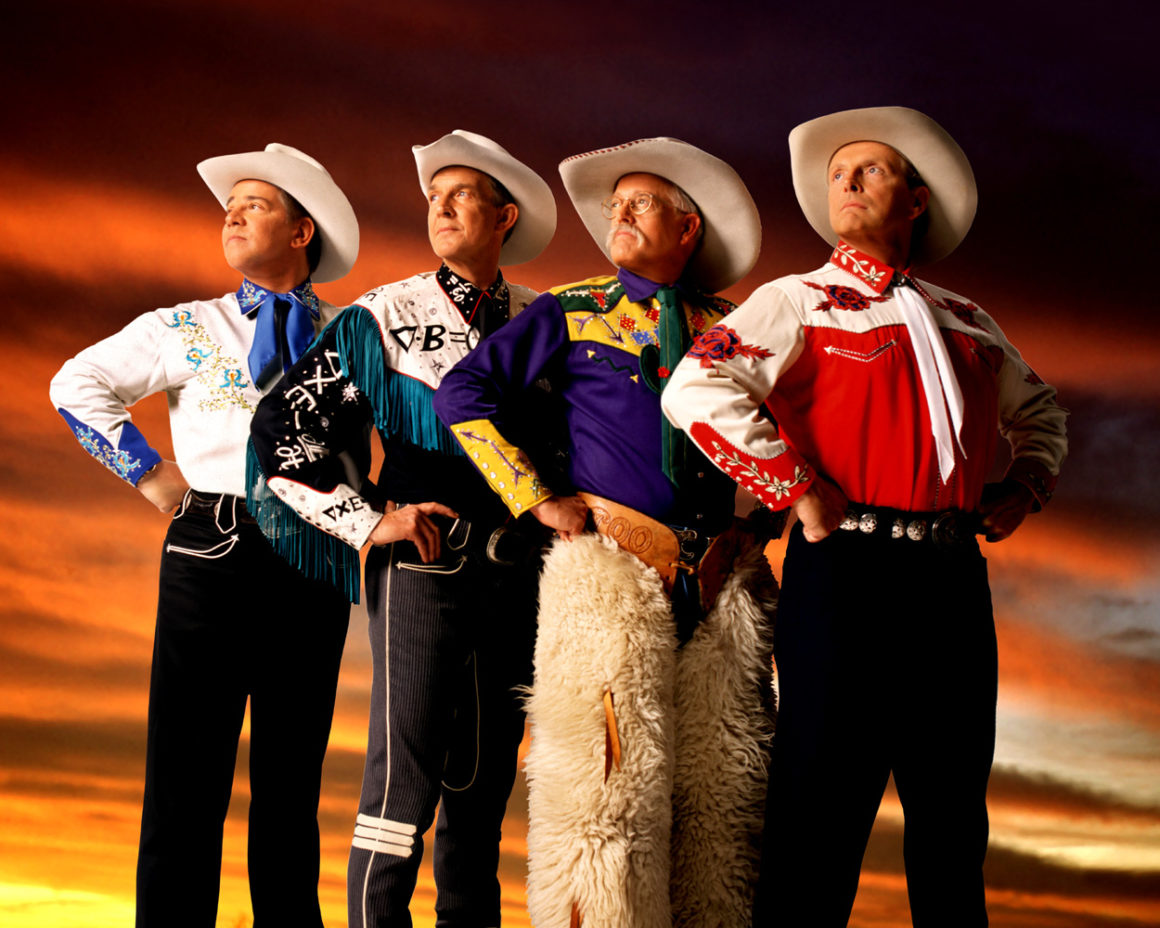 Photo courtesy of Riders in the Sky
---
The band that gave Disney Pixar fans the theme song for Woody, "the rootinest, tootinest cowboy in the Wild Wild West" in "Toy Story 2," will perform on stage at Citrus College.
Riders in the Sky, the band behind "Woody's Roundup," will visit during their nationwide tour at 2 p.m. May 7 at the Haugh Performing Arts Center.
Now in their 40th year together as a band, Riders in the Sky lead singer and guitarist Douglas Green, 71, better known by his stage name Ranger Doug, joked the longevity of the band is "sheer stubbornness."
"We just love it," Green said. "We're bringing it to the new generation. We all have that same commitment."
The singer and guitarist said over the years, it has become easier for the band to write new music.
"There's joy in making music," Green said.
Joey Miskulin, 68, known as Joey the CowPolka King, said although the band members came from very different backgrounds before coming together, the band had a common passion.
"What keeps us going is love of music, being around each other," Miskulin said.
Riders in the Sky formed in 1977 in Nashville, Tenn. and got their first Hollywood opportunity in the film "Sweet Dreams" in 1985. The band also starred in the '80s shows "Tumbleweed Theater" and "Riders Radio Theater."
Miskulin said over the years, they perform songs differently and are not structured, allowing the band to be creative.
In 1998, Riders in the Sky earned its big opportunity when they were approached by Disney and Pixar executives to write an album for "Toy Story 2."
"We had to consider it, it took like a second and yes!" Green said. "It came out of the blue, not something we were trying to manufacture."
"Woody's Roundup" was the featured song of "Toy Story 2" and the band covered Randy Newman's "You've Got a Friend in Me" for the album.
Green joked that working with Newman was "daunting, intimidating," but the band enjoyed the experience.
"Woody's Roundup: A Rootin' Tootin' Collection of Woody's Favorite Songs" won the 2001 Grammy award for Best Musical Album for Children.
The success of the album earned Riders in the Sky the opportunity to once again work on a Disney Pixar film: This time for "Monsters, Inc." the following year.
The band won their second Grammy award for Best Musical Album for Children in 2003 with their album "Monsters, Inc. Scream Factory Favorites." Green said the band could have "only imagined winning a Grammy" before their dream became a reality in 2001 and 2003.
Riders in the Sky also wrote the score for Pixar's 2000 short "For the Birds," which won an Academy Award in 2002 after being released in theaters alongside "Monsters, Inc."
Green said working with Disney and Pixar has been a great experience, a relationship that has continued with band members contributing to Disney California Adventure Park and Walt Disney World in Orlando, Fla.
"They're great folks," Green said. "We did things for their amusement parks. It's been an ongoing relationship. It was flattering."
Miskulin said working with Disney and Pixar was "fantastic" and the companies were open to the ideas the band shared.
"Working with Disney and Pixar, they're wonderful people, fun," Miskulin said.
Even after 40 years of music, "America's Favorite Cowboys" find joy in what they do.
Matt Fox, who has been with Riders in the Sky for four years as their publicist/tour manager, said his time with the band "has been a total blast."
"I have nothing but positive things to say about my experience with the Riders," Fox said. "They are all phenomenal people, both onstage and off, and I can't think of a client I have more fun working with."
The opportunity to see Riders in the Sky live will also give the audience a chance to meet the band and they will sign autographs, Miskulin said.
Tickets for the performance range between $20 and $38. Students and seniors can purchase tickets priced between $18 and $36. Children 16 and under ticket prices range from $10 to $20.
Tickets can be purchased at the box office or at http://tickets.haughpac.com.
---
---