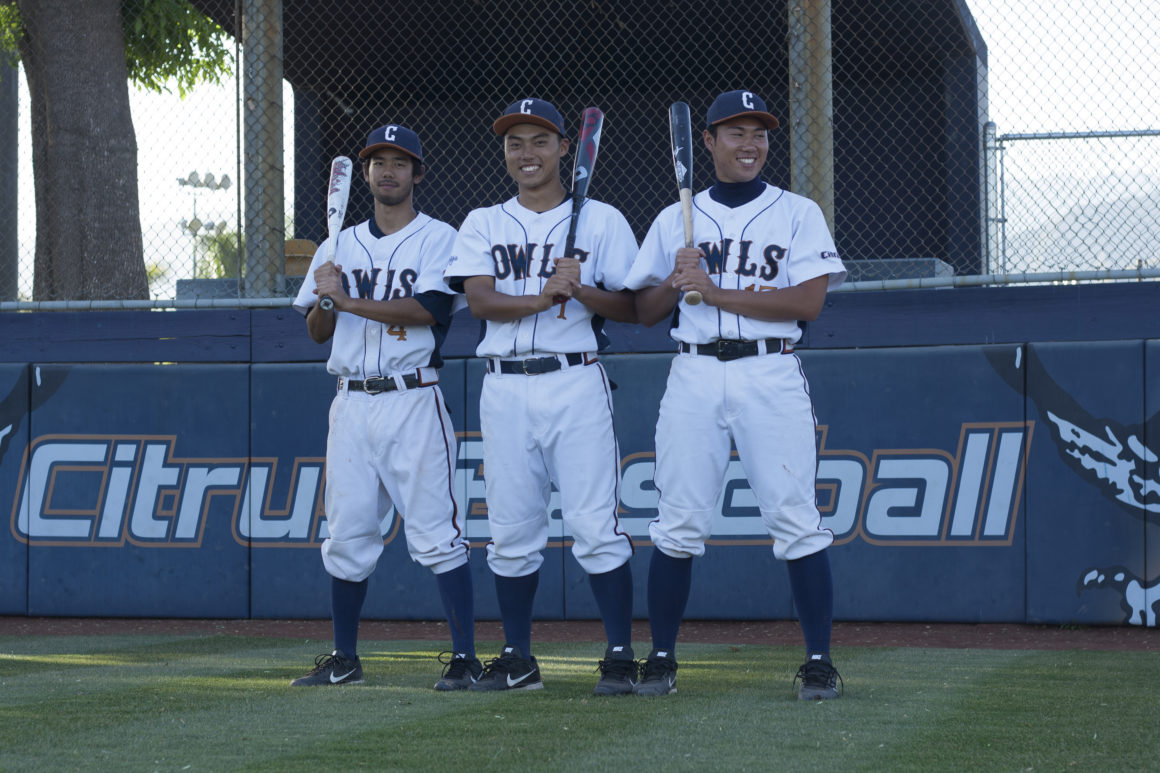 ---
Baseball has been America's pastime since Abner Doubleday invented it in Cooperstown, New York, during the summer of 1839.
Since then, many people from other countries who play the sport have wanted to experience it in the United States.
There are 5,491 miles that separate Tokyo and Citrus College, it may have seemed like a dream too far away to catch.
Hiroshi Ishiwatari and Kyosuke Ushimaru found a way here in August of 2015 to play the game they enjoy, and Shota Usuda headed east a year later in the summer of 2016.
The three international student-athletes now play the sport they love as members of the Citrus College baseball team.
Even though the three share that same connection, their journey here was different.
Ishiwatari's parents were unsure of their son's ambitions to play abroad and follow in their fellow countryman's footsteps, so he took on the challenge.
"I was ready for the new challenge ahead of me between school and baseball," Ishiwatari said.
"My parents were a bit confused by my decision to study abroad, but they supported me, so I wasn't too sad to leave home, because I have been looking forward to this opportunity."
For Usuda, he had been dreaming of the opportunity since he was an elementary school student.
"It was a dream come true to come here, after years of finally waiting, I have finally come here," Usuda said. "Ever since I was an elementary school student, I told my parents I wanted to come to America and pursue my dreams of becoming a big leaguer, to play Major League Baseball."
Ushimaru, a kinesiology major, had the thought of coming to the United States since he was in high school, always telling his parents he was going to come to America.
"I talked to my family about it and they were OK with it because they wanted me to pursue my dream of coming here," Ushimaru said.
The transition from leaving home to come to a new country can be difficult, but for these three, they said it was an easy transition.
Owls head coach Steve Gomez said it has been a pleasure to watch the three on and off the field.
"They are well-liked guys here and get along really well with their teammates and the coaches," Gomez said. "They work really hard, day in, day out, which is very rewarding to see as a coach."
Ushimaru and Ishiwatari are in their second season for the Owls, while Usuda is in his first season.
Ushimaru, an outfielder, has played in 69 games so far, and is hitting .265 with a grand slam and 30 runs batted in.
Ishiwatari, an infielder, has played in 37 games, with a batting average of .203 and four runs batted in.
In his first season for the Owls, infielder Shota Usuda has one run batted in the eight games he has played.
Their American teammates and coaches have welcomed the three international student-athletes.
Owls sophomore catcher Jordan Achay said the three have already made a huge impact on the team.
"I love these guys," Achay said. "They are very quiet, but they are the hardest working guys on and off the field and I admire that, we all do."
There have also been challenges in the move east.
Gomez said there was some difficulty in understanding the three international student-athletes at first.
"The language barrier was the toughest part for the coaches and other players, but over time it has become much easier to communicate with them," Gomez said.
The three foreign born players have realized that even if baseball is the same sport in both countries, it can be played differently.
Ishiwatari explained the differences between baseball back home and baseball in the states.
"Baseball in Japan is much more of a small ball game, where you see more bunts, sacrifice flies, suicide squeezes, unlike America, where you have guys who hit a lot of home runs and score less in a game," Ishiwatari said. "Japanese baseball seems to use every aspect of the game, unlike baseball here. Baseball is much more fun here, we all like it more here than in Japan."
Through the challenges of separation from family, friends and their home country, the three are settling well here at Citrus, and have found a new home in the batter's box, ready for their next at-bat in life on this journey abroad.
---
---