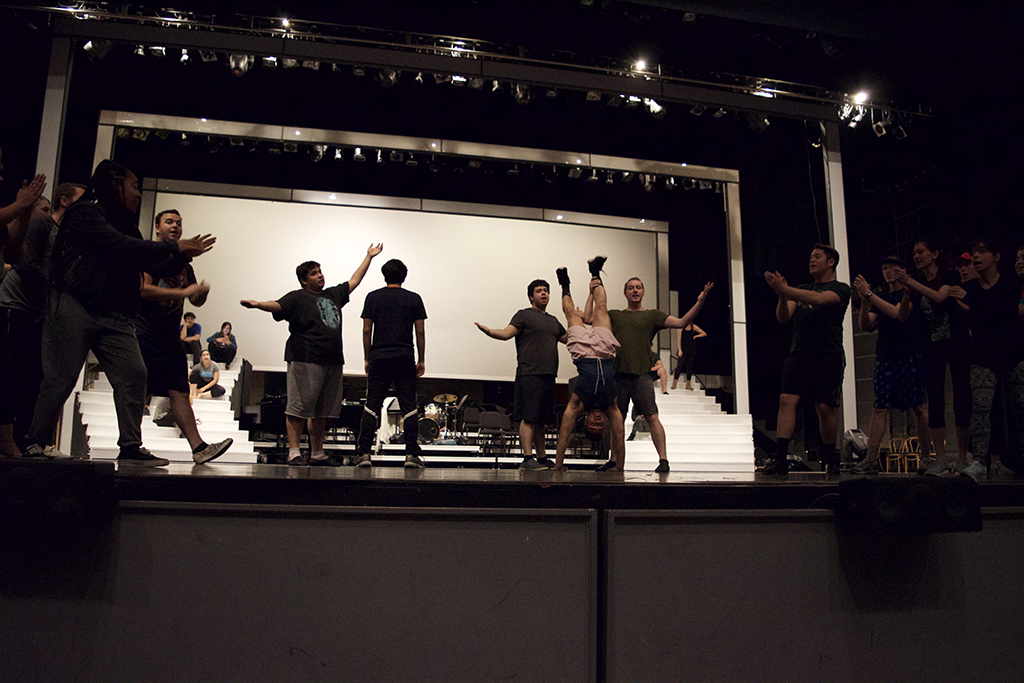 The Citrus Singers rehearse on May 8 for the upcoming show, Cinemagic. Andrew Ortega / Clarion
---
The Citrus Singers will present Cinemagic, The Music of the Movies, on May 13 and 14 at the Haugh Performing Arts Center.
The show will include medleys from a variety of movie musicals, both contemporary and classic, including music from late composer Henry Mancini.
With a total of 43 Citrus singers, each performer will have a featured moment in the show, musical director Douglas Austin said.
"It's a really nice variety and representation of contemporary and classic music," Austin said. "It's nice to build a show around the students, it's such a broad scope."
With one week left to rehearse, performers studied their lines, practiced harmonies and were memorizing choreography.
Citrus singer Audrey Conte said she started singing at the age of four when her grandma took her to a musical
"This show is really fun, it's a chance for us to sing more songs that are more current," Conte said. "There's a cool Henry Mancini medley, with a bunch of hard harmonies."
Citrus singer Cassie Costa said she looks most forward to being able to perform more and be able to show off their hard work.
"Citrus Singers are a great group of people who want to be there and want to give 110 percent," Costa said.
Students can purchase discounted tickets at the box office.
Tickets must be purchased before May 13 and students must have an ASCC sticker in order to purchase up to two tickets half off.
Presale tickets range from $20 to $26. Student and senior tickets range from $18 to $24. Ages 16 and under tickets range from $10 to $15.
All tickets, regardless of age, are $30 at the door.
---
---