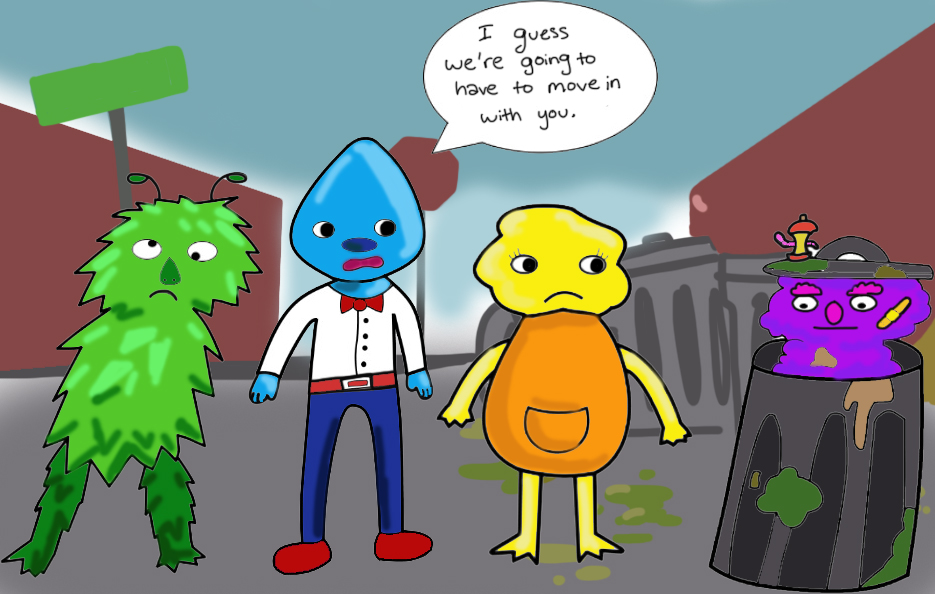 Illustration by Sahara Barba.
---
In an entertainment climate where laugh tracks cue a thoughtless echo and structured reality television is the epitome of mainstream culture, there is a need for continued funding of the Corporation for Public Broadcasting, which includes support for the Public Broadcasting System and National Public Radio.
President Donald Trump called for a $54 billion increase in defense spending for fiscal year 2018. In concern for the federal deficit, Trump wishes to balance the budget with an equal decrease from non-defense programs that would affect the CPB, PBS, and NPR.
The cuts to these non-defense domestic programs would gain an annual savings of $2.5 billion which is 0.22 percent of the total discretionary budget for the fiscal year of 2018.
However, Trump administrative officials have argued that the budget proposal was a misuse of taxpayer money. This means the money was less about how much it saved and more about what it represented.
CPB is a private, nonprofit corporation and is fully funded by the federal government. With the Public Broadcasting Act of 1967, the support to annual federal investment in public media assures universal access to educational programming and services.
The funding feeds into local public media stations, content development, community services, and other local station and system needs.
Joan Ganz Cooney, co-creator of "Sesame Street," detailed in the government data report "The Potential Use of Television in Preschool Education," that the television format was an untapped means for educating underserved and disenfranchised children.
"Sesame Street" allowed young children without the preschool experience access educational programming that encouraged preparation for school.
In a nationally conducted survey, about 90 percent of respondents agreed that PBS helps children learn reading, math, social skills and models positive social and emotional behaviors for children.
The CPB does not just educate children; it educates adults too. NPR provides crucial news that requires comprehensive listening from its consumers.
NPR's foundational purpose was exclusively a noncommercial, educational station.
"National Public Radio will serve the individual; it will promote personal growth," Bill Siemering, NPR's first director of programming, said.
The service of in-depth, quality news provides the "sense of active constructive participation, rather than apathetic helplessness" of which Siemering strived.
The programs supported by the CPB challenge and inform us.
Mainstream media has monopolized the images consumed by society. The television format is being wasted on vapidity. To lose programming that specifically fills the void of entertainment without substance is harmful to present and future generations.
Even if those generations decide not to consistently utilize the programs of the CPB keeping the option available is imperative.
I like knowing that the power to be more informed is easily accessible. I probably will not turn off "RuPaul's Drag Race" anytime soon and all of the PBS viewing I do is through Netflix or other online sources but as a fully commercialized consumer I need more than one place to get the same service.
There is Twitter, Instagram, Snapchat for my social medias, Starbucks, Dunkin Donuts, McDonald's for my breakfast, and Asos, H&M, Forever 21 for my clothing. I want choice.
Besides programs supported by the CPB, there are no options that provide services that are high quality, non-commercial and free.
There is an argument that even if these programs lost funding and were completely cut from the budget that they would land on their private money donations, however this would not guarantee that the service would remain non-commercial and free which is the whole point.
If the funding was cut for these programs, it would be a disservice to our social responsibility, which is to progress through innovation, creativity, and critical analysis.
---
---