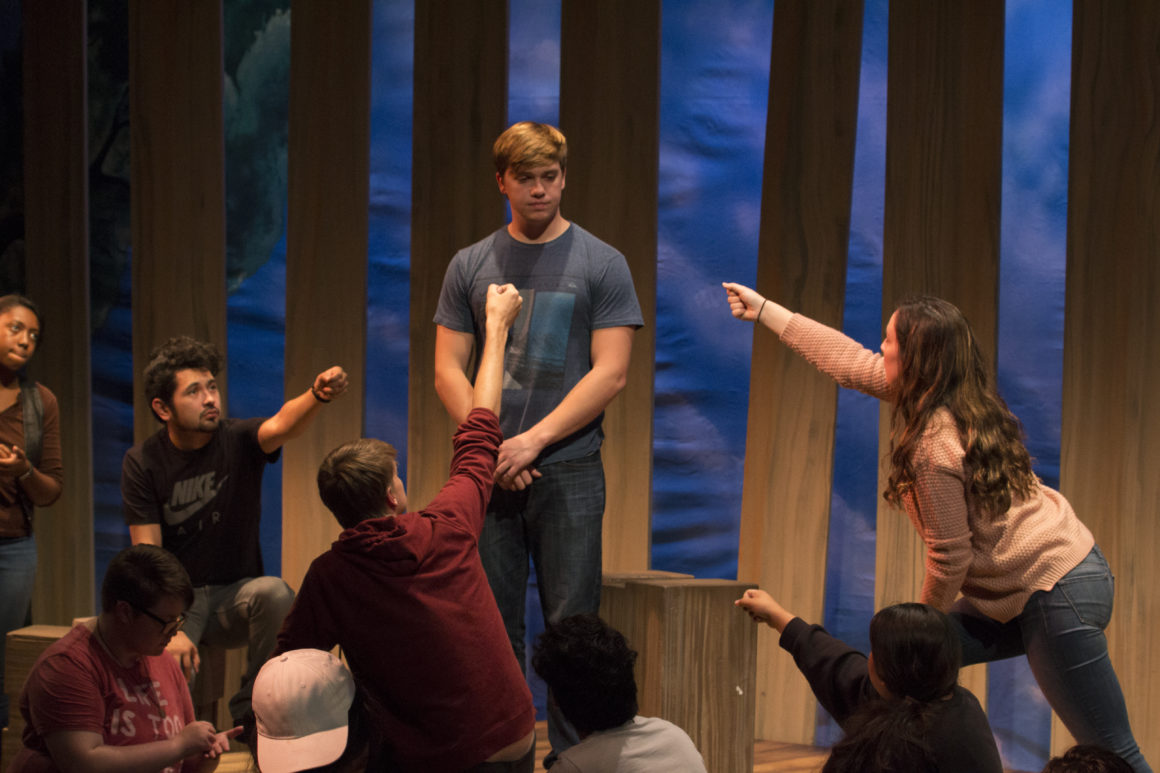 Michael Caceres, Leigh Fondakowski, Madison Stirrett, and other student cast members rehearse their upcoming play, "The Laramie Project" on May 7 in the Haugh Performing Arts Center. Photo by Megan Bender.
---
It was a cold October night in Laramie, Wyoming. Matthew Shepard was having a drink at the Fireside Lounge in Laramie after a meeting with a LGBT group he was involved with on the University of Wyoming campus.
Little did Shepard know he was going to become a part of an event that would spark international and political attention and bring media from all over the country to the secluded city of Laramie.
Shepard, a 21-year-old openly gay male student at the University of Wyoming, was approached at the bar by two men, by the names of Aaron McKinney and Russell Henderson, who had earlier purchased a pitcher of beer with quarters and dimes.
Around midnight, Shepard left the bar with McKinney and Henderson, thinking they were going to give him a ride home, not to a fence in the outskirts of Laramie.
Shepard was tied to the fence by McKinney and Henderson, who tortured Shepard, striking him 19 to 21 times with a pistol and then leaving him to die. McKinney and Henderson looted Shepard of his wallet, identification and his shoes.
Shepard was found 18 hours later by a mountain biker who ran to call the authorities. Sheriff Reggie Fluty and emergency first respondents had arrived quickly.
Shepard had blood covering his face, except for the area where tears ran down his face from his crying due to the suffering and pain he was in.
Shepard was rushed to Poudre Valley Hospital in Fort Collins, Colorado. He had severe head injuries due to the pistol whipping strikes from McKinney and Henderson. Shepard died six days later on Oct. 12, 1998.
Almost 19 years later, Shepard's story is still being told, even by Citrus College students who are performing in the upcoming play called "The Laramie Project," a play written by Moises Kaufman and directed by Kari Hayter.
"This play can change viewpoints of those who have hatred toward the LGBT community, I can guarantee changes," cast member Deborah Ontiveros said.
Ontiveros plays four roles in "The Laramie Project." Those roles include Marge Murray, Eileen Engen, Anonymous and Sherry Johnson.
Ontiveros, like many of the cast members, did not know the story behind Matthew Shepard and his death until she did research about what happened.
"It still brings tears to my eyes, even during rehearsal and I just ask myself, how can someone have so much hatred," Ontiveros said.
Michael Caceres, a cast member, said he could go crazy places emotionally with this play.
"'The Laramie Project' made me look at things from others' perspective and it challenged me, it taught me to have a hate-free heart, to spread the word of having a hate-free heart and to be more open-minded," Caceres said. "The play made me appreciate the little things in life, but also respect people no matter what their race or gender is," Caceres said.
Caceres is playing six roles in the production that include Rob DeBree, Greg Pierotti and Dr. Cantway.
Madison Stirrett, a cast member, is new to Citrus College and their performing arts program. She wanted to be a part of the cast because she knew the story behind "The Laramie Project."
"The story is incredible and I wanted to be part of the cast because I can connect this story," Stirrett said. "I believe this play can change someone's perspective, someone who might hate people of the LGBT community, or people who might just hate."
Stirrett plays three roles in the production, including Romaine Patterson, who was Matthew's best friend, Leigh Fondakowski and plays the minister's wife, who hates homosexuals.
Suzanne Boles had been on a hiatus from acting for a while, but decided to join the cast for this production.
"I didn't know what I was getting into when I auditioned for 'The Laramie Project' cast, because I had no idea what 'The Laramie Project' was," Boles said. "This production has changed me in my acting, personal life, perspective, the way I treat others."
Boles will play four roles for "The Laramie Project." She will play Zubaida Ula, Kristen Price, Lucy Thompson and Tiffany Edwards.
"We want people to open their minds and stop the hatred, no matter what gender or race they are and we believe this production can do that," Caceres said.
"The Laramie Project" will be at 8 p.m. May 12, 13, 19, 20 and at 2 p.m. and at 2 p.m. May 21 at the Little Theatre. Tickets are $15 presale, $10 for students and seniors and $20 at the door no matter what age.
---
---