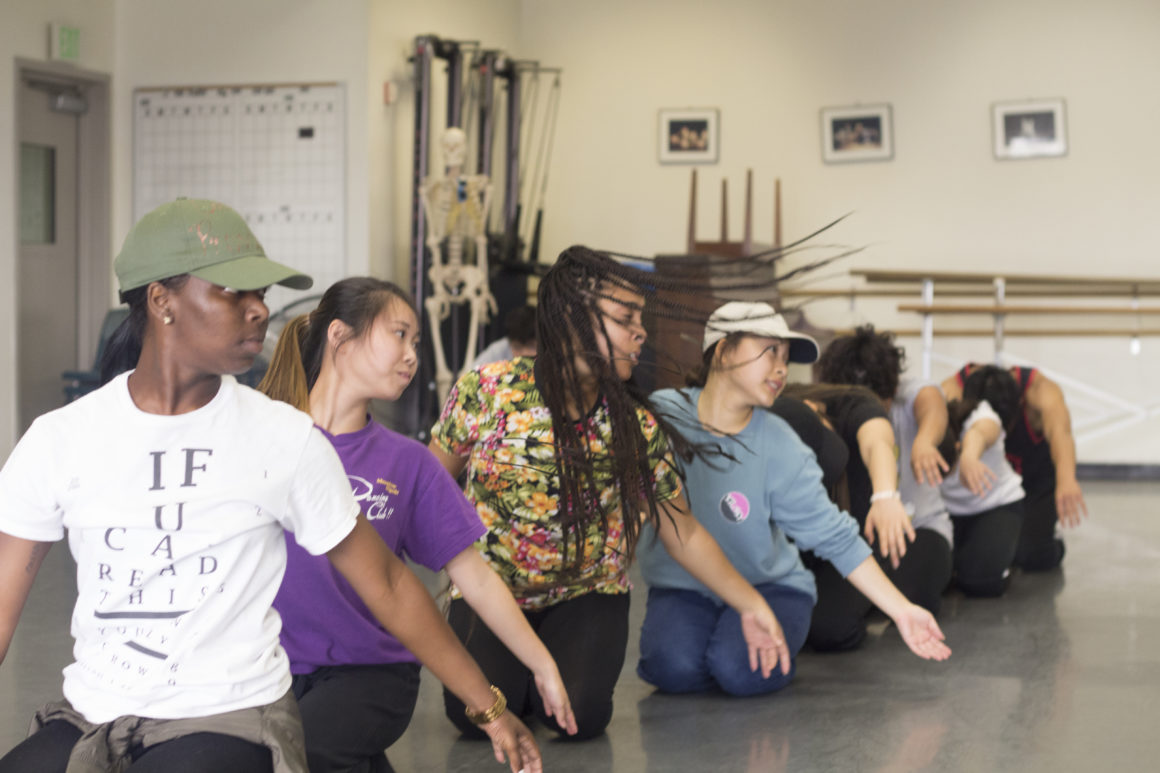 ---
Motion!, an exciting and energetic performance by the Citrus Visual and Performing Arts Department, will take center stage at 7 p.m. May 19 and 2 p.m. May 20 at the Haugh Performing Arts Center.
Motion! is a student and faculty-run production consisting of 19 dance numbers that show unique choreography and impressive moves.
Thirty students total are either choreographing or dancing, with faculty members John Vaughan and Renee Liskey directing and overseeing the entire show.
Vaughan has been at Citrus in the visual and performing arts department for 27 years and Liskey has been for 12 years. With their experience and knowledge, they can direct and guide the production smoothly.
"Students will work with peers on learning how to choreograph and create dances," Vaughan said. "We want each student to come away from the concert having a better perspective of dance and what it takes to put on a fully realized stage production."
With the show under two weeks away, the visual and performing arts department are preparing for the last minute steps that will make Motion! complete.
"We rehearse for three months and as the production comes together next week, we add lights and sound, costumes and so on," Vaughan said. "It's a fully produced show."
Citrus student and dancer Matthew Salvador will be choreographing a duet and participating in six dances throughout the show. Salvador thinks that choreographing is much more difficult of the two positions.
"It takes a lot of time and effort to come up with a concept," Salvador said. "The great part about it is that we have faculty members that are willing to help us through certain things we get stuck on."
Salvador thinks that each dance is unique to the choreographer's vision and what they want to portray.
"Sometimes it can just be about wanting to dance and others it's just trying to say something that you're not physically able to say it, but you want to share it with everyone," Salvador said. "That's the best part about it."
Salvador's peer Shawna Cook has over 20 years of dance experience and will use her expertise to help dancers get out of their comfort zone.
"I just love helping people who have a passion for dance like I do," Cook said. "I like to show them, don't be afraid to jump outside the box of your comfort zone and try new things in the world of dance and outside of dance."
Cook choreographed a dance and will be in four dance numbers. She said the time and effort that goes into a show is worth it when her vision and the dance merge together as one.
"Your vision comes to life and your dancers come to life as well," Cook said. "It's a cool feeling."
Tickets for Motion! range from $10 to $15 a person, which can be purchased online at http://www.haughpac.com or at the box office.
---
---