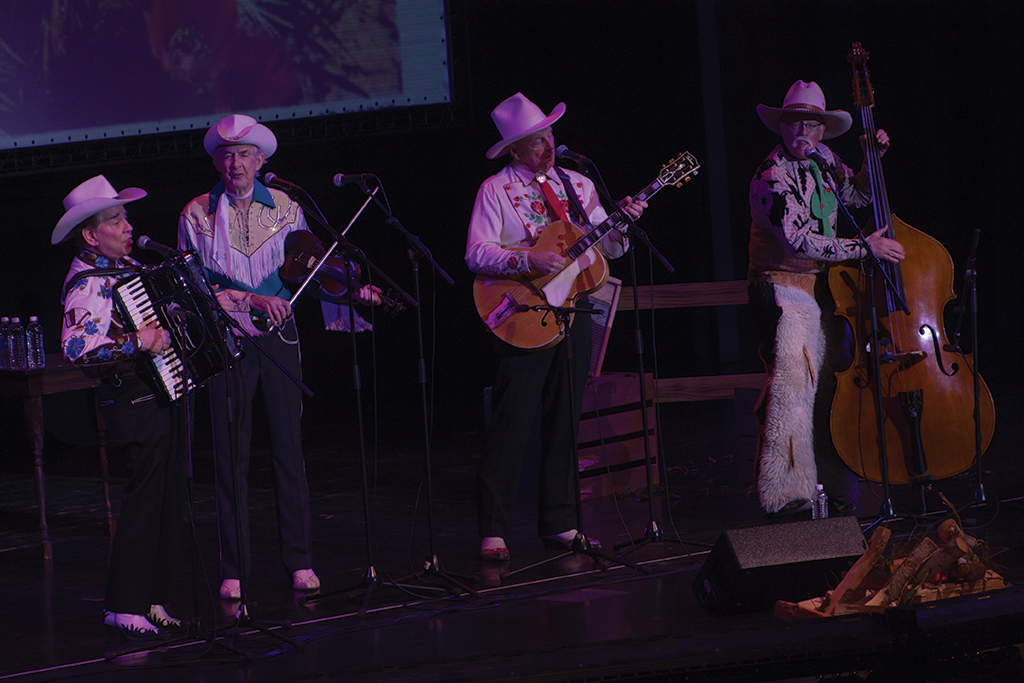 Two time Grammy award winners Riders in the Sky (left to right) Joey, Woody Paul, Ranger Doug and Too Slim were at the Haugh Performing Arts Center here at Citrus College on Sunday May 7th, 2017. Photo by Connor Phillips
---
Riders in the Sky brought the heart and soul of the old Wild West on May 7 at the Haugh Performing Arts Center.
The performance at the Haugh was their 7,102 appearance in their 40-year career as they proved with their impressive performing skills that this was not their first rodeo.
Each band member performed a wide range of vocal ability, all while harmonizing to traditional Western music.
Riders in the Sky proved to have more talent than just their vocal skills when they incorporated playful banter in between songs that appealed to audience members of all ages.
Too Slim shared with the audience that comedy is part of the act "we're paid to be ridiculous."
Expert bass player Too Slim and skilled fiddler Woody Paul competed in a face slap-off where each musician would play an old west tune by slapping their faces.
Too Slim outmatched Woody Paul by using his head and massive bass before playing their next song.
Riders in the Sky played hits from their most popular and Grammy-winning album from "Toy Story 2," "Woody's Roundup: A Rootin' Tootin' Collection of Woody's Favorite Songs."
The band performed Randy Newman's hit "You've Got a Friend in Me."
"America's Favorite Cowboys" had charisma and comedic flare that kept the audience's attention all throughout the show.
When reminiscing the 2003 Grammy Awards, Too Slim shared his experience meeting famous rapper Eminem backstage before singing his own rap based on "Slim Shady."
Even after intermission, the show was filled with energy and surprises. Woody Paul, guitarist Ranger Doug and accordion master Joey showed up on stage in different colorful and flashy outfits without Too Slim after intermission.
The three Riders in the Sky members introduced a guest bass musician acted by Too Slim known as "Side Meat."
Side Meat spoke with sass and claimed he was fluent in "gibberish" before giving a monologue on Gabby Hayes, a famous Western film and TV actor.
Woody Paul invited his son, Jake Chrisman onstage to perform one of their Western classics with Riders in the Sky.
Chrisman wowed the audience with his talented banjo skills before hugging his father and exiting the stage.
Riders in the Sky closed their show by taking song requests by the audience.
With too many song choices, they sang a Beach Boys classic "Surfin U.S.A.," with a Glendora twist.
Riders in the Sky kept the diverse audience entertained throughout the show.
The lighting and stage design accentuated the Wild West theme while "America's Favorite Cowboys" brought the traditions of Western music.
Overall, 40 years of experience helped Riders in the Sky keep the audience interested whether people knew them and their music or not.
---
---