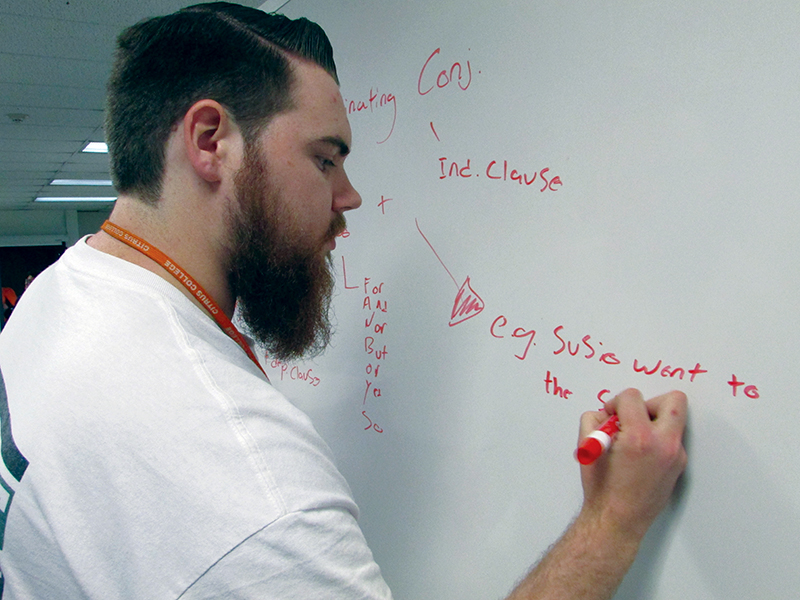 Logan Kruger demonstrates how he tutors other college students April 24 inside the ED Building at Citrus College. Photo by Emily Hermosillo.
---
Logan Kruger attends school, tutors, goes out to eat with friends and on some nights he plays the drums for his hardcore band, Same Son.
There was a time when Kruger considered being in a band was the only career option for him.
"I've always had this drive to perform, express myself in different ways," Kruger said.
As a teenager he believed it was the only thing he was good at, but now he is majoring in anthropology at Citrus College and aims to become a forensic anthropologist.
"I love the idea of being a polymath…being a master of some, but good at many things," Kruger said.
Daniel Spector, drummer for the Richmond, Virginia, hardcore band Down To Nothing, is an inspiration to Kruger because he is a drummer and an ER doctor.
To Kruger, this sends him a message that there is no stopping him from pursuing multiple paths.
Kruger is used to performing from his time in marching band when he attended Upland High School.
He was comfortable playing at the Rose Parade in front of thousands, but he said it does get more intense when he is on stage with only three or four other people.
Alex Armijo, guitarist for Same Son, said he also loves to perform.
"Performing has always been in my blood since I was a kid, it's just my life, but being in a hardcore band allows me to express myself and just let go of whatever that's been bothering me that week or that month or even that day and just be myself," Armijo said.
Kruger and Armijo would see each other when their bands would play at the same venue, but Armijo said it wasn't until about three months ago that he joined Same Son and became close friends with Kruger.
Donald Jette has been friends with Kruger for about three years. Before Same Son, they played together in the band Generally Speaking.
"Our songs and genre are definitely hardcore, but hardcore is a vague term nowadays," Jette said.
Kruger compared their band to Black Flag and Minor Threat, but "harder". He said that he was heavily influenced by '80s punk music and wanted to use strong melodies in his compositions because he feels people often neglect the melody of a song.
Professor Jennifer Miller-Thyer asked Kruger to tutor for her introduction to Cultural Anthropology class because of his good grades and attitude.
Kruger tutors cultural anthropology and English. He said he would be willing to tutor students who need help in sociology too, if there is a demand for it.
Kruger's passion for performance hasn't fizzled out, he still plays at small venues and bars and he compares performing live to tutoring fellow students.
Kruger compares tutoring to performing music in the sense that you have to know who your audience is, think on the fly, and know your material.
He said that for a musician you need to know how to play your instrument, memorize the music, and you need to recite it back to people.
Similarly, as a tutor you need to know the subject matter and resources for students then recite it back to them in a way they can understand.
"I have developed so much more as a person simply because of learning how to like, tutor properly," Kruger said, "Learning how to communicate with different people has really helped me learn how to be a better person."
To Kruger, one of the best ways to learn is to teach because you have to know what you are explaining to the other person.
Kruger aims to get his masters in physical anthropology so he can teach others. He said it would make him happy to return to Citrus one day as a professor for the nostalgia.
Miller-Thayer had Kruger in multiple classes and said that she has heard positive feedback from her current students that have gone to Kruger's tutoring.
"He is kind and considerate, the students that have gone to see him for tutoring love him," Miller-Thayer said.
Miller-Thayer said that Kruger has gone out of his way to make tutoring sessions available to students and she is glad that he is tutoring for her class.
From an anthropologist's point of view, bands like Kruger's challenge social norms and are one of the ways that culture changes.
In Miller-Thayer's sex and gender class she shows a documentary on rock bands to discuss gender roles, stereotypes and social expectations.
"In general, when you look at rebellion it relates to the culture telling you how to rebel," Miller-Thayer said.
Miller-Thayer said that hardcore or punk bands are an example of how rebellion can create a subculture where people who may feel as if they do not fit in society now have a place where they are empowered.
---
---