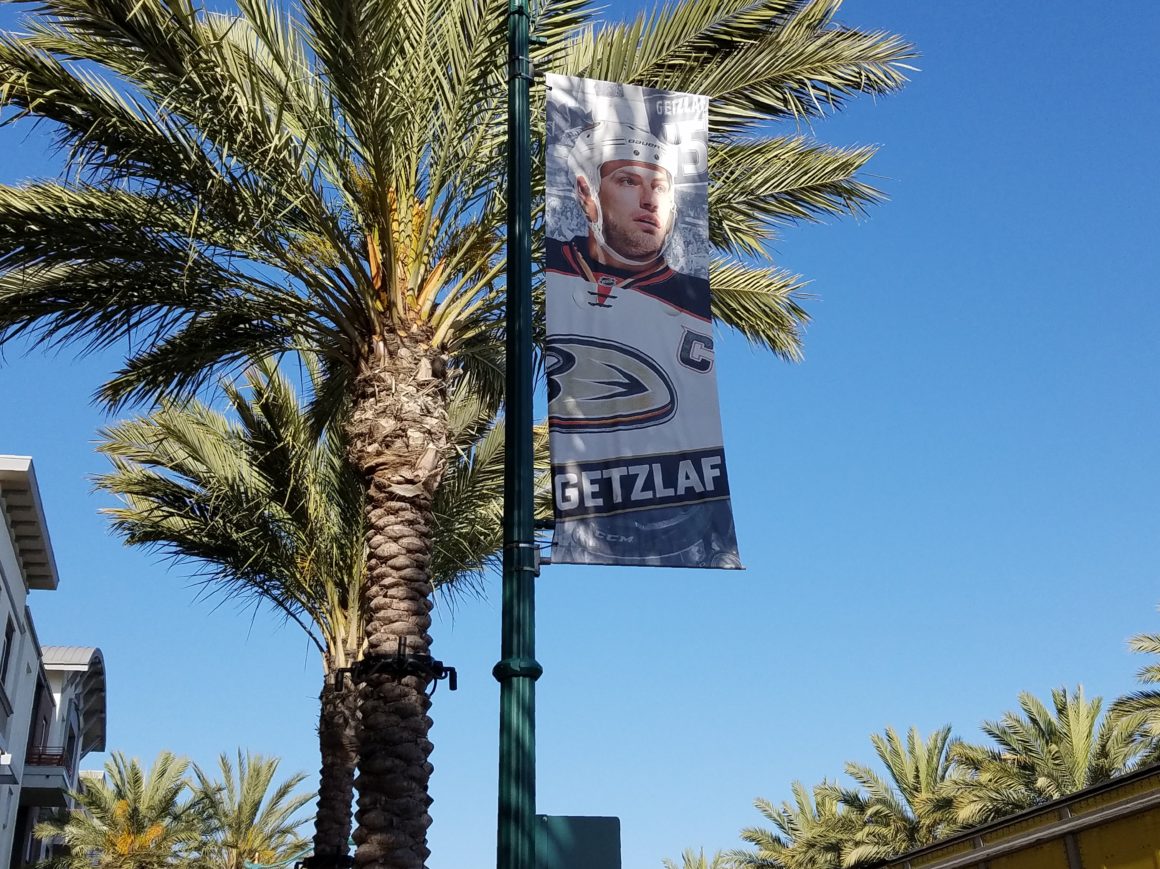 A banner of Anaheim Ducks captain Ryan Getzlaf hangs alongside palm trees on May 18, one of several Ducks banners that line up on Katella Avenue, down the street from the Honda Center in Anaheim, Calif. The Ducks are pushing to bring the Stanley Cup back to Southern California for the first time in three years and the first time to Anaheim in 10 years. Photo by John Michaelides / Clarion
---
The Stanley Cup will return to Southern California once again this June. But instead of Los Angeles, where it spent 2012 and 2014, it will return to the city of Anaheim.
After 10 years of making the playoffs and losing year after year, the Anaheim Ducks have a great opportunity to finally bring the Stanley Cup back to Orange County.
The last time the Ducks won a Stanley Cup was back in 2007.
Coming into the playoffs winners of the Pacific Division, the Ducks were set to have an easy playoff schedule, but that did not happen exactly.
With several injuries and facing a tough Edmonton Oilers team, the team got a little roughed up in the second round of the playoffs.
This did not stop the Ducks from advancing to the Western Conference Finals, winning in Game 7 in Anaheim. They fought hard with the players they had and find themselves three wins away from the Finals.
Anaheim has had a great season so far and I believe they can make it go even further.
The Ducks are a very smart team that know how to get under the skin of their opponents and throw teams off of their game.
They do this by getting under opponents' skin, hitting opposing players after the whistle or poking at the other teams, causing opponents to retaliate.
Having veterans like Ryan Getzlaf and Corey Perry to teach young All-Stars, like Rickard Rakell and Josh Gibson, gives the Ducks the perfect team to raise the Cup in June.
The team has a perfect mixture of old and new All-Stars, with tons of potential still.
The series the Ducks are currently in, playing the Nashville Predators, is a tough one but with the same tactics the Ducks have been using, they should get out of this round to play the Ottawa Senators.
Ottawa presents another challenge, having been one of the hottest teams this postseason, and their flame can not be extinguished by anyone in the Eastern Conference.
The several comeback wins that Anaheim has had would be a perfect matchup for the Senators, who have not won a Stanley Cup in 90 years.
Whether you love or hate the Ducks, everyone should watch them play this series and hope the Stanley Cup returns back to Southern California.
---
---