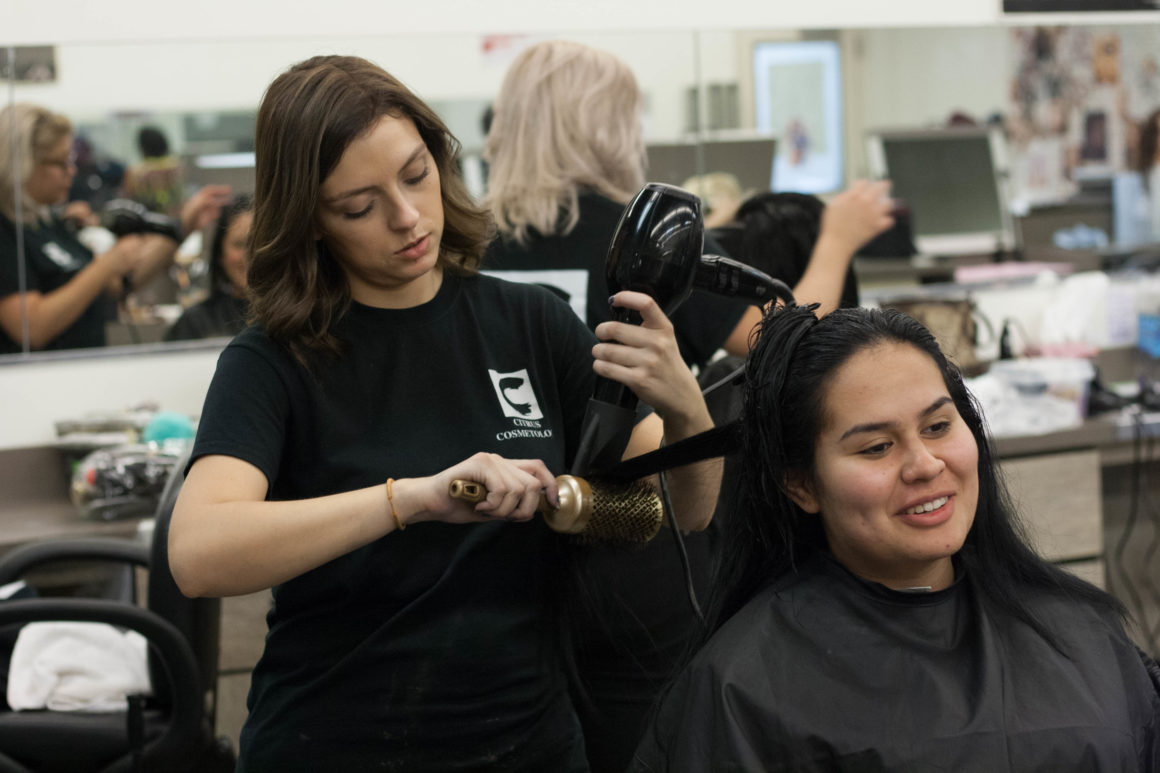 Cosmetology student Jessica Chavez washes and blow drys Mariah Muñoz's hair on May 22 at the Citrus Cosmetology Department. The annual spring hair show will take place at 7 p.m. May 30 at the Haugh Performing Arts Center.
---
A year after exploring the avant garde world of fashion, the Citrus College Cosmetology Department will take this year's hair show back to the early 1800s.
The annual hair show, which also is a contest among cosmetology and esthetician students, will be at 7 p.m., May 30 at the Haugh Performing Arts Center.
The show will be set in four different eras, including Renaissance and Victorian, cosmetology major Alyse Dreyer said. Dreyer will participate in the prosthetics makeup contest.
Cosmetology major Emily Young, Dreyer's teammate for the show, said the hair show will be different from years past.
"We have three different categories," Young said, "we have prosthetics makeup, glamour makeup kind of deal, no costume or anything, and then we have the hair, which is the entire look."
Young said another change from last year's spring show is the omission of nails as part of the contest.
Dreyer and Young have both been with the cosmetology program for a year.
Young said the program has given many opportunities for students, not just in school.
"People don't realize how big these hair shows are for us, 'cause it puts us in a non-education environment," Young said. "Where we can do whatever we want. It gives us achance to expand our portfolio and have people actually come and look at us. This, we have our freedom, we have our skills."
Dreyer said the hair show is equivalent to when football scouts go to a football game, with an opportunity to showcase their skills they have learned during the semester.
Young said the show gives students an opportunity to get more creative, because the majority of the program teaches how to survive in the salon environment.
"It introduces you to a new environment of, like, the runway and the fashion show kind of deal, so you are not just in a salon station," Young said. "It's kind of the hecticness of everyone around you working."
Young, who will participate in her first hair show, said she enjoys getting to showcase their work to the ones in attendance.
"I like when people who aren't into hair or into makeup, they see this and they finally realize this is an art form."
Tickets for the show are $15 for adults and $7.50 for children and can be purchased at the box office.
---
---