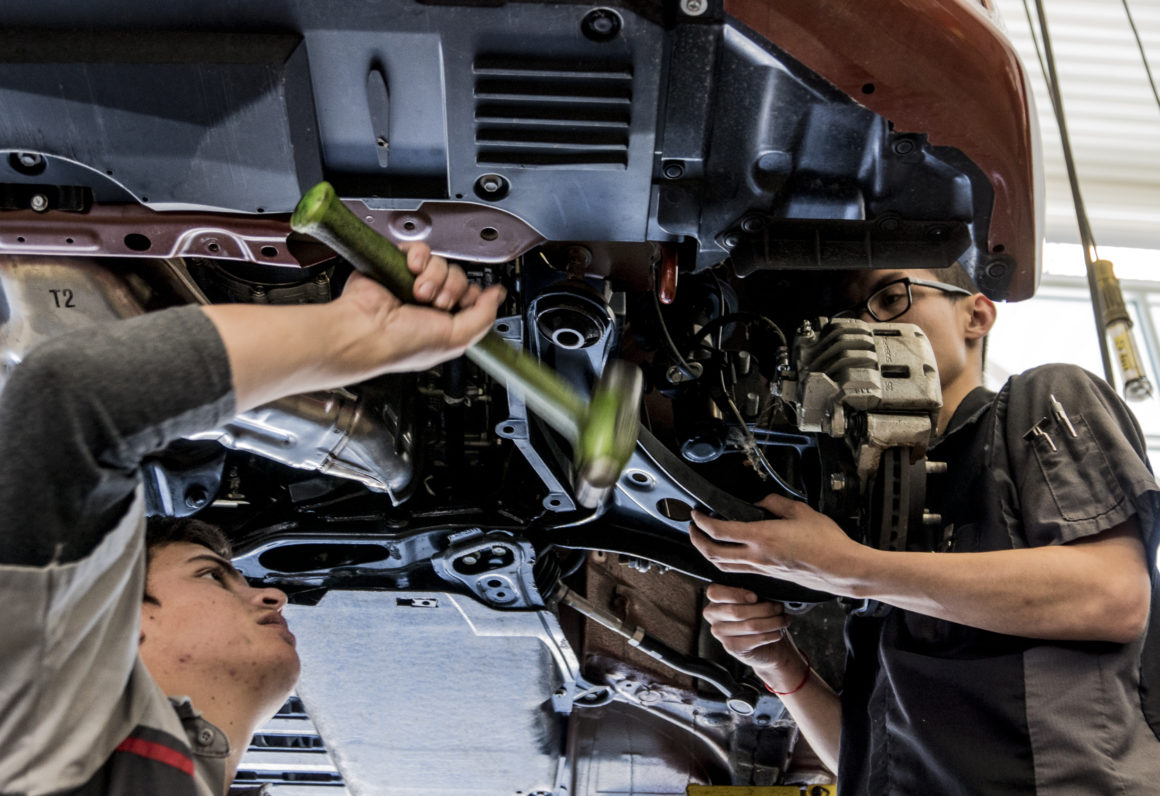 (Left to right) Zach Hoffman and Justin Yam taking care of a bushing replacement by removing the control arm. Photo by Kevin Alvarez / Clarion
---
Dave Brown strives to give the opportunities the automotive industry has given him, back to his students.
He and the other professors in the Citrus College Automotive Technology program provide a thorough and rigorous program to help students succeed.
"When I was coming as a student in the automotive program I was very poor." Brown said. "Three years after I graduated here, I was a homeowner."
Instructor Gregory Lipp had worked 30 years in the industry of automotives when he accepted a part-time position at Citrus. When a full-time position was vacant he decided not to apply for it.
"I declined the position because it is a big loss in pay to go from being a mechanic to an educator," Lipp said.
However, when another position opened up later, he accepted it because he realized enjoyed his teaching experience at Citrus.
"I had already put 30 years in the industry," Lipp said. "It gave me a lot, it provided for my family and now just like the other instructors here, we are giving back to our industry, making it a better program for incoming students."
The program hosts open houses about four times throughout the year to attract prospective students. Shop tours, demonstrations and foundational requirements to enter the program are available at the open houses.
A resume, letters of recommendation and a submission of the driving records are the requirements for entering the program, Brown said.
Students wanting to join the program do not need to have any knowledge or training to get in.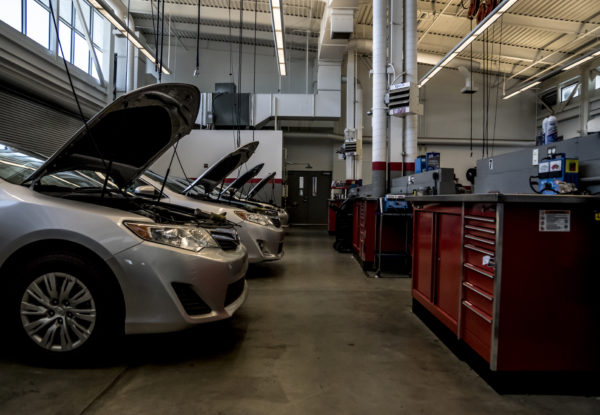 "We start from scratch to technician level," Brown said.
Erica Perez was already attending Citrus to complete her general education when she heard about the automotive program. After taking the tour, she decided to join.
After taking Auto 101, the introductory class for the program, Perez knew this is what she wanted to do.
"When I first got into Auto 101, I did not know anything about cars. Nothing except this is what it makes it go and this is what makes it stop," Perez said. "I have learned a lot. I like putting the knowledge I have gained into what I do.'"
Perez said being in a program that is male-dominated, including the instructors, makes her feel like she must work harder to prove herself. Perez said she sees everyone as a competition since they are all pursuing the same career.
"I don't know if it is an ego thing or what it is, but the young men sometimes are reluctant to ask questions, because there is a fear on their part," Brown said. "And this is my suspicion, that they are already supposed to know the answer and our female students don't seem to suffer from that."
Brown said he notices that the automotive program's female students are as successful if not even more than the male students.
However, he knows that his students share a strong worth ethic, like Juan Melendez.
Melendez who has been a student of the program for a year and a half has to wake up at 5 a.m. to commute from his house in Hesperia to Citrus.
Along with the automotive program, he is working at a Toyota dealership. Melendez wants to achieve a certification through Toyota and get his ASC certification, that would allow him to not only work at Toyota, but also in other car brands.
"Right now, I work in the lube, doing oil changes and rotation simple stuff. After completing the program, I would have a better foundation," Melendez said. "I plan to be a line technician."
As a line technician, Melendez would be looking for a promotion to be an actual mechanic, working on the engines, doing recalls, transmission, engine work, and brakes.
Instructor Jeremy Clark not only teaches classes in the program, but he also oversees the work experience course in which students work in a dealership aside from their classes to gain more experience in the field.
Clark said work experience is required to finish.
"When they take it, is up to the student but in order for them to get a certified from us, they would need to be working in the industry," Clark said. "We are focused on getting students what they need and getting them a job. As opposed to just giving them a class, the goal is to get someone to be successful."
Melendez said what he likes about the automotive program at Citrus is the instructors really show interest for students to learn. He said he likes that the program supplies students with up-to-date, good quality tools that students are able to grab and use when they need to.
"They work with you, they push you but they don't advance you to the next class until they see you are ready," Melendez said.
"We have a unique chemistry where the full-time instructors in our program, we all get along like clockwork and each of us has something we bring that the others don't," Brown said.  "We each have something that we each do better than the others do. There is a unique teamwork component here that I don't you would find elsewhere."
Brown said the program instructors share a common goal and a very similar philosophy of what aspects make it likely for a student to succeed.
"We have managed to have a very engaged industry partnership," Brown said.
---
---