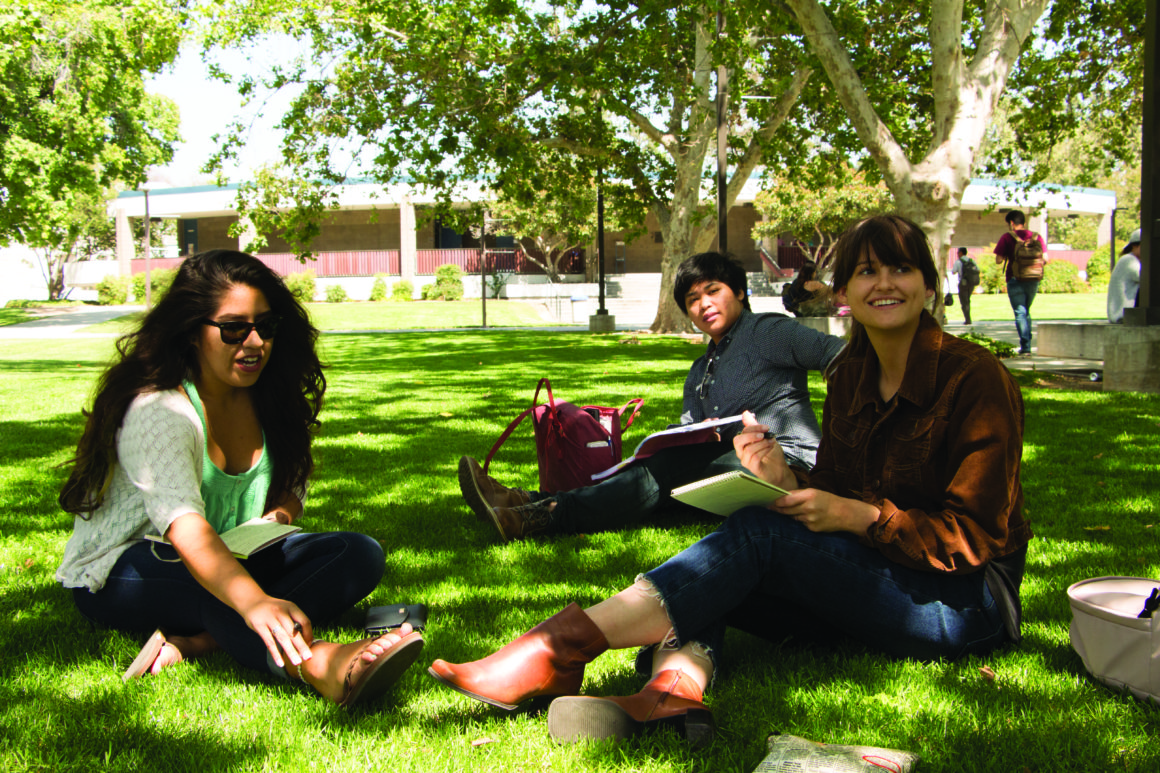 The poetry contest second place winner, Alexis Barragan, second place winner, third place winner, Damian Delfin and first place winner, Emily Watterson, sit on a lawn writing together. Photo by Malcolm Castelli
---
Editor's note: The caption in the featured photo has been changed from the print edition to accurately show the winners of the poetry contest. Damian Delfin was listed as a second place winner. He won third place.
To appreciate the written word is one thing. But to actually write your heart and soul onto paper is another.
That is exactly what 52 Citrus students did when they submitted their poems to The English Society's 2nd Annual Poetry Contest.
Eligible poems had to be original, unpublished and 25 lines or fewer.
English professor Lisa Telesca, who serves as the English Society's advisor, said the club recognizes and appreciates the Citrus College Foundation.
"They gave us the grant of $550 that helped fund the award of $100 for first place, $50 for second place and the bookstore generously donated a gift pack for the third place," Telesca said.
Aside from the top three winners, seven honorable mentions were awarded certificates of appreciation, as well as Starbucks gift cards.
The poems were judged based on tone, style, message, imagery and relation to the theme.
The theme came about during one of the club's meetings. Co-advisor and English professor Jana Heyman said that club members suggested and voted on various topics. "Becoming" became the overall choice and preferred theme because of its broad appeal.
"Some people took positive angles about becoming and some people talked about the challenges," Telesca said. "It was open-ended, so we got a lot of different angles and different styles".
Aside from Telesca and Heyman, the three other judges were Suzanne Martinez, Nick Henderson and David Overly.
The poems were judged with a blind reading in which the authors' names were blocked out, then they were ranked and judged collectively.
Held on May 18, the poetry contest began as an open-mic event. Anyone with a poem, whether submitted or not, could speak. In total, there were about 18 poets who read their poems aloud.
Each of them were unique and inspiring.
Emily Watterson wrote a touchingly personal poem that won first place; Alexis Barragan's intimately honest poem "Cynical" won second place and Damian Delfin's cleverly complex poem "Fledgling" won third place.
Watterson's winning poem was broken up into two parts that were written on two separate occasions. Both halves were titled by two different dates. "7/29/14" is the first half of the poem and "1/6/15″ is the other half.
Watterson said she wrote her poem while she was recovering from mental illness. During an art class, she was assigned to write a poem based on an image. Out of all the pictures, one photograph that really spoke to her was a white dress hanging on a hanger.
"I called it a shirtdress, because it's almost like it's a house dress that someone wears in their home while they're comfortable," Watterson said. "This is some part of me that I used to wear, my personhood and who I am now, kind of hanging on a hanger waiting for me".
By the time the readers reach the second half, the poem ends on a hopeful note in which the poet places her skin back on.
"I've sewed my skin back to my bones, because I became who I always knew I was going to be," Watterson said.
This spring marks her last semester at Citrus, as she will be transferring to San Francisco State University as a sociology major.
Double majoring in English and psychology, Barragan took a different approach when she wrote her poem.
Reflecting on the previous five months, Barragan realized she was becoming cynical and wrote a poem about it.
"What made me cynical was that I've been trying so hard to become this person that I will love and adore one day," Barragan said. "And it's taken me a long time to get there."
Even though people tell children that they can be anything they set their mind to, Barragan said "as you get older, people don't really mean that; but it should still mean something to yourself."
"I became me by becoming cynical," Barragan said.
Despite negative criticism, she has learned to love and accept her cynical personality.
Unlike the others, the third-place winner did not like to base his writings on personal experiences.
Delfin is a fine arts major who wrote "Fledgling" based on his reaction from the novel "Demian" by Hermann Hess.
"Becoming is an interesting concept and I played along with how it relates to spring, birth and birds," Delfin said.
The word fledgling means a bird that had just grown wings to fly. It was a strong symbol from the novel that inspired him to pen his winning poem.
"All the poems were excellent and very varied," Telesca said. "Our mission is to spread the love of writing and appreciate the written word".
With the success of this year's poetry contest, the advisors said they hope more students would join The English Society next semester.
The English Society meets at 2:45 p.m. every Thursday in CI 237.
---
---