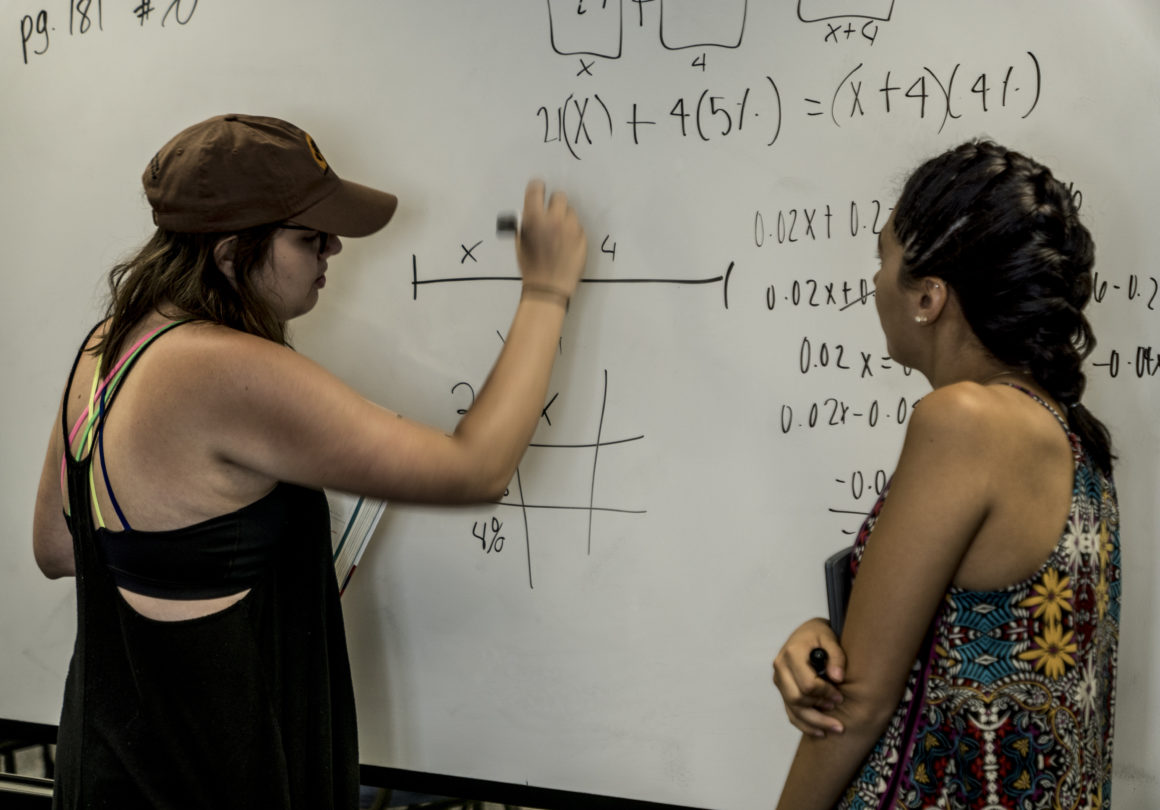 Student tutors Julia Rodriguez, left, anthropology major, and Brianna Falcon, nursing major, solve math equations in the STEM Center. Photo by Kevin Alvarez / Clarion
---
For some, a fifty-cent wage increase may not seem like much. For Citrus student employees, it makes all the difference.
"Ten-fifty an hour is better than what we were getting paid last semester, which was ten dollars flat," political science major Juan Soto said.
At the beginning of the year, California made a statewide minimum wage increase by fifty cents. Following the state mandate, Citrus made the change accordingly.
Regarding its effect on student application rates, Manager of Human Resources Brenda Fink said "we haven't noticed any effect or noticed any impact."
Fink said it seems to be in the same pattern of student employment.
Since an on-campus job provides little to no extra commute and all the school amenities, Soto decided to apply and work at the Owl Bookshop last fall.
Switching from textbooks to frappuccinos, he is currently a barista at the Art and Coffee Bar.
When thinking about how the salary hike affected him, Soto said the extra money mostly goes to the phone and internet bills that he shares with his parents.
If there proves to be any leftover cash, he'd go out and treat himself.
"I do feel like the extra 50 cents makes a difference," anthropology major Julie Rodriguez said.
Thanks to her peers and SI leaders at the STEM Center, Rodriguez improved and understood math concepts.
Wanting to help other students like herself, she became a math SI leader last fall.
"I pretty much make the same amount, but when my check comes in it's like the extra 50 cents compensates for tax that would've been taken out," Rodriguez said. "That actually makes a huge difference, because it used to be hard to predict how much I was going to lose to taxes."
Erik Robledo, another SI leader at ED 2, said the wage increase has been "pretty wonderful".
Like Rodriguez, Robledo attended math SI sessions for extra help before he became a BIO 105 SI leader.
His main concern used to be about bus fare, but now that Citrus introduced the Class Pass, his money mostly goes to purchasing food.
Commuting takes up most of the time he could've spent on preparing meals, so "I have to purchase food at some point," Robledo said.
Thanks to the bonus pay, he is able to purchase convenience foods more often.
---
---