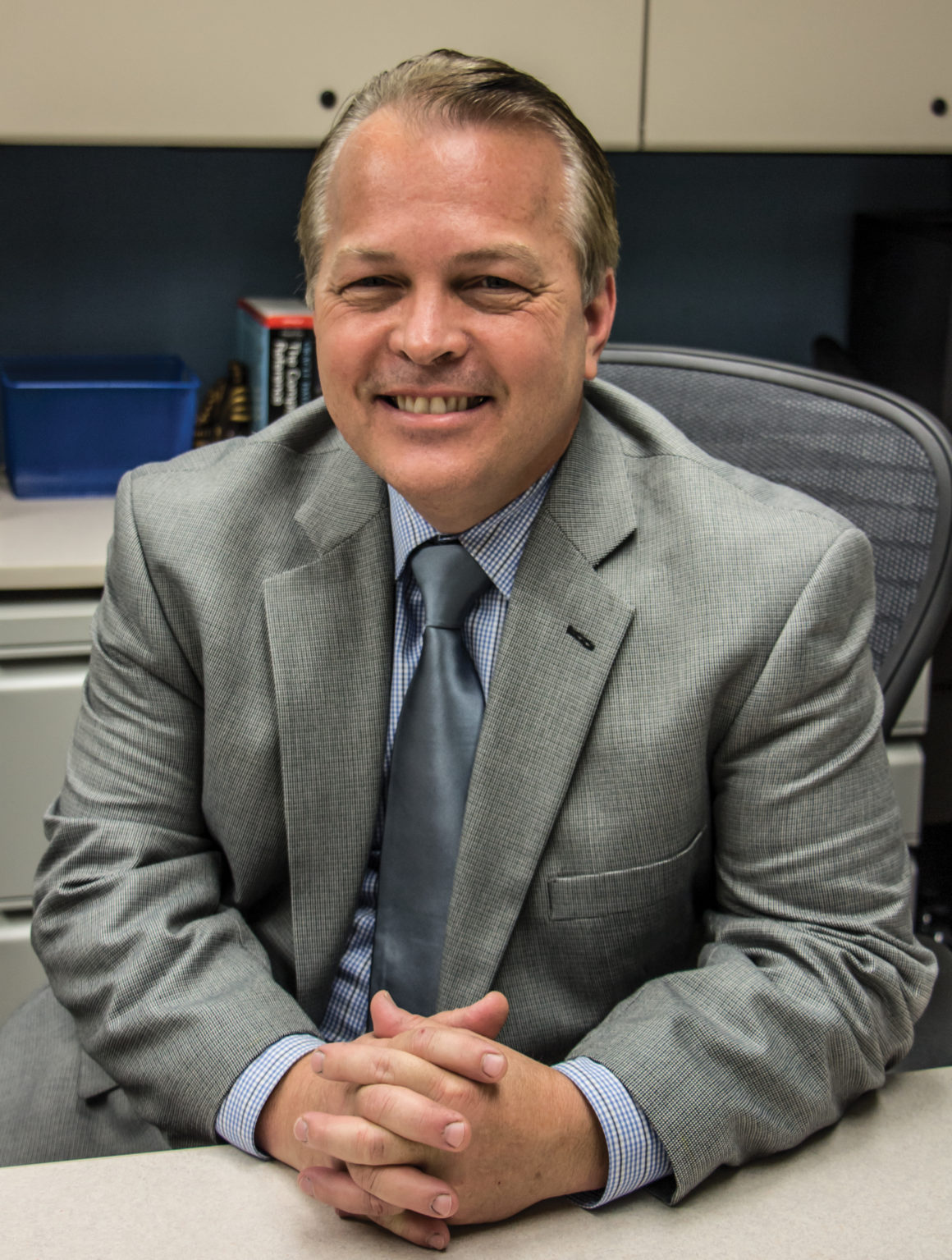 Robert Hughes poses at his new desk on June 2 at Information Services. Hughes now heads the department after the retirement of former CIO Linda Welz.
---
Citrus has been hit by the retirement bug the last 12 months. Desks cleared out, empty walls, name placards vacant. However, three new hires began to fill the void left by their predecessors.
The external and government relations department welcomed Tom Dellner as the new executive director and Doug Schultz as digital communication and publications supervisor.
Information Services added Robert Hughes as the new chief information officer.
The three positions aim to fill the roles that recently retired Linda Welz was holding during her employment.
Citrus' new team members bring extensive experience not just in their respective field, but all have experience working in education.
From his time at Whittier College and Cal Poly Pomona, Hughes has seen a full spectrum of technological advancement including the move from paper enrollment applications to an electronic version via floppy disks.
"That was the high-tech thing at that time," Hughes said.
Versed in the Banner platform, which is Wingspan at Citrus and his extensive experience, Hughes was chosen to lead the information services team.
Hughes' last stop before arriving at Citrus was Mt. San Antonio College where he served as director of enterprise applications and was instrumental in the implementation of  their mobile app called the Mountie App.
Hughes was tasked to launch Citrus' mobile app, which is now available to download for free from the Apple Store and Google Play Store.
Another task at hand is the transition from Blackboard to Canvas, a platform he said is simply far superior.
As for the switch, he said technically it is not a difficult one to make and that "students are much more adaptable when it comes to technology than in the past."
Hughes brings more than 20 years of experience to Citrus and has developed his skills in project management as means for success in his department.
"You obviously can't do it all and you have to rely upon your individual members and their different strengths," Hughes said.
With the new mobile app and a switch to Canvas, the image being cast by tech will soon be met by a new and improved image the external relations department is working toward.
In the center of campus in the administration building, Dellner and Schultz' offices are about 25 paces away from each other.
Just far enough that shouting through their respective doors wouldn't reach, but communication between the two does not suffer.
Both are settling into their desks, boxes still half full of things to be hung and decorated around the office.
But their concern is not their working spaces, rather it's getting to know the campus they are now representing.
"Everyone has been eager, helpful and informative during my transition," Dellner said.
Dellner brings 20 years of experience in communications and marketing, including five years at Southern California University in Costa Mesa serving as a communications specialist and publications editor.
Dellner said Citrus publications that reflect the college's mission is just one way to "make sure our marketing efforts are reaching the right audience with the right message."
As for Schultz, he sees opportunity for change in his new role.
"I know they do great work here with their communications, but I know it could be refined and there is always room for improvement," Schultz said.
A community college transfer student, Schultz received his bachelor's in communications from DePaul University in Chicago.
After moving west with his wife and kids to her hometown of Covina, Schultz is acclimating himself to the unpredictable traffic patterns of Los Angeles, but is content with a five-minute commute to work.
His arrival, along with Dellner, has brought two new sets of eyes to the image they both hope to improve upon.
"The two of us together kind of bring new fresh blood and ideas into this place," Schultz said.
One of these ideas is to establish the social media presence Citrus lacks.
Schultz said social media can be used as both an enrollment tool and be made useful and attractive to its students and community.
"We got the faculty, we got the facilities, we need to make sure there's seats in the chairs," Schultz said.
With the two working side by side and in collaboration with all departments on campus, the external relations department got a shot in the arm it needed.
"This office has been spread a little thin in the past and now we're fully staffed and hopefully we'll be able to show some real tangible results," Dellner said.
---
---