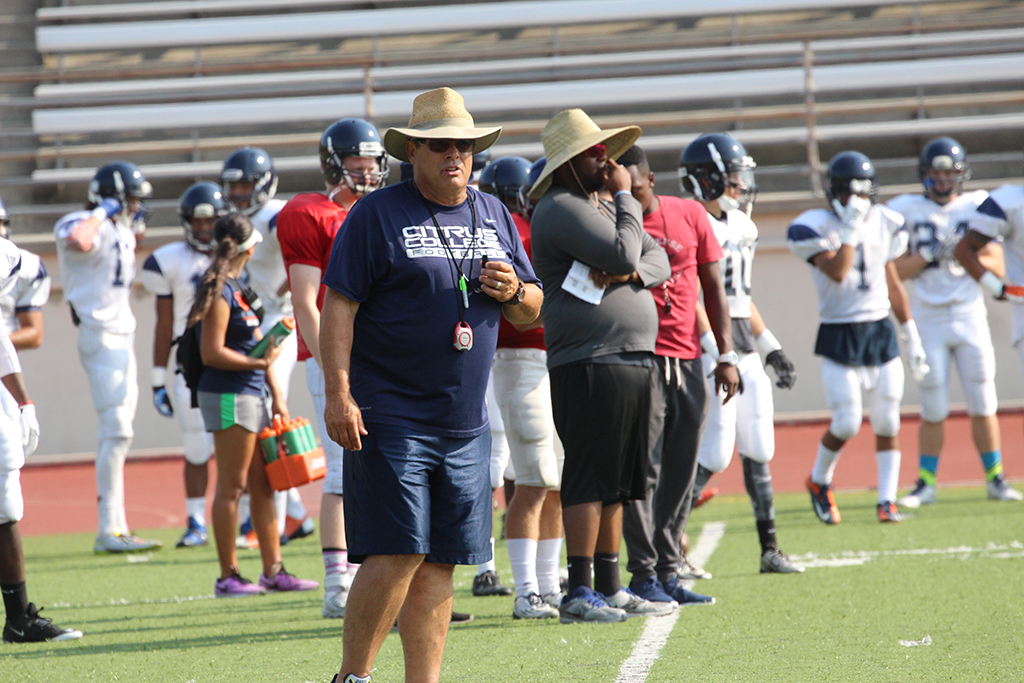 ---
With the words "Men succeed when they realize that their failures are the preparation for their victories" on the wall in head football coach Ron Ponciano's office, there is a great sense of pride as the Citrus football team prepares for the upcoming season.
The Owls will look to improve from last season's 4-6 record, where they averaged 33 points per game, 396.6 passing yards per game, and 158.4 rushing yards per game, but lost key players to injuries.
Ponicano, who has been coaching football for 33 years and will start his 14th year at Citrus, said his team is pumped up and optimistic for the season.
"It'll be interesting and exciting," Ponciano said. "It always is every year."
Citrus faces a tough schedule this season, facing competition like Chaffey College, Santa Ana College, Southwestern College and Allan Hancock College.
Reflecting on last season, Ponciano said it was memorable for him and his team winning games that were challenging.
"I think last season was exciting," Ponciano said. "We started out 3-0, we beat Santa Ana College for the first time in school history and got a record win over Chaffey, which is tough to do."
Ponciano said almost all his players have received offers to continue their football career after Citrus, but there are returning players who led the team to success last season that have only gotten better during the offseason and will continue to make huge impacts this season.
"It always looks good when you've got your returning guys and some recruits that you've worked hard to get," Ponciano said. "We have a good nucleus of leadership."
Key offensive players returning back in a Citrus uniform are running back Devin Floyd, who rushed over 1,000 yards last season and wide receiver Jacob Bystry from Washington state, who grey-shirted in the 2015 season but scored two touchdowns last season and averaged 37.4 receiving yards per game.
Last season the Owls lost one of their biggest contributors, wide receiver Gino Mastandrea, due to an injury against Southwestern, losing the game, 44-28. Mastandrea scored two touchdowns in that game before sitting out for the rest of the season.
Defensively, a key player who will return is linebacker Zach Lewallen. The 6-foot, 215-pound freshman had 13 tackles, 23 assisted tackles and two sacks in eight games last season.
During the offseason Ponciano makes sure his players stick together and work, growing as a successful team.
"We're lucky to have great guys that really care about each other," Ponciano said. "They have fun and work hard together in the off season. You have to set goals, and our guys do that."
The Owls will take on the Mounties of Mt. San Antonio College in their first game of the season at 6 p.m. August 23 at Citrus Stadium.
---
---