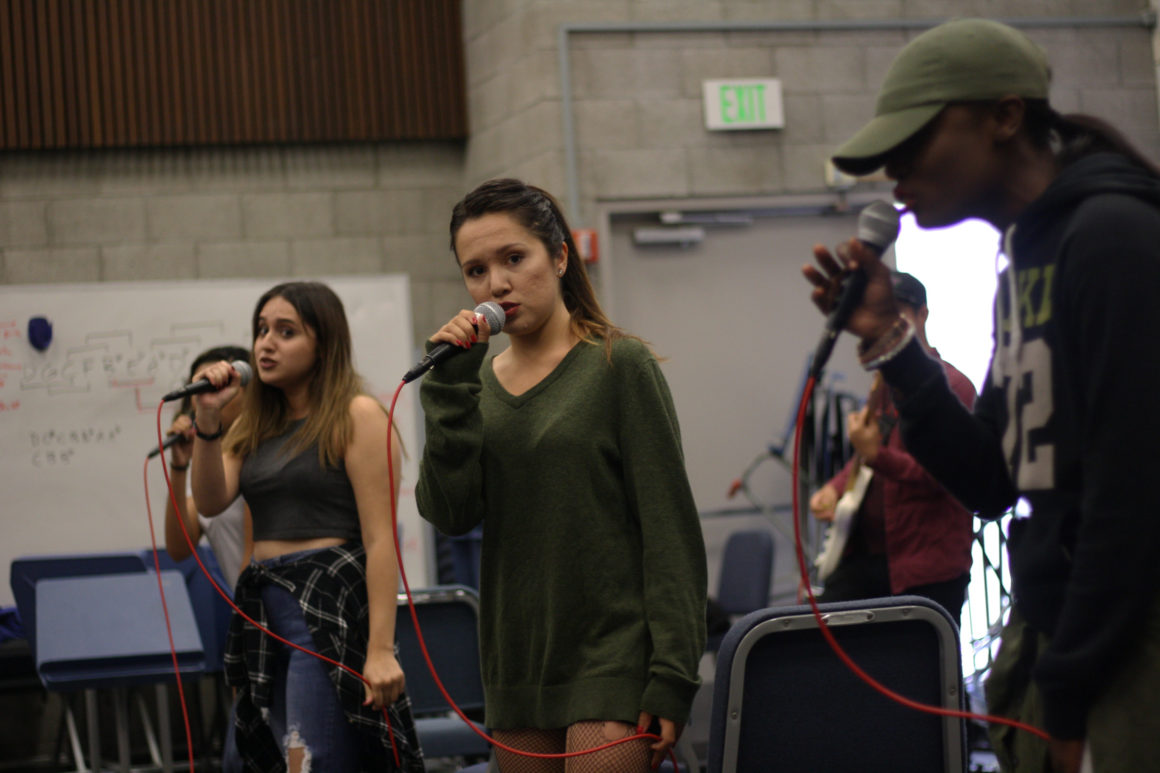 Jamie Palato sings her solo part of the song "Say My Name" alongside Shaunecy Spicer and Desiree Sandoval on June 1 during rehearsal the song for the Rock Pop Showcase.
---
Citrus Visual and Performing Arts Department will present Pop Rock Showcase at 7 p.m. June 13 at the Haugh Performing Arts Center.
The show will include music from the '90s, such as "Wanna Be," "No Diggity," "Say My Name," "La Vida Loca," "Say You'll Be There," "Mo Money Mo Problems" and many more.
Bands from the Citrus College commercial programs will compete with one another and will be judged by Gabrial McNair, keyboard player for No Doubt, Zach Rudulph, bass player in Andy Grammer's band, and Marko Desantis, guitarist for Sugarcult, Director Gino Munoz said.
The Diamond Bar High School commercial music program will also perform at the show.
"We are going to have a variety of genres," student Miguel Camarena said. "We have a lot of new members that haven't performed before that will be performing in this show. This is the last hurrah, the final show before tour."
Student Eddie Sanchez said he was ready for the challenge of putting on a show for the audience.
"We are looking to entertain and engage our audience," Sanchez said. "We are put to the test and have to think on our feet. It's a learning experience for us."
Tickets can be purchased for the show for $7 at the box office or online at http://tickets.haughpac.com.
---
---