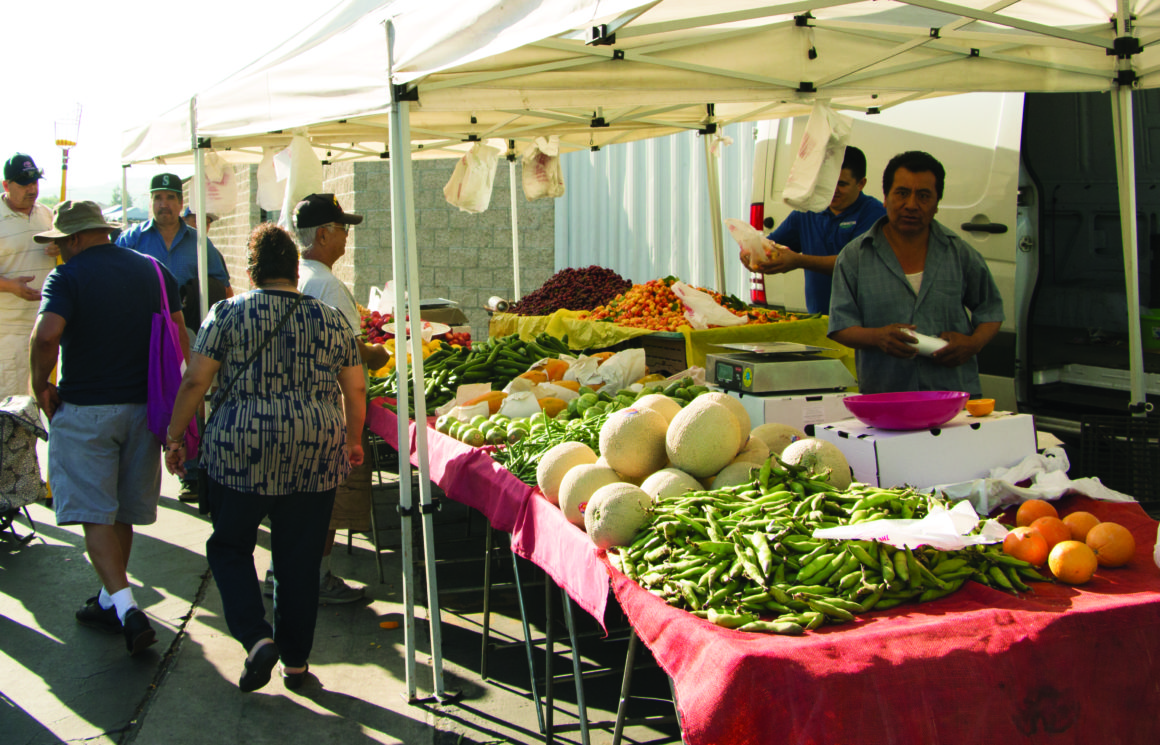 ---
Amid a sleepy Sunday morning in Glendora, the Citrus College parking lot is wide awake as a secluded space for bustling people and quick transactions.
This eclectic environment of vendors and local shoppers is hosted by the Foothill Swap Meet, which begins at 6:30 a.m. every Sunday morning on the Citrus College S4, S5 and S6 parking lots.
The swap meet is a family-friendly environment that offers something of interest to almost any person.
The variety of goods found at the swap meet is borderline overwhelming. Vendors sell items, such as clothing and accessories, tools and gadgets, or plants and home goods. There are also food and drinks sold at different food trucks or fresh produce stands.
Up until May 2003, the swap meet was located at the Azusa Drive-in on the historic Route 66 where it had been for more than 50 years since the opening of the swap meet in 1969. According to the Foothill Swap Meet website, they host over 530 spaces and 6,000 buyers every Sunday.
The Foothill Swap Meet is also a window of opportunity for young entrepreneurs and companies to get their name into the community's line of sight.
Khylan Brooks is a 20-year-old entrepreneurship major at Azusa Pacific University who recently started his own clothing brand called the Faded Elephant Supply Co. Brooks attends the swap meet on Sunday mornings with his own table set up with t-shirts, sweatshirts and the newly-added sticker packs.
Brooks founded the brand on the premise of environmentalism with a purpose in mind. According to Brooks, the brand is dedicated to raising awareness and funds for Africa's elephants.
According to the Faded Elephant website, "We understand that the elephant population is steadily decreasing; the main cause to this decline is us as humans. As a company we wanted to do our part in raising awareness to a worldwide issue."
In addition to raising awareness for this issue, Brooks' company also donates 5 percent from every sale to the Safeguarding a Future for Africa's Elephants Campaign. S.A.F.E saves elephants from poaching and supports conservation projects. Individuals such as Brooks attend the swap meet to promote their company and to grow their business.
Celia Cazares has been setting up at the Foothill Swap Meet every single week for more than 20 years now. She said she has been a part of the swap meet since it was located at the Azusa Drive-in. She sells makeup and beauty products, as well as some clothing and accessories.
Cazares said that business recently has not been as busy as it has been in the past, which has been hard at times to keep going. However, she still enjoys selling her products and talking to the people from the community who come out to the swap meet with their families and friends.
This slideshow requires JavaScript.
---
---