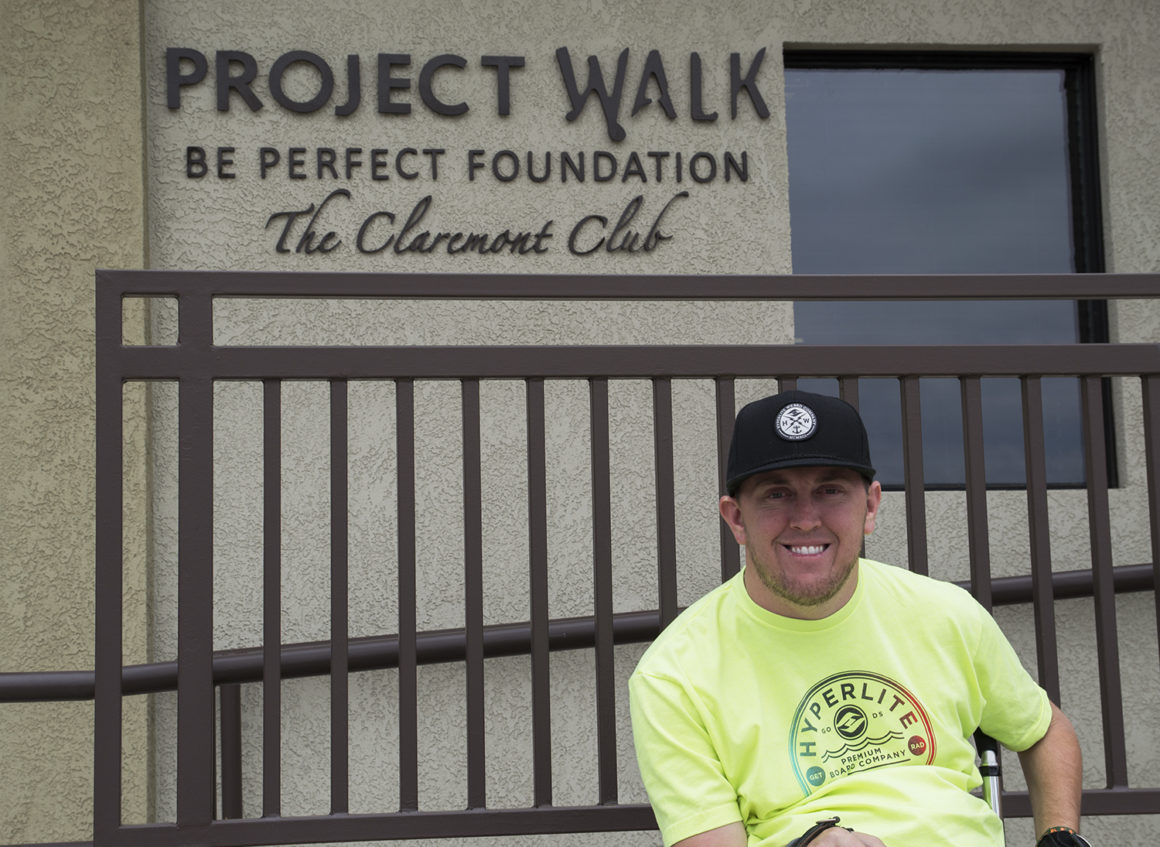 Hal Hargrave Jr. poses for a portrait in front of Project Walk on May 25 at The Claremont Club. Hargrave, who lives with paralysis, started Be Perfect to help others in need of help with medical finances. Photo by Michael Quintero.
---
Walking is a gift, and in a split second this gift can be taken away. Be Perfect was created to gift back.
Hal Hargrave Jr, founder of Be Perfect, is living with paralysis.
Be Perfect is an organization in Claremont providing support for people living with paralysis.
Hargrave was on his way to play baseball at Cal State Long Beach.
Four weeks after his high school graduation he was in a serious accident in Barstow.
On July 26, 2007 he was driving his father's company truck to Las Vegas.
He swerved out of control dodging a large piece of tire tread. His truck slid into the sand, causing the truck to roll 4 times.
He broke his neck in two places, C5 and C6 vertebrae.He was 17 years old.
C-5 C-6 break affects motor skills and organ function. He lost function of his hands and legs. Hargrave began his recovery at Casa Colina in Pomona.
Soon after, he started attending Project Walk in Carlsbad, where the idea of Be Perfect started.
Brian O'Neil, a patient at Project Walk, told Hargrave he wasn't coming back to therapy.
He said he couldn't afford the program, and was about to lose his house.
Hargrave then made a huge decision and paid for O'Neil's next six months of therapy.
"During my senior year, I had a moment of self evaluation, and knew I was put on this earth to provide for other people, and not just myself," Hargrave said.
Hargrave noticed insurances only went so far paying for therapy, so patients were being kicked out.
He wanted to start a charity for other spinal cord injuries who couldn't afford therapy.
On Jan 1, 2008, Be Perfect became a non-profit organization.
On average, the lifetime cost of someone living with paralysis is around $2.5 million, Be Perfect's website said.
Insurance will only cover 50 to 60 percent. Be Perfect offers funds for those who cannot afford medical bills, wheelchairs, car adaptions and daily medical necessities.
On April 26, 2008, Be Perfect held their first event. Hargrave. only anticipated an audience of 100 or less. eight hundred people attended, and they raised $250,000. He said after this event he realized people followed his mission.
"Casa Colina provided a vital role on education for spinal cord injuries, but I knew there was something missing," Hargrave said.
He said he wanted to bring an exercise-based therapy to the Inland Empire. He used $150,000 of his own money and asked if he parents would match him. They did, and in February 2013 they franchised the first Project Walk at The Claremont Club.
Project Walk started with 17 clients, and now have over 92 clients. Their staff is composed of eight certified trainers, and three aids.
Chris Seibel, a client of Project Walk, was part of their first 17 clients. Seibel was injured in a san buggy accident, and broke his L1 lumbar vertebrae. The lumbar section is in the lower back, and this break affects leg movement, and digestion.
Seibel said, Project Walk gave his independence back. He was able to throw a football with his kids, and most importantly be a dad.
"If I didn't come to this place I know for a fact I would not be walking," Seibel said.
Seibel gained his gift of walking again with Project Walk. Lorie Hargrave, Hal Hargrave's mother said, not everyone will come out walking, and people get confused when they see or hear Project Walk. Their main goal is maintaining health with exercise.
"Little things like being able to hold a cup, transfer from bed to wheelchair, or being able to use a phone gives our clients more independence, and that is what we are here for," Lorie Hargrave said.
But not everyone is accepted into Project Walk. Applications are case-by-case, and each client must undergo bone density scans, withstand two hours of exercise and have a strong mental outlook.
"When I tell most people about my job, they assume it as a depressing career," Kristen Johnson, a certified recovery specialist, said.
She also said their main role is to provide a positive environment, build a strong mentality and provide stress relief for each client.
Seibel said, when you walk in here no one is in their wheelchair. No matter how serious their injury everyone is out of their wheelchair when they work out here.
"Movement is medicine," Seibel said.
At first, Project Walk was solely based on spinal cord injuries, but learned their methods could work on other types of paralysis.
In 2015, Project Walk took in their first client not with a spinal cord injury. Augie Nieto was six years post-ALS. He wasn't able to speak, typed with his toes and had organ failure.
Trainer Tanya Slusser, worked with Nieto for one year and he was able to type with his fingers, and was able to text his wife, "I love you."
Slusser went on winning world trainer of the year award. Most importantly, they found their philosophy works with other types of paralysis. Now, Project Walk takes in people with ALS, brain injuries, MS, stroke and cerebral palsy.
In addition, Hargrave. has more achievements he will reach this year aside from Be Perfect, and Project Walk.
He graduated from University of La Verne in 2015 majoring in sports broadcasting. In May, he will graduate with a masters in leadership and management also from University of La Verne.
Be Perfect has raised 5 million dollars in their nine years. Information to volunteering for each annual event can be found on http://www.beperfectfoundation.com/join-the-team.
"I could have, and should have been dead. Take that away I should have had a brain injury. If i can affect hundreds and thousands of people's lives, then it was all worth it to me, walking or not," Hargrave said.
---
---