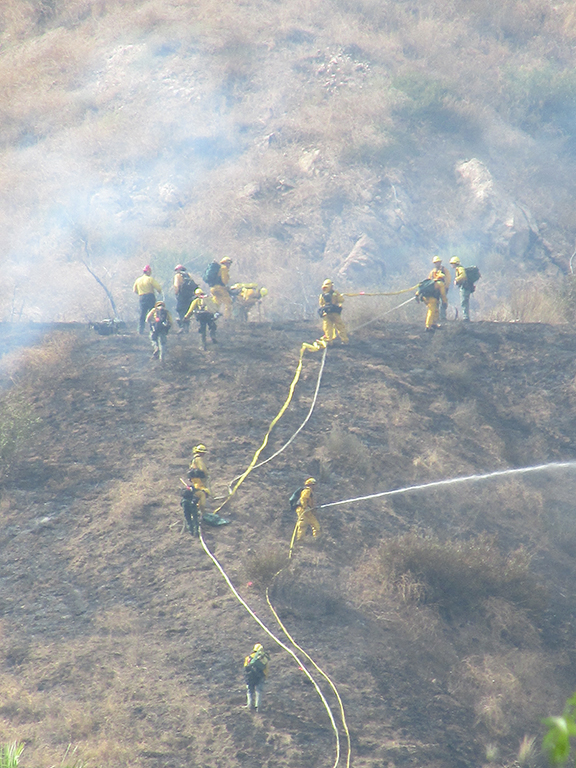 ---
A Glendora brush fire started early Thursday afternoon, July 27, just east of Citrus College and St. Lucy's Priory High School.  
The fire was started when a welder accidentally sparked dry brush while working on a house near Silent Ranch Estates, authorities said.
The Los Angeles Fire Department arrived at 1:47 p.m. and began containing the fire. By 5 p.m. the fire was 65 percent contained and expected to be fully contained in a matter of hours.
L.A. Fire Department officer Dave Monday said he believes there will be many more fires this summer as a result of all the rain L.A. County received last winter.
"See all that stuff?" Monday said, gesturing to the mountain. "It looks green now, but it was greener two months ago, now it's all dried out."
In the midday heat, firefighters filled coolers with bags of ice and passed around water bottles and wet towels to fight heat exhaustion and dehydration.
A nearby homeowner and previous Citrus College employee, Wafaa Dordar, said she was accustomed to similar incidents, but never considered moving because of the frequent fires.
Dordar was not too concerned about the fire and called out to her neighbor to ask if they took any good pictures. From her sidewalk she could see firefighters on the face of the mountain and the tendrils of smoke.
Dordar said she has an evacuation plan, but the only time she came close to evacuating was about 18 years ago when the mountain burned for three days and three nights.
"I have so much faith in our firefighters, they are amazing," Dordar said.
The Glendora Police Department tweeted at 7:56 p.m. that the fire was 100 percent contained, burning 9.7 acres.
---
---