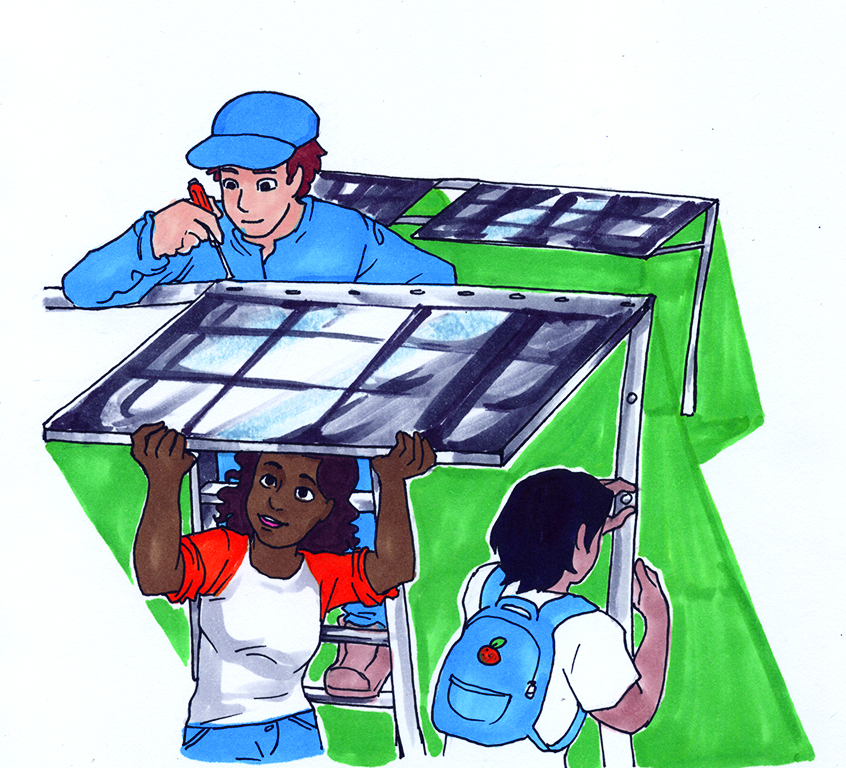 Illustration by Emily Hermosillo / Clarion
---
Just because President Donald Trump is withdrawing the U.S. from the Paris Climate Agreement does not mean we Californians should give up on leading the way into environmental sustainability.
Just less than 200 countries signed on to the Paris Climate Accords, which is an international agreement aiming to combat the greenhouse gas emissions scientists say are contributing to climate change.
Over the summer, we witnessed Trump add our country's name to the list of objectors and abandon our participation in the agreement.
As for the other two countries who have opted out, Nicaragua and Syria have far more substantial reasoning for their non-involvement in the agreement.
The U.S., however, is the world's leading power, and the act of walking away from such an effort like the Paris Climate Accords is devastatingly immoral and irresponsible on a social and economic level.
The contents of the recent federal climate report goes against Trump's statements suggesting a strong uncertainty with human activity and the environment being linked.
Trump's actions since the signing of the Paris Agreement have displayed his apathy for the scientifically supported issue, and judging by the overwhelming amount of research suggesting the growth of global warming to be human-caused, scientists are clearly worried.
However many Californians agree with Gov. Jerry Brown that our incredibly powerful state can and should do something to counter Trump's decision.
Citrus College as a publicly funded California institution and a place of higher learning has made progress but must do more.
One improvement we can make involves utilizing renewable energy by installing solar panels in the parking lots and other areas on campus.
With this becoming such a common sight on many school campuses in the area, why hasn't Citrus been at the forefront of this?
Business Insider said that renewable energy sources like solar power will be the "cheapest form of new power generation by 2020."
There's a reason so many schools and businesses are using it.
Another improvement is emphasis on recycling.
Even after decades of discussion, there are still no proper recycle bins on campus.
As educators, it is faculty and staff's responsibility to raise consciousness and educate students on the small steps we can take collectively to do our part.
Offering informative lectures from respectable and credible experts in the field of climate change and sustainability at the Haugh Performing Arts Center would also be a great option to start taking steps as an institution.
Perhaps one of the most beneficial efforts to create and maintain a concern for the students here at Citrus would be to host a series of small "green" workshops that would discuss the basic fact-based fundamentals of climate change science, its adversaries, and the role that Citrus should have in marching toward a more sustainable future.
Now, let's recognize an indelible truth. Despite being fairly insignificant in the greater realm of global climate change (residential and commercial carbon dioxide emissions only make up 10 percent of the United States' total output according to the EPA's 2015 data), local efforts can create change and open dialogue for students, faculty and even the local government.
As of now, unless worldwide pollution and human-motivated climate change is stopped through drastic socio-economic measures, we won't see much immediate improvement.
But if we can clean up our area of education and inspiration, we can take what we have been given and apply it to the rest of the world upon our departure.
Written by Erik Adams, with approval of the Clarion Editorial Board.
---
---