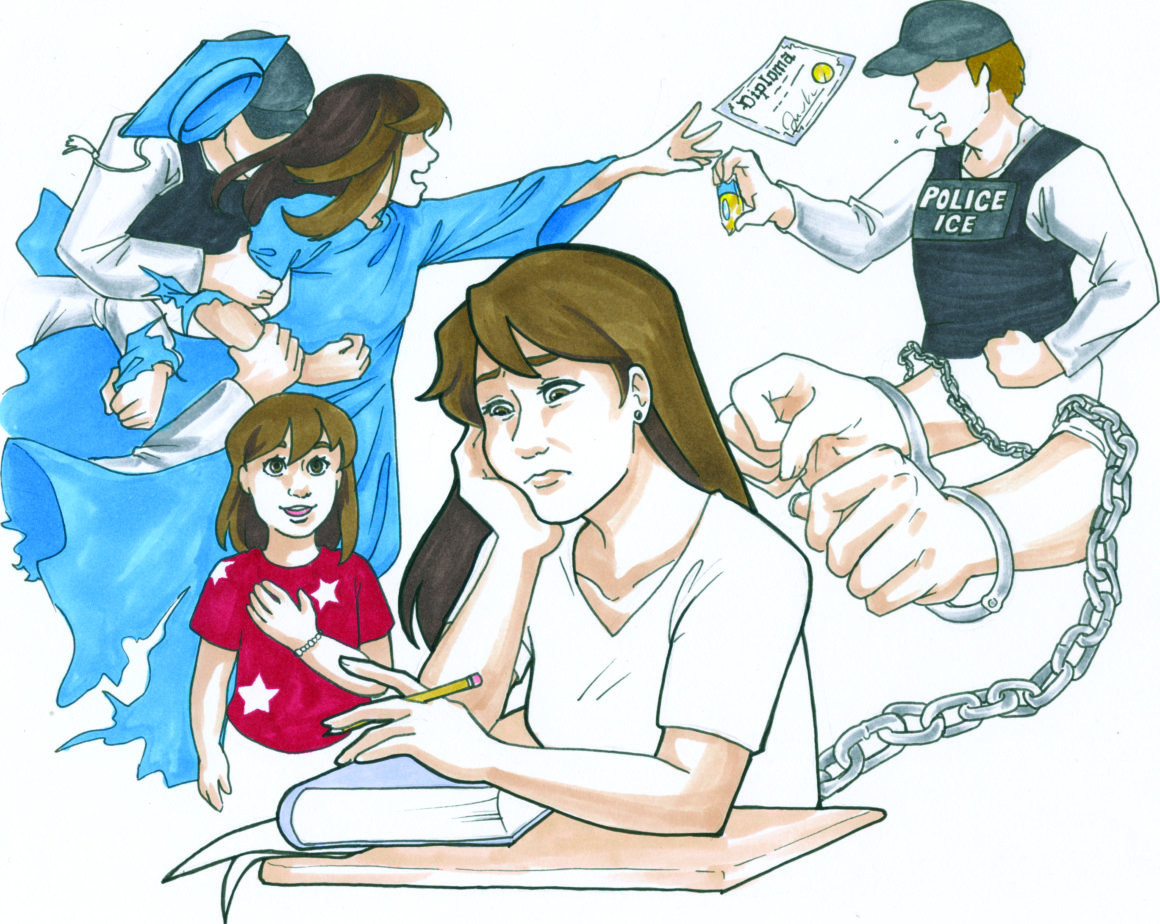 Illustration by Emily Hermosillo / Clarion
---
We at Citrus College must do what we can to assist our DACA students and community.
Deferred Action for Childhood Arrivals, or DACA, allows recipients, known as Dreamers, to attend public schools, receive work visas, and be protected from deportation.
There are about 800,000 people that will be affected, and over 222,000 live in California, according to Pew Research.
On Sept. 5 Attorney General Jeff Sessions announced President Donald Trump's callous decision to end the Obama-era executive order, which promised protection for undocumented people brought into the country as children.
California will be the state that is most affected, with up to half a trillion dollars in lost national GDP over the next decade, according to the Center for American Progress.
The president's announcement gives Congress until March 5, 2018, to act. That's not much time, even when Congress is actually getting things done.
This gives Trump and the GOP in congress a bargaining chip.
They can now insist that any legislation that moves forward to protect recipients of DACA includes language allowing the construction of a southern border wall.
With so much at stake it is important to understand the impact that the end of DACA could have on Citrus College.
For all intents and purposes, the Dreamers are American. Some DACA students may not even remember being brought to the U.S. because of their young age. They grew up here and some have no recollection of their countries of origin.
Dreamers are our neighbors, families, and fellow students. We cannot allow their lives to be turned upside down. It is unfair and heartless for the federal government to ask the Dreamers for their trust only to rescind that offer, and use the information given to the government in good faith against them.
An email sent to students on Sept. 5 by Citrus College President/Superintendent Dr. Geraldine M. Perri, makes clear that Citrus College and all California community colleges will do what they can to aid students affected by this decision.
The email also encourages compassion towards those who may be affected and having feelings of anxiety.
Any student who feels overwhelmed and would like assistance can contact the Student Health Center. Students who are unsure of their status or need help with immigration resources should contact Dr. Gerald Sequeira, Dean of Enrollment Services.
Free legal workshops are scheduled to be held on campus regarding DACA students' rights and legal assistance.  
Our student body must do what they can to assist those who will be affected.
Use your First Amendment right to free speech and peacefully assemble to voice your opinions.
In November 2018, all 435 seats in the US House of Representatives and 33 seats in the Senate will be contested.
Register to vote. Call your senators and your respective congressperson. Pressure Congress into taking action.
DACA students need a voice now, so let's act now.
Written by Daniel Bardonner, with approval of the Clarion Editorial Board.
---
---