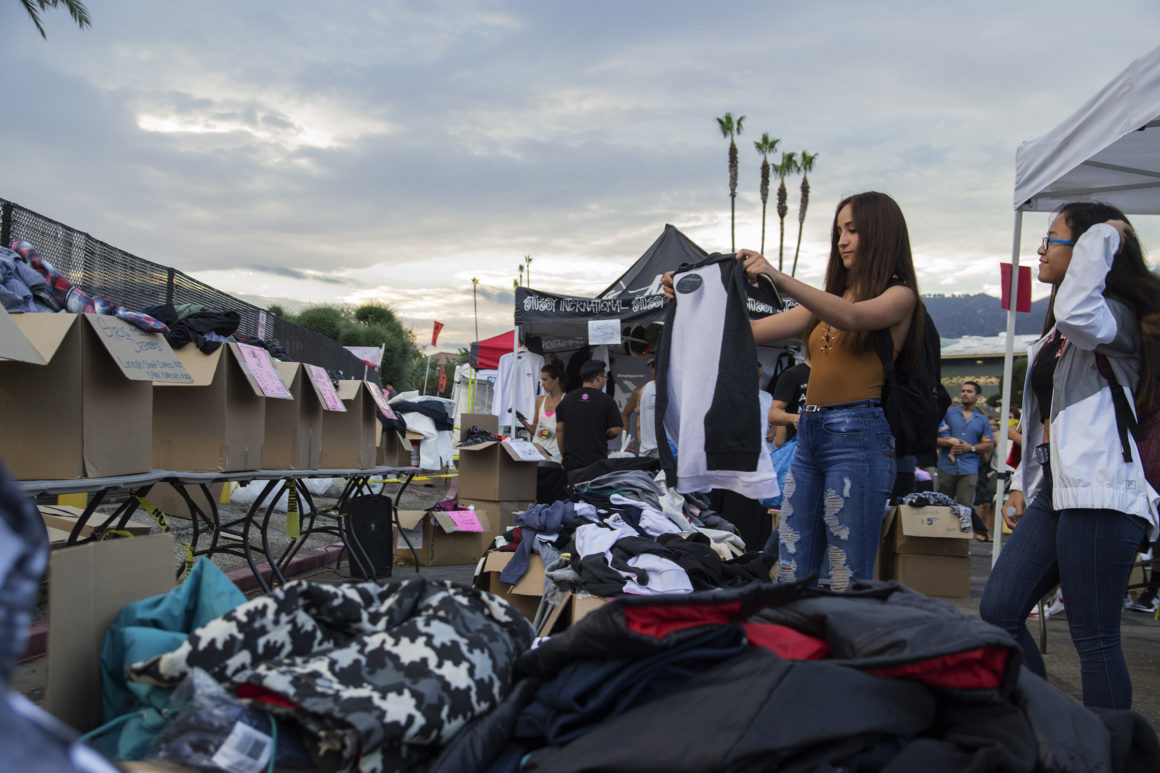 626 Night Market attendees search for bargain deals at the Stussy clothing booth on Sept. 2 at Santa Anita Park. Stussy clothing brought overstock clothing and sold items at half price. Photo By Michael Quintero / Clarion
---
Only at the 626 Night Market can you find gourmet food vendors, live music, artists, activists and crafts.
The 626 Night Market is held on four separate weekends during the summer at Santa Anita Park in Arcadia.
Over 80 food vendors were present. Chick n' Skin, Sumo Dog and Cajun House were a few vendors that held the longest lines. Chick n' Skin's menu featured three types of nachos covered in deep fried chicken skin. Cajun House grilled six-ounce lobster tails for the people who attended.
The night market concluded Sept. 3.
Aside from food vendors, the market was full of diverse artists, including Noah Sturm, a graphic artist and musician from North Hollywood. Sturm found his inspiration from watching Adult Swim.
He creates satrically graphics from combining cartoons with modern pop culture. A big seller was a painting of rapper Drake crying into a tub labeled with Drake tears.
Sturm's booth was the most crowded, even though he is a new artist in the industry.
"I have been drawing since I could remember," Sturm said. "I recently started selling these prints four years ago."
Sturm, who has attended the 626 Night Market for two years now, has enjoyed the atmosphere and has seen a high number of followers and purchases from humor on pop culture.
Artists, crafts and food vendors made up a majority of the booths, but one booth stood out from the rest of them.
Ophelia Chong, founder of Stock Pot Images, displayed a booth for her new company Asian Americans for Cannabis Education. This was her first time at the 626 Night Market and she said the organizers loved her message and didn't charge her for her booth.
626 Night Market attendees are predominantly Asian American, and is why Chong wanted to get her message out.
"I founded this company to stop the stigma of Asians thinking weed is evil," Chong said.
Chong has a background in photography, creative directing and marketing. With this background, she said most of her contributors don't have to touch a plant. She brought in tons of photographers and graphic artists to help with presentations of educating Asian Americans for the 6.5 billion market.
However, across the field from all the crafts and vendors, DJ Ladidadi took the stage at 11:30 p.m. until 1 a.m.
Artist, vendors and attendees began to dwindle about 30 minutes before closing.
626 Night Market ended on Sept. 3, but will return in the summer of 2018.
---
---