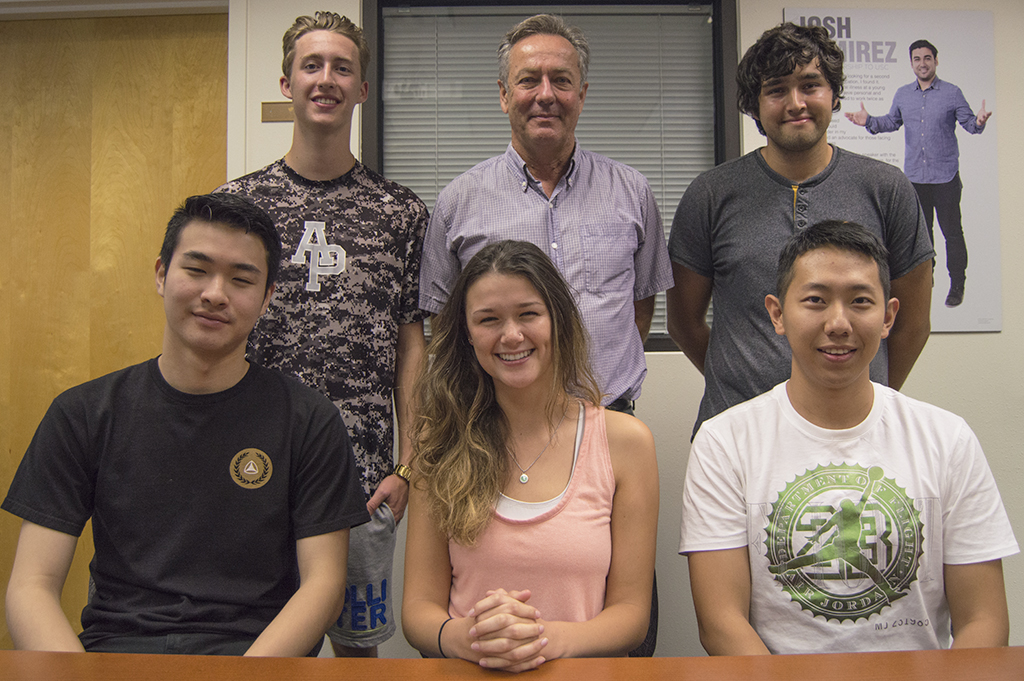 From top left going clockwise, Phillipe Schicker, Brian Waddington, Oscar Martinez, Duo Gao, Ashley Carrillo and Chanyoung Lee, board members of Phi Theta Kappa pose, for a photo on Sept. 7 inside ED 129 at Citrus College. Photo by Jacqueline Torres / Clarion
---
Phi Theta Kappa, an honor society called the Beta Nu Eta chapter at Citrus College, helps keep the college accountable through some of their projects.
The honor society has been recognized as a five-star chapter this past year. To be recognized as a five-star chapter is a prestigious recognition for an honor society chapter at Citrus College.
"I would say it is because of the ambition of our members why we are a five-star honor society," Brian Waddington, the advisor for Phi Theta Kappa said.
Requirements need to be fulfilled from the international programs office, like submitting a document or input that describes the various projects that the chapter gets to do as a whole.
Projects, such as the Honors in Action program, fellowship with other chapters working together on service projects, recruiting projects, attending regional  meetings are all activities of the honors society.
The Citrus College Phi Theta Kappa Honor Society or The Beta Nu Eta Chapter, the name of the specific chapter at Citrus College, meets every week at noon Fridays in ED 129.
Every college has it's own chapter.
"The mission of Phi Theta Kappa is to recognize academic achievement of college students and to provide opportunities for them to grow as scholars and leaders," states the honor society's website, http://www.ptk.org.
To join Phi Theta Kappa,  a student must have a minimum 3.5 grade point average and be a member of the Honors Transfer Program.
Although not always required for all members, a member must have a 3.5 grade point average to receive all of the benefits of being in the program and also in order to become an officer for the Honor Society.
Jobs of some officers consist of treasurer, secretary of writing project reports and so forth as the positions become available.
During meetings, the honor society talks about the things they are doing on campus and working on for projects.
Waddington is also a professor for the history department at Citrus.
Phi Theta Kappa has benefits for its members, including scholarship opportunities, competitive transfers, yearly conventions, the ability to gain and develop leadership skills, knowing how much and how many commitments to take on and the ability to make friends with other members.
Members can be a regional member or an international member.
A regional member represents a region for Phi Theta Kappa members involved in that specific region.
An international member represents the different national Phi Theta Kappa members in the different nations.
"Phi Theta Kappa has taught me so many skills," Ashley Carrillo, president of Phi Theta Kappa, said. "It has taught me how to lead a group, as president you have to be able to coordinate with people make connections and stuff, and actually be able to talk in front of a decent group of people,"
"The Honors in Action" is a project where members research a topic based on what the Phi Theta Kappa headquarters gives them, and they use their own perspective and present a paper on it, and could win an award.
"The College Project" is another project that benefits the campus, because Phi Theta Kappa asks administration what Citrus College needs to work on as a campus, and the members take action on it.
"The Peer Friendship Program" is a project that helps ease the transition for international students where they are paired with a honors student to help them make friends and transition into the Citrus College environment.
Phi Theta Kappa is only for two-year colleges.
Students who join Phi Theta Kappa can get a tassel, cord and recognition during commencement by joining the Honor Society.
The fee for joining Phi Theta Kappa is $85. It is a one time only fee and it is for life.
"I'm proud partially for me because I got my grades really high," Paul Lee, a Phi Theta Kappa honor society member, said. "It is nice to be recognized. I'm interested in joining, just because last year when I first joined the honors program I heard about all of these benefits: scholarships, recognition a chance to be involved on the campus and that really sparked my interest. Before I transfer, I want to do something meaningful here."
Students can learn leadership skills by becoming president, leading one of the projects, working with diverse groups of people, building skills of speaking in front of a group and leading a team.
Phi Theta Kappa is one of the many activities that a student can put as they transfer to a university or for a job resume.
Psi Beta and Alpha Gamma Sigma are the other two honor societies at Citrus College.
"In general making friends is a really big part, but really it comes back to making a difference," Philippe Schicker, vice president of Phi Theta Kappa said.
---
---