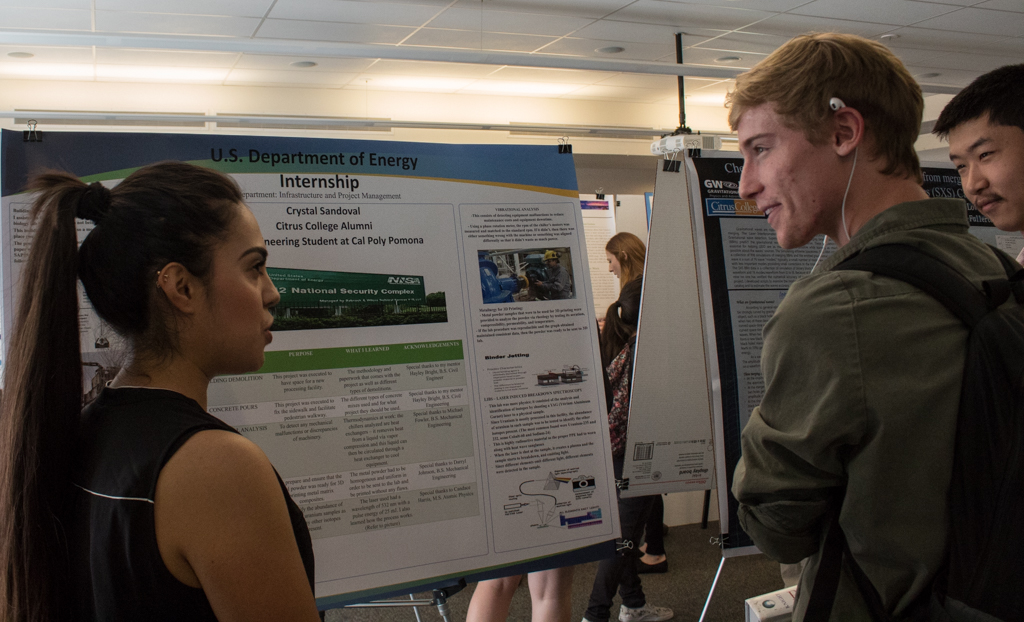 Crystal Sandoval, Citrus alumni, presents her summer research findings to students Kyle Montesanti and Youwei Liu at the sixth annual Research Symposium Sept. 20 in the CI Building. Sandoval interned for the U.S. Department of Energy working with building demolitions. Photo by Rosi Di Stefano / Clarion
---
Fifty-five students participated in the the sixth annual STEM Research Symposium on Sept. 20 in the CI building.
The students from the summer research program presented their projects and answered any questions for faculty and students.
The STEM program has supported this experience with resources and funds for six years and this year's turnout was the largest group they have had.
Marianne Smith, director for the Institute of Completion and grants oversight, said the program gives students the opportunity to have real world experiences in the field, instead of the lab or classroom.
Smith said it allows students to figure out what area of science they are really interested in and build their "STEM identity." Students can network not only with peers, but also with professionals in the field.
"By the end of eight or 10 weeks students realize just how capable they are and how much they accomplish when they really set their mind to it and that's just so rewarding for us to see," Smith said.
Citrus College Alumni and Civil Engineer Crystal Sandoval was one of the participants in the Summer Research Experience this year. She formed part of an internship where she was mostly assisting in the planning of a demolition.
"I focused on building demolition and concrete forze, but also in my free time I assisted in the mechanical engineering lab as well as the physics lab," Sandoval said.
Sandoval said based on a student's major, the classes they have taken and the experience they have, the internship places them in the department that best fits you .
"I have construction experience, I have worked in several construction companies, so I do have that plan experience and organization skills," Sandoval said.
Rebecca Blanco said she stayed with her research group members at the University of Colorado in Boulder, Colo. to study floods and environmental sciences in the area.
Blanco said as a biological sciences major at Citrus College, she was hesitant about working in a different field of sciences, but overall found it incredibly interesting and rewarding.
Blanco said the results of their experiment did not match what their predicted results had been, but the unexpected nature of their experiment made it even more exciting.
"I'm a kinesthetic learner, so I need to see, touch and work with what I'm learning so to actually go and see and work in the environment was very interesting," Blanco said.
Students were also offered opportunities from outside of the research program, including internships and invitations to scientific conventions.
Cathy Trejo, Cal Poly Pomona student, said as an environmental biology major she knew that she was interested in marine biology, but was curious on if she wanted to focus more on research or in policy.
During her research internship at Chapman University, Trejo said she realized that she liked doing research, because she likes working in small teams and being close to her peers and mentors.
"It always fun to have another question answer or another thing to solve or figure out," Trejo said.
Trejo was invited, with all expenses paid, to speak in a conference in Washington, D.C. from Oct. 21 to 23, where she will share her research. She said she was chosen because she was very enthusiastic about what she was doing.
"This is going to help me start networking with other people and probably introduce me to other internships or opportunities I can get into," Trejo said.
Trejo said students should always take advantage of the opportunities they are offered, because they can lead to bigger opportunities in the future.
Philippe Schicker and Basel Chahla, both Citrus College students, worked at Cal Poly Pomona with two other students from another community college in their project Collision Avoidance System with Drones and UAVs.
"Basically when the drone is flying, whenever it faced any object they will avoid that hazard by measuring the distance in between that drone and the object and it sends a command to the fly controller to move away from that object" Chahla said.
Schicker said that he thinks this is an incredible opportunity to be able to experience this kind of  project so early on in his academic path.
"Its an incredible experience to be able to do this in a community college level, we get to work hand and hand with 4-years-universities students as well as professors and mentors, and we get a in depth look on what research might be like during your graduate program, or work in general, how to do research, what to look for and the problems that might occur" Schicker said.
In order to join the program students have to apply, receive professor recommendations and interview in a competitive process. Students must declare a STEM major, prepare a resume and continue to work on their path to completion at the college.
For students interested in the program the next round applications for the 2018 summer research program will be available in November.
---
---