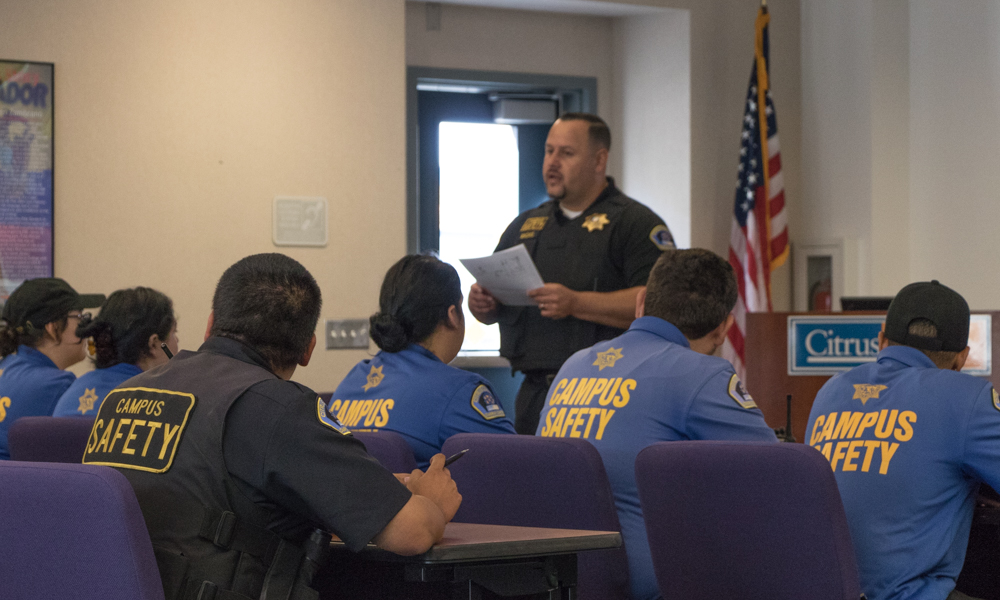 Campus Safety supervisor Benjamin Macias has a meeting with Campus Safety officers and student assistant officers before the lockdown drill on Sept. 28 in the CI building. Photo by Hannah Walleck / Clarion
---
At 10:05 a.m. on Sept. 28, Citrus had a mandatory lockdown drill to improve how the college handles emergency situations.
Campus Safety supervisor, Benjamin Macias, who was in charge of directing and organizing the drill said simulating a lockdown drill is required by the law.
"It's now a federal and state requirement to have a drill every semester," Macias said. "We now do two per semester, the lockdown drill is our first."
Even though the drill is meant for faculty and students to understand the procedures to go through if a lockdown were to actually occur, it is just as important to go through for Campus Safety.
"Although this is for faculty and students, it's just as much a drill for us," Macias said.
Many faculty members are included in drills like these as well. During the lockdown drill, three main groups that help to make everything run smoothly.  
Ninety faculty members are designated emergency information officers (EIO) that are trained on how to handle emergency situations. In each building on campus, there are two designated EIOs on each floor.
The next group includes Campus Safety officers, as well as student assistant safety officers.
Once the drill began, Campus Safety targeted three buildings to check on their participation, as well as safety precautions. The three buildings were LI, LB and AD.  
One of the newer Campus Safety officers, Michael Quintero, said someone's alertness is key to running through drills such as the lockdown.
"When you're preparing for a drill you've gotta be aware of where the students are and what your high traffic areas are," Quintero said.
Julian Gomez, another officer, has worked with Campus Safety for about 13 years. Gomez said preparing for a drill takes a different kind of attention than the average work day.
"On a daily basis we're constantly looking for hazards, suspicious people, and parking violations," Gomez said. "But I would say on day like today, when we're preparing for a drill, we're paying attention to where large groups of students are gathered."
Gomez has learned that although it is a required safety drill, Campus Safety should not force students to participate.
"Unfortunately not all students take the drill seriously, many times the student will either keeping doing what they're doing or go to their car and drive off campus," Gomez said. "When it comes down to it, we can't force them to do anything, it's their decision if they would like to seek shelter."
The EIO officers who are assigned those buildings were observed by members of the planning team of the Emergency Operation Center. Members of the planning team would take note on which floors of each building were correctly following safety protocol.  
Todd Dickson, one of the Campus safety officers said the building he was checking did a great job.
"In the LB building, the classes did an amazing job at seeking shelter," Dickson said. "I honestly thought the classrooms might be empty, they did such a great job."
The entire drill was completed in 10 minutes. All three buildings were under lockdown and cleared by Campus Safety by 10:15 a.m.
After the drill, EIOs are required to take a survey to share information about what aspects of the drill that went well and others that did not.
All members of the planning team would gather information they observed and share it with Macias as well.
The data will be collected and further analyzed to see how Citrus can improve their emergency safety precautions as well as efficiency.
Citrus will have another mandatory drill on Oct. 28.
---
---