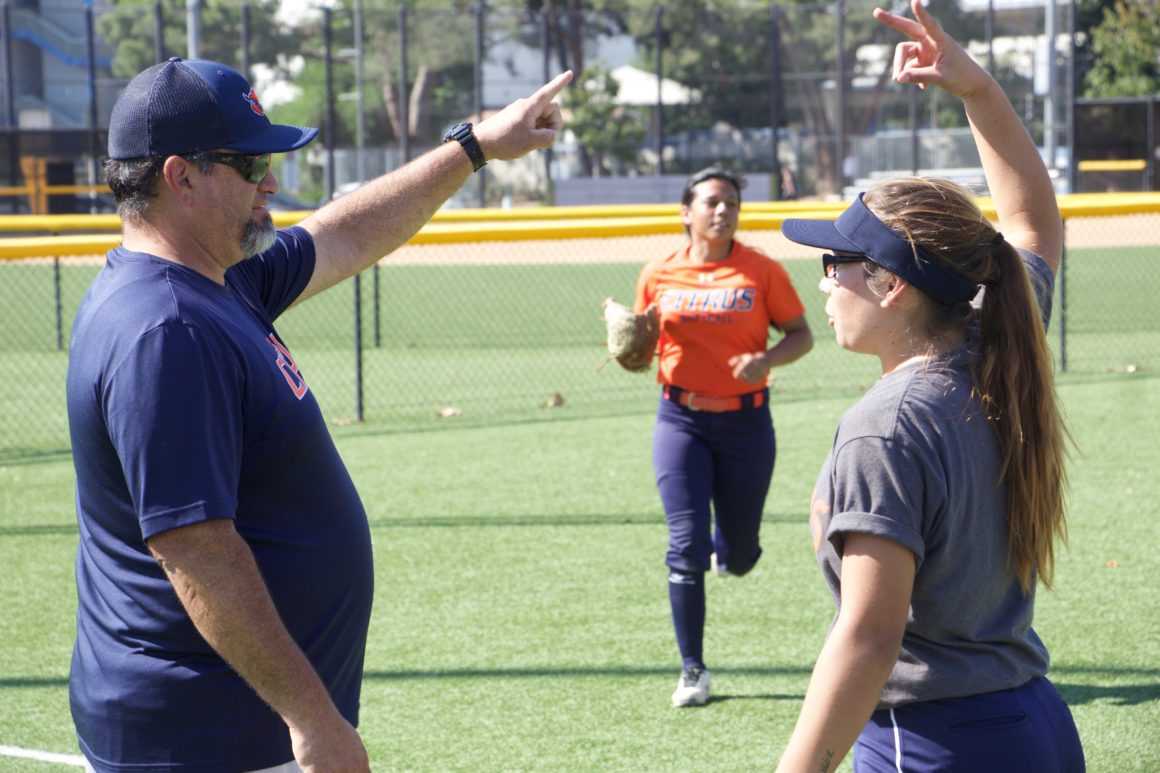 Citrus softball head coach Terry Paredez coaches sophomore outfielders Valerie Ortiz and Mia Escobar on Sept. 26 at Citrus College. Paredez takes over for Jackie Boxley after serving as assistant coach for the past 12 years.
---
Terry Paredez, longtime assistant coach of the Citrus softball team, has taken the reins and has become head coach of the Lady Owls.
Paredez has been a part of the Citrus softball team for the last 12 years as the assistant coach under Jackie Boxley.
At the conclusion of the 2017 season, Boxley accepted a job offer for assistant athletic director at Citrus.
"I don't think I would have left if he wouldn't have been able to take over," Assistant Athletic Director Jackie Boxley said. "He's a very good coach so it's great for the girls, it's great for the program and he's about to see what it's like to run everything in the program, but it's going to be good and he's going to great."
Heading into his 13th season with the program, things are a little bit different this time around for Paredez.
"It's very fortunate for me and i'm honored to take over the program here at Citrus," Paredez said.
In the past 12 seasons, Boxley and Paredez turned the Lady Owls into one of the most successful programs in Southern California. The Lady Owls have made 10 postseason appearances, three conference titles and two California Community College Athletic Association Super Regional appearances.
"I look forward to continuing to build this program to reach our ultimate goal and that goal is to win a state championship," Paredez said.
The Lady Owls have won a total of 336 games, more than half of them coming in Western State Conference play.
"Coach T knows what Citrus softball is capable of and how we run things," first baseman Molly Montell said. "Losing Boxley was definitely a heartbreaker, but still having Coach T around makes myself and the team feel comfortable out on the diamond."
Paredez also brought on a new staff when he was hired.
His newest assistant coach, Brittni Moreno, is a former Lady Owl.
Moreno played two seasons for Citrus and went on to finish her softball career next door at Azusa Pacific University.
In her sophomore season at Citrus, Moreno was named a first team All Western State Conference Blue Division honoree with her performance.
"He brought along a few new coaches to the coaching staff, so I think these additions will make us play at an even higher level than before," Montell said.
The Lady Owls are working hard in the offseason, preparing for their Spring 2018 campaign.
---
---