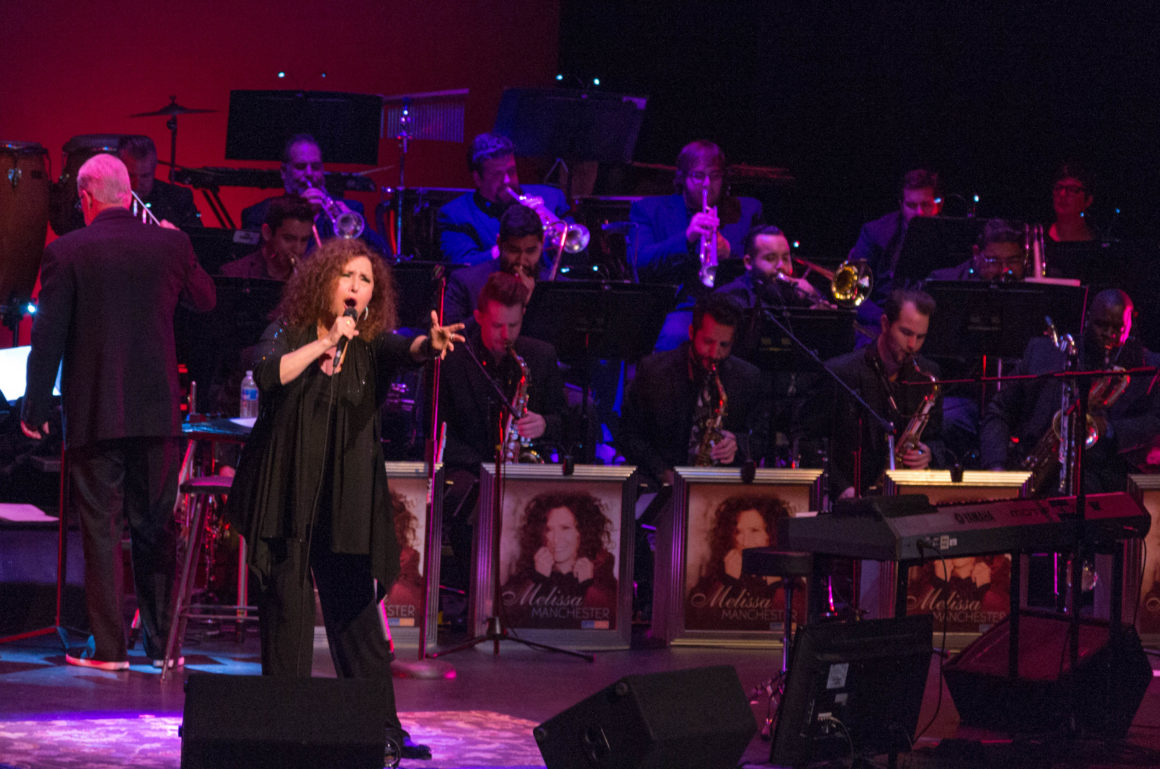 Melissa Manchester performs with the Citrus Blue Note Orchestra her new album "The Fellas" on Sept. 22 at the James Armstrong Theater in Torrance. The orchestra recorded the entire album with Manchester at Citrus College. Photo courtesy of Daniela Navarro
---
Thanks to Dean of Fine and Performing Arts Robert Slack, the Citrus Blue Note Orchestra contributed to grammy winner Melissa Manchester's 21st album "The Fellas."
Manchester recently released her newest album in early September, starring the Citrus College Blue Note Orchestra.
The Blue Note Orchestra is a 20-piece band of current Citrus students and past alumni. The band is lead by Slack, who also co-produced the album with Manchester.
The Grammy winner collaborated with the Blue Note Orchestra with the help of Slack.
Manchester is a long time artist in residence and Citrus College since 1998 and contacted Slack three years ago for her album "You Gotta Live the Life."
Slack said the experience working with an artist like Manchester helps students understand how the music world works.
"When they leave here and go on to get their bachelor's degree, they really understand how the music and entertainment business (works)," Slack said. "It really helps students trying to get to their next step and learn if they really want to do it for their life's work."
This album honors the male singers that have influenced Manchester's career, such as Barry Manilow, who she recorded music with at Citrus College earlier this year.
"The Fellas" is similar to the album she released in 1989 called "Tribute," which recognizes the great female artists.
On Sept. 22, the Blue Note Orchestra performed with Manchester at a gala and CD release party hosted by the Art Attack Foundation at the James Armstrong Theater in Torrance. The Art Attack foundation helps raise money for students in arts education.
Dan Watt, the founder and executive director of the Art Attack Foundation, created the program to raise money for art education. Watt started the foundation in 2004 from his own experience with arts education.
"I started it 14 years ago, because I saw a hole in scholarships and funding for arts education," Watt said. "I wanted to do my part as I was given scholarships throughout my studies while perusing my dance and arts education."
Manchester has performed two fundraising concerts, her first one in 2005 and her most recent in Torrance.
"Arts foundations rely heavily on others artists to help raise awareness," Watt said. "Because of Ms. Manchester's selfless and dedication to 'paying it forward', we are able to help many students follow their dreams in performing arts."
Manchester said she supports Slack and the Blue Note Orchestra.
"I have dreams for the legacy for Citrus College and the Blue Note Orchestra, as well as Bob Slack," Manchester said.
---
---