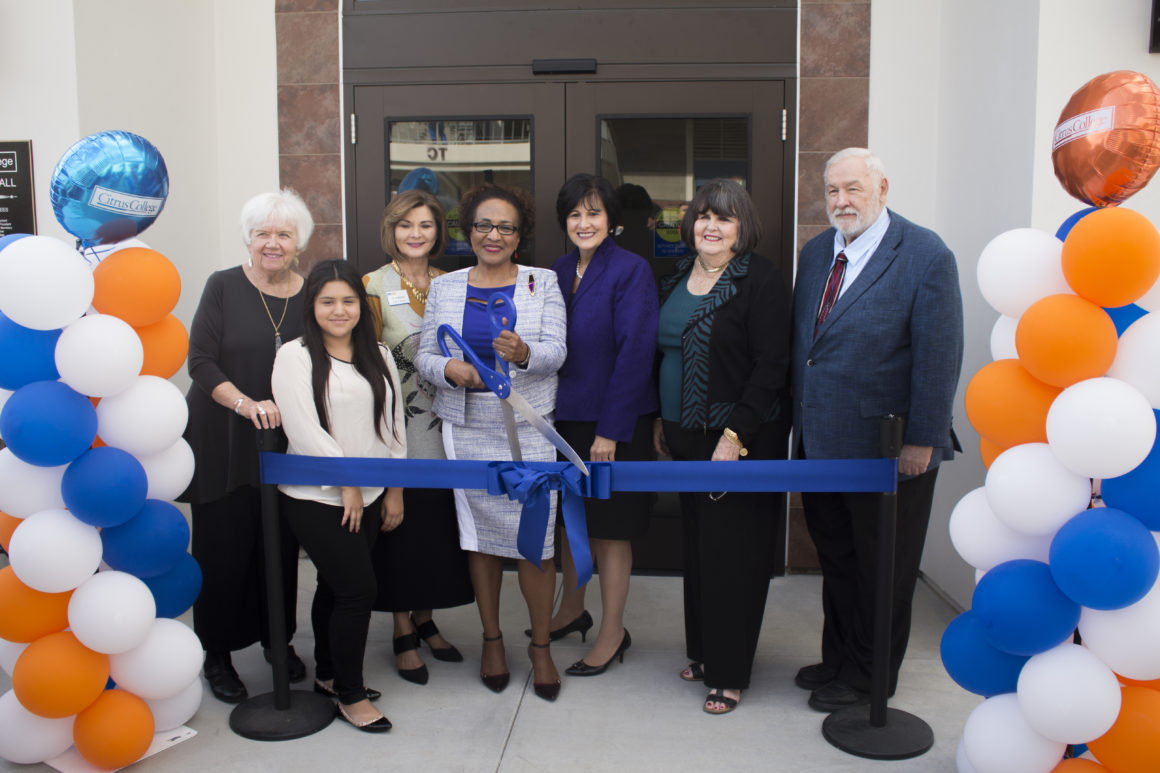 ---
Citrus College faculty can now use the new offices and athenaeum of Hayden Hall as it officially opened its doors on Oct. 3 to the campus as part of the ribbon cutting ceremony.
City officials and Citrus College faculty, lead by superintendent/president Dr. Geraldine M. Perri, attended the building's dedication and official ribbon cutting for the newly renovated atheneum or faculty conference hall on Oct. 3.
After a brief introduction by Vice President of Finance and Administrative Services Claudette Dain, Perri gave opening remarks and reminded the audience this was a special dedication.
"We're not here to dedicate a new building…we're speaking about something that has been here since 1935," Perri said.
Perri pointed to Hayden Hall's over 80-year history and thanked the state chancellor's office and Measure G for helping fund the construction of Hayden Hall and said it would not have been possible without the Citrus College Facilities Construction team and contractor Horizon construction.
Current member of the Measure G committee and Citrus College Foundation Board President Steve Baker recollected the history of Hayden Hall, back when it was used a rehearsal hall in the '60s. Baker was part of the Citrus College concert choir, which used Hayden Hall as a rehearsal room weekly.
Baker said as a historian he was really pleased Citrus decided to save the Hayden Hall building for remodeling rather than taking it down.
Vice President of the Board of Trustees Dr. Patricia Rasmussen also recognized the building's historic integrity and stated the approval from the Board to make the old hall new again was a positive decision. She said the building had been on campus when Citrus was still divided as a high school and college by "an imaginary line."
President of the Board of Trustees Dr. Barbara R. Dickerson shared a brief moment of silence for Las Vegas shooting victims before continuing the dedication.
Following Dickerson's remarks, Glendora Mayor Gary Boyer on behalf of the city of Glendora presented Dr. Dickerson with a certificate of recognition for Hayden Hall.
Boyer acknowledged the long history the Hayden Hall grounds held for Glendora, "…the entire city of Glendora appreciates the historical value of this building and your commitment to it," Boyer said.
The hall's dedication allowed those in attendance to enjoy and respect the building's historic integrity and completed renovated structure.
Dr. Perri recounted what one individual had said to her when the building was complete.
"It's so pretty, I wish it were my home," Perri said.
---
---