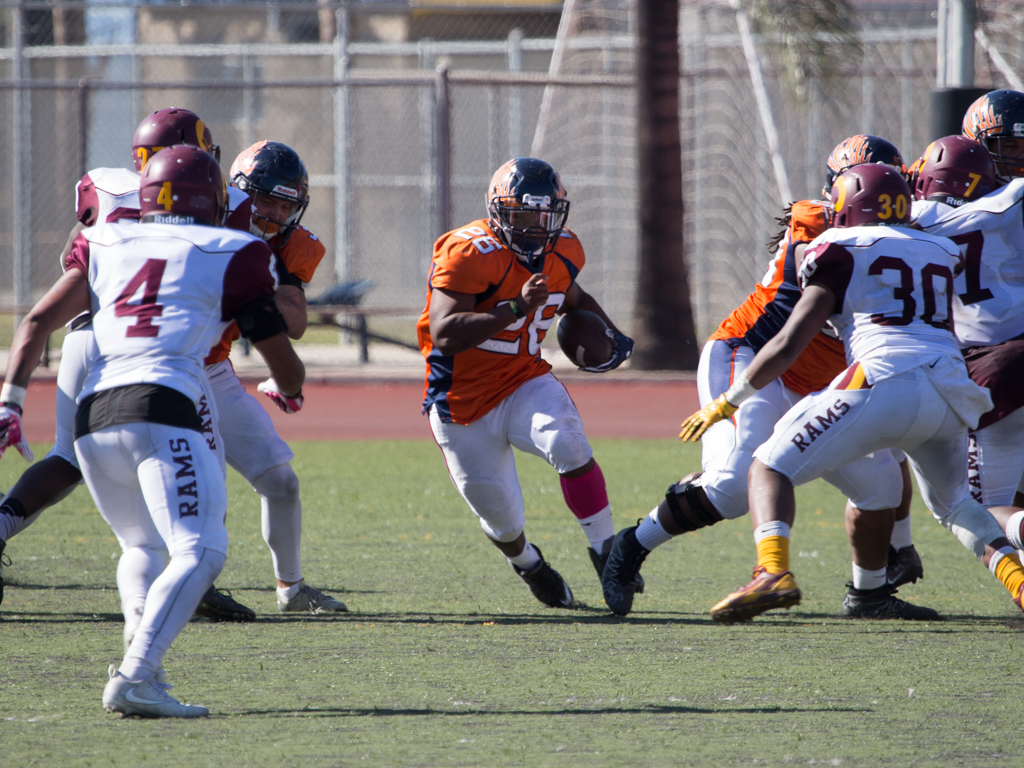 Citrus sophomore Devin Floyd breaks a run against Victor Valley College on Oct. 7 at Citrus Stadium. Floyd averaged 6.4 yards per carry against the Rams.
---
The Citrus College Owls' offense week in and week out continues to find ways to lose in spite of a historically good defense.
In the past two weeks, the Owls' defense has managed to score as many touchdowns as the offense has, at one apiece.
The offense has not gotten much production this season, outside of sophomore running back Devin Floyd.
Floyd has racked up nearly 112 yards per game, on pace for another 1,000-yard season despite missing one game.
In the loss the Owls' moved to their third-string quarterback, Aaron Sandoval, after benching Kory Brown and Wesley Wubbena for their underperformance through the first three games of the season.
Sandoval broke a dubious record by throwing five interceptions thrown in a game and was sacked eight times.
The running game, minus Floyd, netted nine yards on 26 rushing attempts, translating to about one foot gained per attempt.
The following week at home against Victor Valley Rams saw the return of Floyd who gained 126 yards on the ground and a mild improvement in the passing game from Sandoval, who managed a touchdown pass late in the first quarter after the Citrus special teams recovered a muffed punt inside the Rams' 15-yard line.
For the rest of the game, however, Citrus' offense was back to its routine, with Sandoval throwing three interceptions, including one to end the game.
Sandoval has thrown eight interceptions in two games. The single season record is 20, set by Dan Marconi in 1979.
The only other offensive production against the Rams came from a late field goal from kicker Diego Morales, who has combined with fellow kicker Angel Esparza on 100 percent of both extra points and field goals.
The other seven points from the Owls came off of an interception return by safety Jeremiah Vasquez for a touchdown. Vasquez leads the Owls in tackles and interceptions.
The Citrus defense has held opposing teams to just over 16 points per game, giving up a season-high of only 20 points Oct. 7 to Victory Valley in another home loss, 20-17, dropping Citrus to 1-4 on the season.
Citrus College will visit Antelope Valley College at 6 p.m. Oct. 14.
---
---