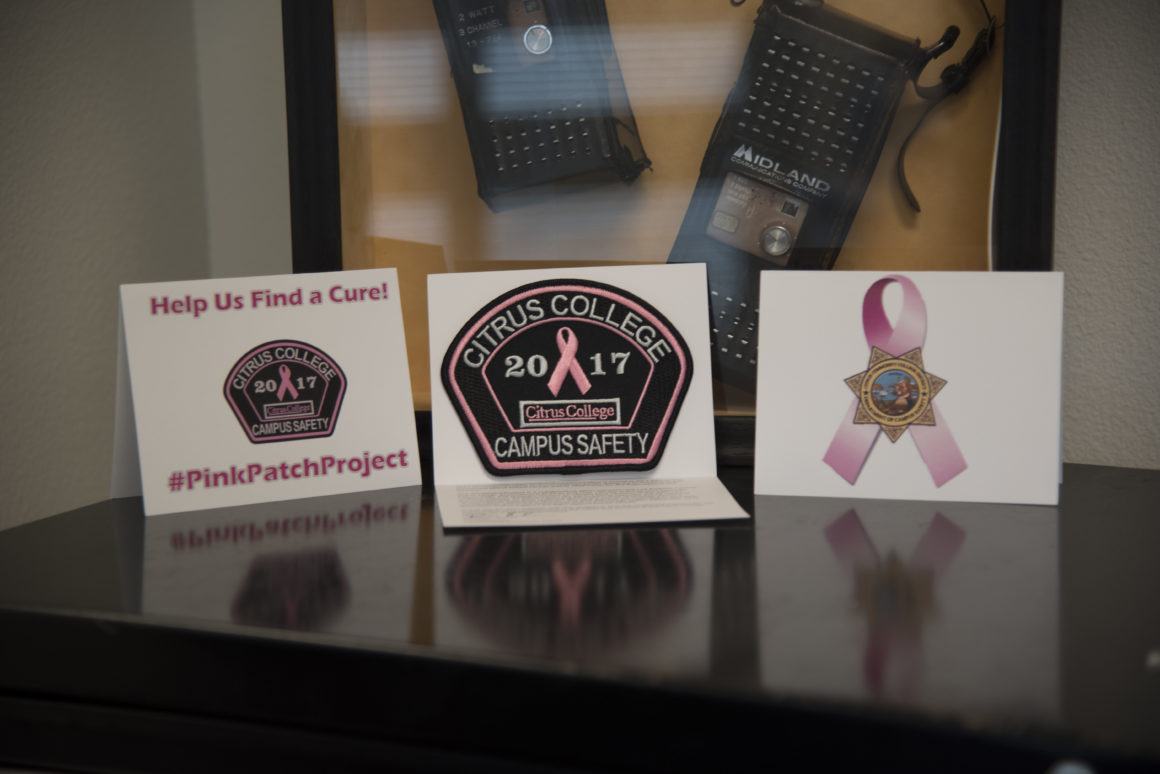 For the month of October, Citrus College Campus Safety wears pink patches to support breast cancer awareness that students can also purchase for $10 each. All proceeds earned are donated to breast cancer research, education, and treatment centers, specifically City of Hope in Duarte. Photo by Jessica Wiebe / Clarion
---
As October rolls around and Breast Cancer Awareness Month is in full-swing, Campus Safety works together with the Pink Patch Project to raise awareness and funds for a disease that affects approximately 1 in 8 women in their lifetime.
The Pink Patch Project website defines the program as a collaboration between the Los Angeles County Police Chiefs' Association and public safety agencies in the county and beyond. This includes law enforcement, fire, emergency medical services and federal agencies.
Vibrant pink uniform patches are specifically designed for each agency and officials wear these patches throughout the month to show their support.
"The pink patches are intended to stimulate conversation with the community and to encourage public awareness about the importance of early detecting and the ongoing fight against this disease," The Pink Patch Project website said.
Students and community members can purchase a $10 commemorative pink patch as well as t-shirts, challenge coins and other pink merchandise. All proceeds will be donated to cancer research and treatment at specific organizations.
Citrus College Campus Safety has partnered directly with City of Hope in Duarte to help continue the path to finding a cure.
Benjamin Macias, Citrus College Campus Safety supervisor, said this will be the department's second year participating in the campaign.
Macias said they were informed about the project through the department's relationship to the Glendora Police Department, who also participate in the effort. The formal invitation was extended to Citrus through the current Chief of Police in Vernon, Anthony Miranda.
Miranda, the former chief of police for the City of Irwindale, played a role in the start of the project as well.
The idea originated in 2013 with the Seal Beach Police Department, and was elevated in 2015 when the Irwindale PD and Miranda reached further into the community. In 2016, their efforts raised $325,000 for cancer research and treatment organizations.Citrus Campus Safety has since joined the effort.
Macias said Campus Safety understands how many people are affected by breast cancer, directly and indirectly.
"As such, it is important for our department, as public servants, to do what we can to raise awareness within our campus community about breast cancer and the importance of early detection and treatment," Macias said. "Collectively, we can all help combat this deadly disease."
Initially, there were only 25 agencies participating and now over 180 public agencies have joined the fight against breast cancer.
The American Cancer Society website said it estimates around almost 253,000 new cases of invasive breast cancer will be diagnosed in women in 2017.
Throughout the month of October, and continuing throughout the year, the Pink Patch Project aims to help all affected by cancer with the ultimate goal of finding a cure.
---
---