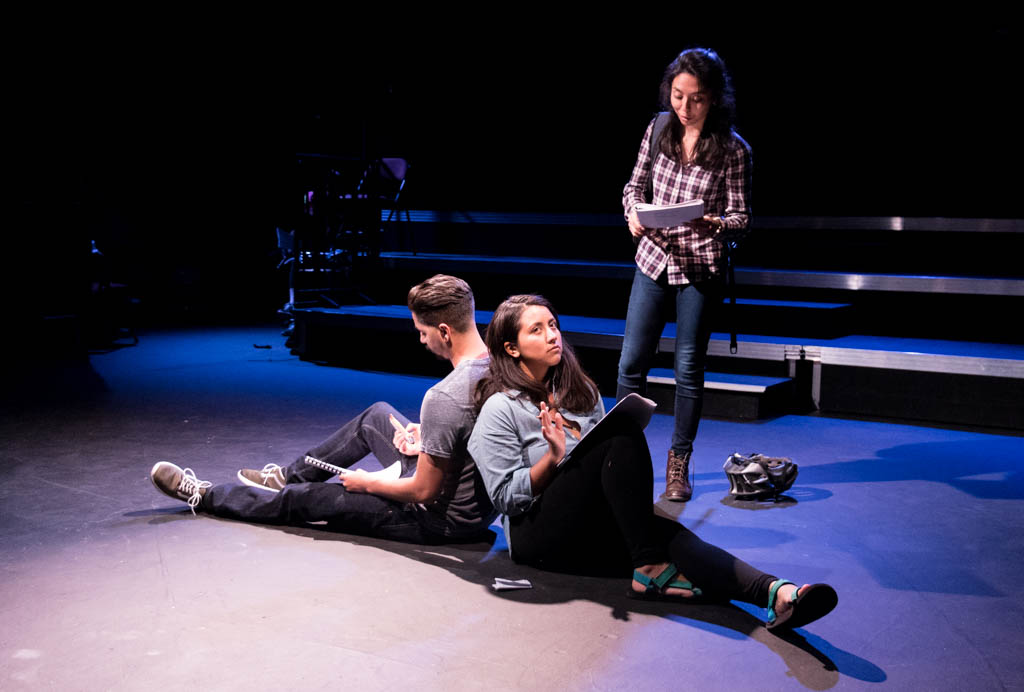 ---
The Citrus College Theatre Arts program has provided students a platform to perform, direct and write original works.
Emerging American Voices is one of the opportunities afforded to students in the theatre department to share the work of student playwrights.
This workshop is an annual showcase in the fall for students from the acting and screenwriting classes.
Every year, students' work are handpicked for the performance.
Advisors Cherie Brown and Neil Weiss started Emerging American Voices about seven years ago.
The two-day showcase normally features one-act performances of original work by students one day and a full play the other day.
This year's showcase will be at 7 p.m. Oct. 14 and 2 p.m. Oct. 15 at The Little Theatre.
The Oct. 14 show will feature student playwright Francisca Flores' full-length play "Cadence," which was featured in last year's showcase in a condensed version.
"Cadence" follows a journalism student named Rita who struggles to live up to her family's expectations, all while trying to discover who she is.
Citrus acting student Johanna Romo is reprising her role as Rita from last year's showcase.
"Rita is a girl I really connect to," Romo said. "She's a Hispanic girl with big dreams, but no real way of realizing it because small communities, small minds."
Romo said playwright Flores did a really good job of having the character explore her ambitions and also her personal problems.
Vivien Roman, who plays Rita's sister, Tina, has been a part of three productions during her year in the Citrus theatre arts program. Roman is also good friends with Romo. Roman described playing the sister of Romo.
"She's a person who's very weighed down by life," Roman said. "She has two kids and is pregnant with a third, she's a nurse, she has to take care of her mother and sister on top of her own family, so she's a hard worker and doesn't have a lot of time for herself."
Roman said "Cadence" is about following your ambitions, "but don't get sidetracked."
Romo said playing the character of Rita, someone who finds their way, can serve as motivation for her in real life.
"It's a universal story of trying to find your place, but kind of getting lost along the way," Romo said.
This year's showcase will also feature two other student playwrights' work: "Auburn" by James Molina and "Cease Surrender" by Abel Marquez.
Molina's play "Auburn" is suspenseful, as a father must make the difficult decision to turn back to a life of crime to help save his daughter's life .
"Auburn" was also a part of the 2015 showcase.
Marquez' "Cease Surrender" will make its first appearance as part of Emerging American Voices and explores the sexuality between two closeted teenagers, Roman said.
All three playwrights are Hispanic. Romo, who is Hispanic as well, said it is great to have the "culture there without making a big deal about it."
At the end of each performance, audience members have an an opportunity to interact with writers and actors to offer critiques and to ask questions.
"It gives us a lot of perspectives," Romo said. "We see it through the eyes of our peers."
The Little Theatre is set up for an intimate style-setting, where audience members feel a part of each scene.
Pre-sale tickets can be purchased for $15 and Citrus students and seniors can purchase tickets for $10.
Tickets can be purchased at http://www.tickets.haughpac.com or at the box office from 11:00 p.m. to 4 p.m., Tuesday through Saturday.
---
---