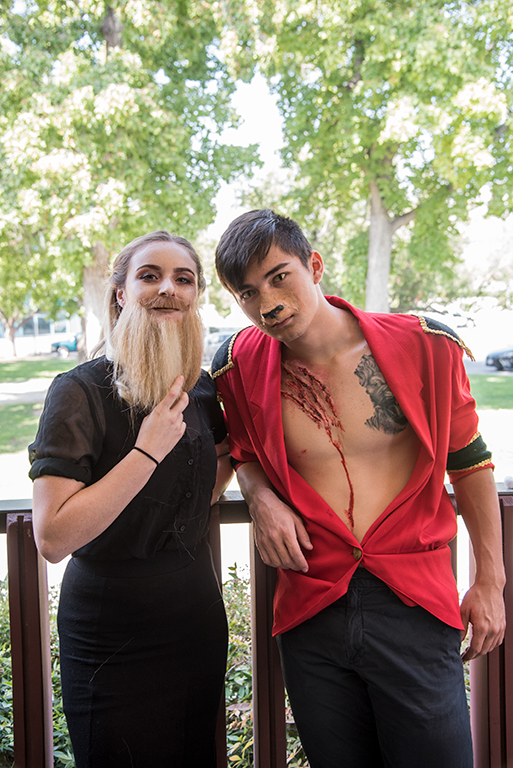 Models Jason Miller, as a 'lionized' Lion Tamer, and Adrienne Harris, as the Bearded Lady, pose photo while waiting for the Creep Show to start on Oct. 13. in the campus center mall.
Jessica Wiebe / Clarion
---
Michael Jackson's "Thriller" blared over a public address system to a 100-person crowd. The crowd lightly danced in the Campus Center Mall as the Cosmetology Department's "Creep Show" began on Oct. 13.

"Carving her a forever smile and the limbs of a doll, he finalized his vows by slitting her throat and burned the two of them alive inside their home," professor Ann Everett said over the microphone.

The professor read off the student's ghastly introduction card.
"All the work of the devil—the Ouija board that he inked into her skin," Everett said with an impish grin."

Everett was one of the cosmetology faculty in charge of the department's Halloween showcase.

"This gives (students) an opportunity to show their creativity," Everett said. "A lot of them aren't creeps and freaks; there are various fairies, sprites and fantasy and Disney characters."
Sal Hernandez has been a part of the cosmetology faculty for 15 years. The "Creep Show" has been happening since he has been at the college. Many of his students were entrants in the exhibition.

"When our students go out to the real world, they're going to be challenged in artistry, in makeup and hairstyles," Hernandez said. "From here they can go into stage, television, special effects."

Hernandez worked in special effects makeup for 10 years. He worked for horror director, George A. Romero.

"Our implements are really magical wands," Hernandez said. "People walk in, having a bad day, then get their hair blow out or curled, do their makeup and they walk out with a smile."

Cosmetology student Lauren Ford stalked the cat walk late in the event. She was layered in cosmetic scales for her "Snake Lady" disguise.

"I started the hair and these lovely ladies did all this magic," Ford said, gesturing toward her scaly arms.

"She's a human reptile," Mel Estrada, one of Ford's two makeup artists, said. "We used Latex and cotton to make the wounds look more real and a fishnet shirt to spray the scale pattern."

The three women worked for four hours that morning and admitted they weren't happy with the result.
Some of the students shot inquisitive looks when individual models were photographed.

"It's a very cutthroat industry," Adriana Martinez, one of the Snake Lady's artists, said.
A blood smeared "IT" clown holding a balloon sneered in Martinez's direction.

"Everyone's very against each other, but we all pretend to be friends for some reason. It's really weird," Martinez said.

Everett rattled off a list of state board exams in which her students scored in the 90th percentile.

"Our students are sought after in the industry because they are so clean and teachable," Everett said. "We have people in skin care, commercials, TV, magazines, weddings and special events."
---
---