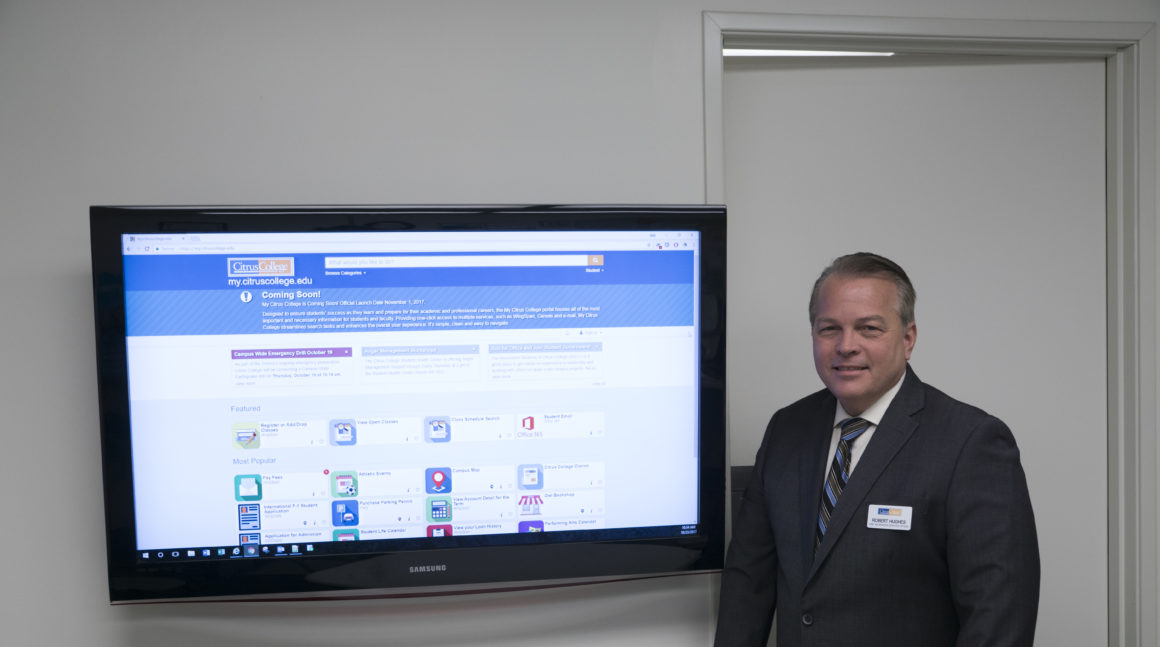 ---
Citrus College will release a portal on Nov. 1 that will link all online inquiries to one simple web page.
The new portal has three different sections: Featured, Most Popular and Category of the Day. Similar in appearance to phone app icons, each icon has a different function that redirects the user to specific sites that are important to the student community.
From this page, students can access the Parking Permit Store, WingSpan, international student applications, access to the Clarion newspaper and loan history. Campus Safety Alerts and campus-wide updates will also be immediately available.
Students must log in to their Canvas accounts in order to reach user specific information and to favorite different icons, making them easier to find later. Upon logging in, Canvas class notifications and updates will appear in the dashboard as well.
Robert Hughes, Chief Information Services officer, who has been the person in charge of leading the addition of the new portal, said that this was on the implementation plan for several years and when he was hired in April, he initiated the push for this integration.
"The portal will meet all the needs on campus," said Hughes and stated that eventually will be a single sign in for all of the resources the college offers, from Canvas to parking tickets and everything in between.
Public Services Librarian Sarah Bosler, who is on a faculty team who suggested the use of a student portal, provided some insight on how simple the portal is to use.
"The simplicity behind this new portal is going to make (navigating the website) a lot easier for both incoming and continuing students," Bosler said. "It's about making info accessible and access is the key to success."
While everyone involved with the college will be able to use the portal, it will be role specific, meaning professors will have a different interface from students.
Music major Humberto Noriega said he is proud that the college is finally doing something like this and also said even though it is certainly useful, the incoming students are the ones who will benefit the most.
"When I first registered and accessed Citrus' websites it was really pointless," he said. "There were so many links and words that I gave up trying to find things and just went to the counselors."
Associated Students of Citrus College President Favian Fragoso said he is confident the transition will go smoothly and the portal will be essential to all students.
"The new portal should help students have access to more services on one site rather than having to memorize different usernames and passwords for citrus websites," Fragoso said.
Students can preview the portal at https://my.citruscollege.edu/, however it will not be officially running till November.
---
---