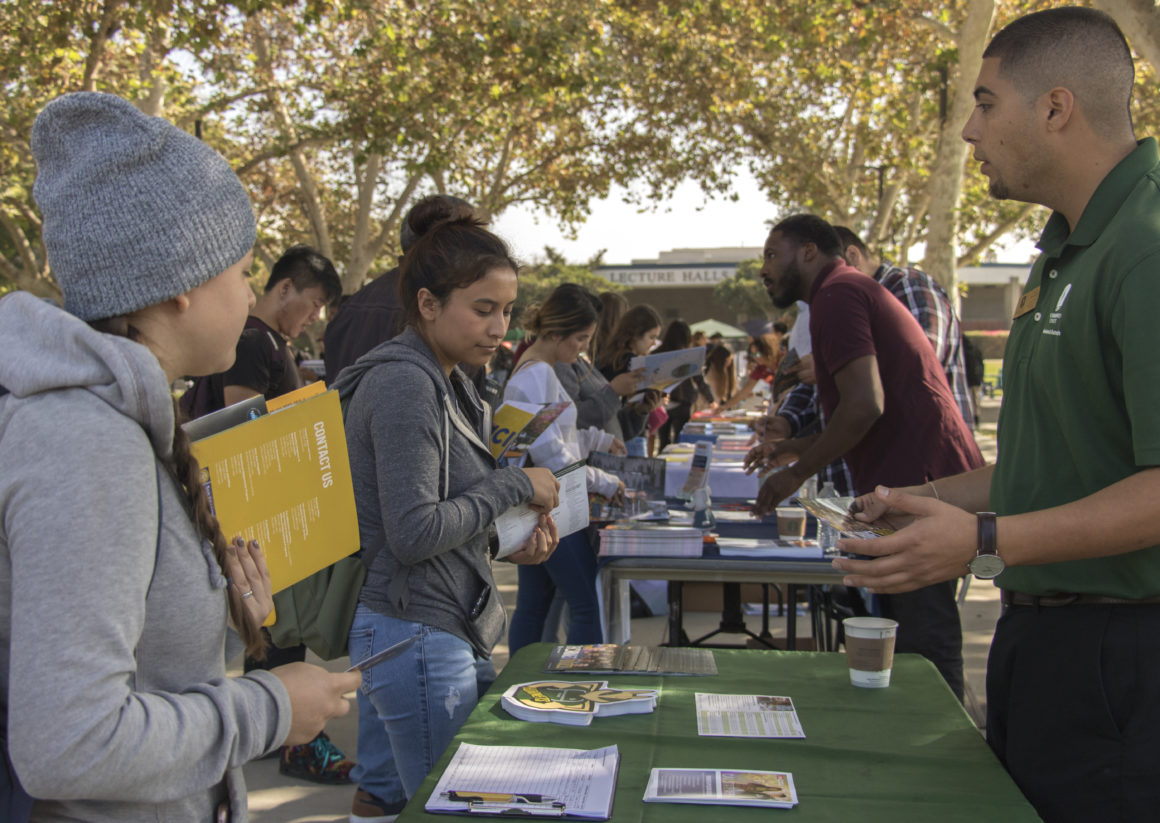 California Sacramento State representative Estefan Ortiz speaks with Vanessa Ruiz and Madison David during the fall transfer fair on Oct. 12 in the Campus Center Mall. Photo by Abraham Timisela
---
Citrus College held its annual transfer fair from 10 a.m. to 1 p.m on Oct. 12 in the Campus Center Mall.
The fair was filled with hopeful students in search of answers for their transfer goals.
At least 50 college representatives from all over the country were in attendance to answer all of their questions. Most of the representatives appeared eager to help the students get things situated.
Some schools that were in attendance included University of California, Los Angeles, Whittier College, Cal Poly Pomona, and Cal State University, Long Beach.
Many of the booths had students gathered around them, presenting a chance to network with the representatives and each other.
Jaimis Ulrich, Transfer Admission Counselor of Whittier College, had a good handful of students at her booth at about noon.
Ulrich said, "I like being a pathway or a bridge builder for the students and to provide accessibility for them."
The most asked question that students had was in regards to the tuition costs of these schools. Many representatives were effortlessly able to assist each student who had tution questions.
Samuel Hernandez, a communications major, said, "I honestly feel that it was a good idea to attend this transfer fair so those who are ready to transfer but don't know the process were assisted by those in charge."
The fair was an opportunity to get those questions answered and to get things sorted out in hopes to minimize stress on the students and to gain knowledge of how to transfer.
Sarah Orozco, Transfer Counselor of Point Loma Nazarene, said, "The best part of this is being able to provide advice and tell the students about what we have to offer."
Kara Elder, a communications major, was in attendance and this is her first semester attending college, "I came because I just want to make sure I get all the correct information I need and to make sure I have all of my questions answered for when I do transfer out," Elder said.
---
---