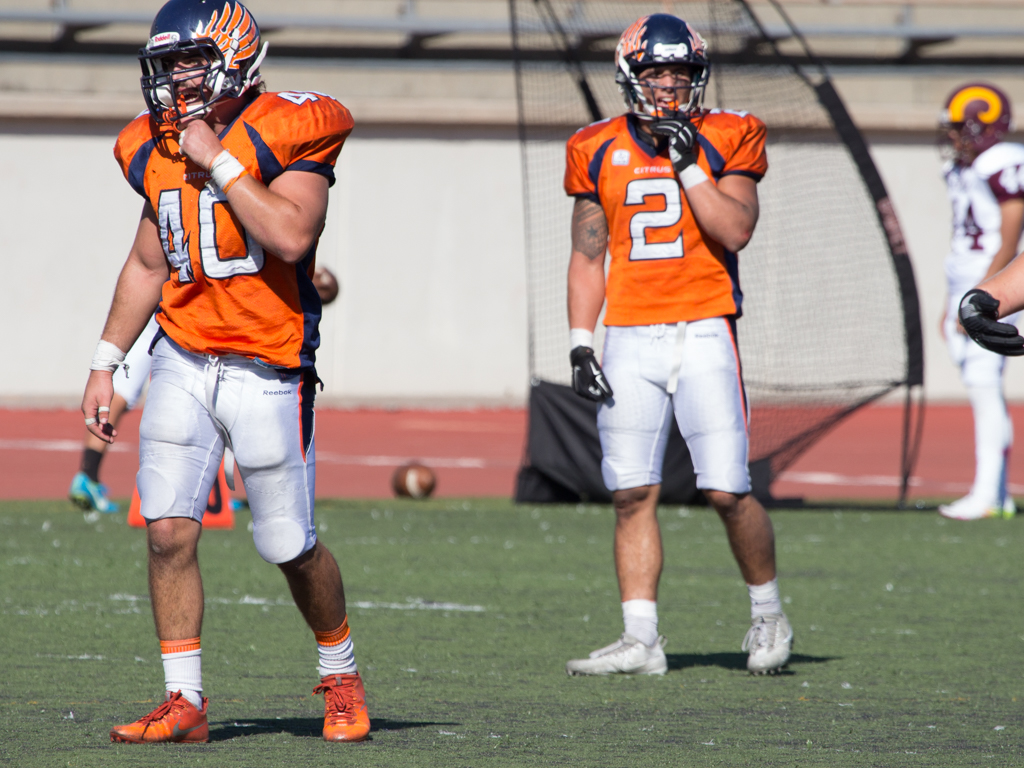 ---
The Citrus College Owls extended its losing streak to four games after falling to the L.A. Pierce Brahmas, 28-27, after going for the win instead of a tie on a failed two-point conversion late in the fourth quarter.
In the first shootout of the Owls' season, quarterback Darreon Lockett, playing only his second game under center already leads the Owls in passing yards and touchdowns and has a passer efficiency rating of 137.3.
On defense, the Owls gave up a season-high 28 points, including two touchdowns in the fourth, but remained the best defense in the conference, holding Brahmas quarterback Jonathon Saavedra to 92 yards through the air, and the Brahmas leading rusher Sterling Salguero to only 68 yards on the ground.
Citrus free safety Jeremiah Vasquez said in a text message that defense was not its strongest against Pierce, but the offense made good effort.
"It was a tough game, a lot of fundamental errors were made on defense," Vasquez said. "There were things that will be fixed next week to make sure it doesn't happen again, but offense played their butts off. Now it's on us to make sure we get the W."
Starting field position was the Owls' undoing, with each of the Brahmas' four scores coming off of drives that started no further back than midfield, and once at the Owls' 23 yard-line.
All but two of Citrus' football games have been decided by three points or less.
This nailbiter against the Brahmas comes off of another loss against the Antelope Valley Marauders, a 13-6 defeat that saw the premier of Lockett at quarterback in the fourth quarter after underwhelming performances from quarterbacks Wesley Wubbena and Aaron Sandoval.
The Owls remain hopeful with the promising performance from Lockett. With only three games left in the season, any bowl game or conference hopes the Owls may have had are dashed and the only things left on the line are pride and experience for players hoping to impress scouts at the next level, Division I and II.
Citrus sophomore safety Gabe Pigee, who made the 2016 SCFA All-Pacific list, said in a text message that he is taking the initiative to step back and figure out how he can help the team to finish the season in a positive light.
"I have to take this time to focus on my mistakes and weaknesses before the end of the season," Pigee said. "Every opportunity I get is a chance to learn and capitalize at the next level."
The Owls will host Santa Barbara at 4 p.m. Oct. 28 at Citrus Stadium.
---
---