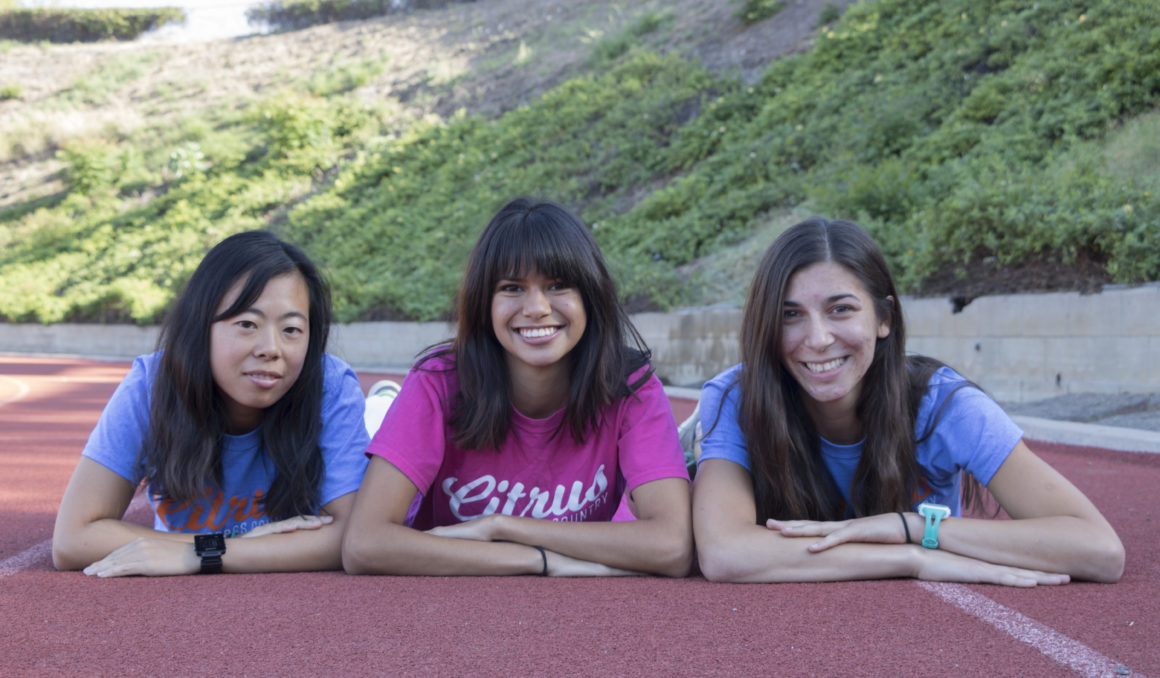 ---
Though the women's cross country team is only six athletes strong, as a group they represent four different countries.  Three of the the six women are international students.
Sophomore Alyssa Janini from Alberta, Canada, moved here a year and a half ago but recently joined the cross country this fall. The last time Janini had competed in cross country was in grade seven, which was only for one season before she switched to track and continued to play her main sport, soccer.
The weather here was a little too much for Janini, specifically during her very first cross country race for the Owls on Sept. 1 at Moorpark College.
"I passed out the first race because I couldn't take it," Janini said. "It was 107 degrees."
The warm weather and family is what brought Janini here to the Los Angeles area, however, she does fly back to visit her home country occasionally because of her mother's job.
"I came here because of the sun and my dad's side of the family lives here," Janini said. "But my mom is a flight attendant so I can fly back home as much as I want."
Assistant coach Diego Lopez, a former Owl cross country runner of the 2013-2014 season and 2017 UC Santa Barbara graduate, says Janini has already made great progress in her debut season.
"Seeing her pass out in the heat during her first race to now being up there in the middle pack competing has been really nice in terms of her progression," Lopez said.
Giselle Vargas, a sophomore, made her move from Costa Rica a year and a half ago to get her education in the United States, and when she arrived at Citrus she decided to join the cross country team.
"I came here to California for college," Vargas said. "When I started school last year I joined cross country. The staff and coaches are the best, and I love my teammates."
Vargas finished the 2016 season with an average time of 22:38.19. Now in her second season for the Owls, Vargas has made progress from last season, which coach Lopez has noticed.
"It's been really cool to see Giselle's improvement from last year," Lopez said. "From not running a lot and finishing her workouts to being our number two, number one girl. It's been a great progression to watch."
Lopez said Vargas is slowly getting back into her rhythm from last season because she wasn't with the team during workouts this past summer, visiting her family and friends back home.
"Giselle has been in the Costa Rica for most of the summer so now we're trying to build her back into running more and more," Lopez said.
Transitioning from one country to another means adjusting to a whole new lifestyle. Vargas, who is majoring in journalism, said that adjusting to the Southern California lifestyle was a challenge at first.
"It was hard getting used to it," Vargas said. "It was very lonely in the beginning, but I just had to get out there and make friends."
Alice Lin, a sophomore, has lived in three countries during her lifetime. Born in Taiwan, Lin and her parents moved to Pretoria, South Africa when she was a toddler.
"My parents and I immigrated to South Africa when I was three years old because they had work," Lin said.  
A bioengineer major, Lin moved to California four years ago, but made her debut in cross country for the Owls last year, competing in six of seven races and averaging a time of 24:20.26. Lin competed in her first race this season on Friday, Sept. 29 at the WSC Preview in Bonelli Park of San Dimas. Lopez was happy with Lin's results despite not competing in the first three races of the season. Lin finished 50th out of 79 in the 5k event, which coach Lopez was proud of.
"She did really well for not racing earlier in the season," Lopez said. "She's had to miss Wednesday practices, which are our speed days, because of her chemistry class, but whenever she's here she always puts in 100 percent effort.
Although the roster size of women's cross country has dropped from nine to six since last season, the team chemistry is just as good as coaching any other team for Lopez, which he says has made it a fun experience to learn about three different cultures.
"Overall, it's the same as coaching any team," Lopez said. "It's just that we all have different backgrounds. The dynamic hasn't changed. They all adapted pretty quickly and know English for the most part. It's been fun to learn where they came from, but I can't let Canadian jokes slip with Alyssa."
The next event for the cross country team is the 2017 California Community College Athletic Association SoCal Finals, which will take place at 10 a.m. on Friday, Nov. 3 at Central Park in Santa Clarita.
---
---